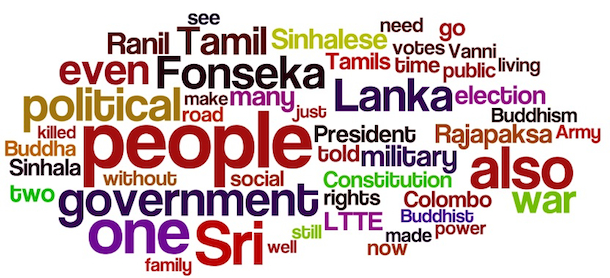 Featuring satire, poetry, photography and video to critical commentary and analysis, Groundviews covered major political events and processes in Sri Lanka over 2010.
The site's comprehensive coverage of the first commemoration of the end of war in Sri Lanka resulted in the publication of a seminal book that has been critically acclaimed by academia. Coverage of the 18th Amendment to the constitution was sui generis – content featured on Groundviews was completely absent from the Sinhala mainstream media, and only briefly touched upon in most English mainstream media. Only Groundviews looked at the real cost and symbolic violence of celebrations welcoming the President's second term in office. This site exclusively featured accurate accounts of testimony to the Lessons Learnt and Reconciliation Commission (LLRC) by key witnesses, including those given by renowned diplomat Jayantha Dhanapala and former Secretary of Defence, Austin Fernando. Furthermore, particularly disturbing testimony to the LLRC, first published in the Tamil language print media, was translated to English and republished for a wider appreciation and greater awareness. No other mainstream media in the country reported on these contested, yet deeply disquieting submissions in full.
Collectively commented on over four thousand times and viewed close to ninety-thousand times from January 1st to December 30th, the twenty most read articles for 2010 are:
The visualisation of this content reveals an emphasis on politics including party politics, peoples and race relations, religion and government including constitutional issues. The LTTE and war as central topics of discussion have given way to post-war concerns over governance, rights and democracy, including cultural issues. Two of the most read articles are in-depth features on the conditions in the Vanni and in Jaffna post-war, suggesting a gap between popular rhetoric and ground realities.