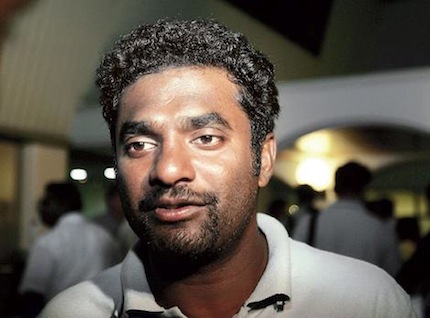 Photo credit: Associated Press, published in Sydney Morning Herald
Savouring the richly deserved cascades of press coverage last week of Muttiah Muralidaran's retirement from Test cricket on the magnificent record of 800 wickets, it is difficult to resist a surge of heart-warming patriotism. It was not only the doosra-like sequence of events in the last day of the Galle Test against India – wholly implausible had it been a fictional plot – that precipitated this onrush of Sri Lankan pride in your columnist. For once, international media coverage was depicting Sri Lanka, due to the achievement of a man who epitomises the best in it, as it always should be: for world-conquering talent, effervescent spirit, generosity and humility in public, ebullient camaraderie in private, and unflappable good manners throughout.
In the field of Test cricket, we shall never experience again that delightful frisson of pregnant expectation in the images of Murali's impish smile and devious, quizzical glances, disconcerting last minute field adjustments followed by devilish deliveries, nor the anarchic pleasures of his agricultural cameos with the bat. To be sure, we shall continue to see him in the shorter version, and also perhaps in that ultimate expression of vulgar populism in cricket, Twenty-20. But Test cricket is how cricket should be played, and it is the template that enabled the dazzling displays of stratagem and stamina, attack and attrition, subterfuge and intelligence that characterised his spin bowling.
The brilliant and controversial career of Muttiah Muralidaran has from the outset been underlined by an intensely political theme of identity. In the international contretemps over his bowling action, an argument that was frequently advanced by his supporters was the political one of latent racial prejudice; or in its more refined variation, that a Western individualist ideological bias informed the interpretation of the imprecisely drafted Law 24:2, which resulted in manifest injustice in Murali's case. This was notwithstanding the fact that Murali's most abiding (and graceless) detractor is Bishan Singh Bedi, an Indian, and one of his most ardent defenders has been the Englishman Peter Roebuck (Millfield, Cambridge, Somerset and England), who seems to exemplify the values of positivist liberal individualism given his Cambridge law degree (and that too, given his erstwhile advocacy of corporal punishment, of a veritably Edwardian variety).
The trauma of the chucking controversy was tangible, especially in Australia, where even Prime Minister John Howard joined the lynch mob with ill-informed comments patently designed for political mileage. He has since been suitably chastened, with his ambitions for ICC office peremptorily curbed.
Despite this, Murali underwent strenuous biomechanical tests which demonstrated the appearance of throwing as an optical illusion caused by a congenital deformity of his elbow. Perhaps as satisfyingly, this also showed that many other bowlers whose action had never been questioned were in fact bowling illegal deliveries, which led to a reform of the rules. The accomplishment of this 'game-changer' in the rules, in turn, has generated another kind of prejudice argument, viz., that if he were a white player, he would not have benefitted from such solicitous sympathy, or at least the fear of allegations of racism and neo-colonialism from Asian and African cricketing establishments, as to have had the rules changed. It would all have been, in Bedi's words, a case of 'tough luck.' I think we were all rather lucky, if only for the sheer pleasure and entertainment Murali subsequently provided, that counsel saner than Bedi's prevailed.
However, it is the symbolism of Murali being the first Indian Tamil in the Sri Lankan side that is of the much greater import in the politics of pluralism within the country. Of immediate cause for gratification is that he has ruled out a post-cricket political career, an irritating sub-continental tradition, and perhaps in this he drew a salutary lesson from the hero-to-zero metamorphosis of his fellow icon, Sanath Jayasuriya, if not from his former captain, the Schmittian Arjuna Ranatunga. To the extent he has made any public comments of a political nature, Murali has been at pains to make them as colourlessly unobjectionable as possible. That may be because he is uninterested in politics, but it may also be that he has the innate sense of pragmatism and survival that ethnic minorities develop in some types of majoritarian society, instilled through the baptism of fire his family experienced in the race riots of 1977. I suspect it is the latter. When a colleague of mine approached Murali to do a television spot in the 2008 campaign to commemorate the twenty fifth anniversary of Black July 1983, he declined, with disarming frankness, on the ground that his involvement would be perceived by the government as the espousal of an unacceptable political viewpoint, which would in turn harm his cricketing career.
It is this virtue of public ethnic neutrality that has made Murali a poster-boy for a widespread notion of ethnic harmony and general wellbeing, as some of the embarrassingly inept, if well-intentioned, commentary in the local press has shown over the years. The basic idea here is to interpolate from Muralidaran's success in a national sporting endeavour, and his universal popularity among all Sri Lankans, a certain model of national identity as well as national success. If the minorities plight their troth with the majority as unequivocally as Murali seems to have done, the argument goes, what is there to stop us achieving great things, as we have shown the world in the field of cricket?
Without a doubt, in societies such as ours, the representation of diversity in national sporting teams is of enormous symbolic value. But to stretch the analogy too far is not only absurd, but also dangerous, for a cricket team is neither a country nor a democracy. The presence of Tamils, Moors, Malays, Burghers, and Hindus, Muslims and Christians together with Sinhalese and Buddhists in the national cricket team is a welcome symptom of the potential for inclusiveness and pluralism we retain in our society despite generations of discord and conflict, but it cannot serve as a model of national identity and statehood. It is as ridiculous as arguing that our cross-communal enthusiasm for arrack and baila, or love of political melodrama – between Thileepan and Weerawansa, demonstrably a shared weakness – can be contrived somehow into a basis of ethnic cohesion.
It should also be remembered that for those in the chauvinistic end of the political spectrum who subscribe to this model of unity in diversity, Murali's apolitical tact in public utterances as a professional cricketer also denotes exactly how a Tamil should behave: recognised and even venerated for his talent, as long as he knows his place within the firmament and desists from making impertinent and awkward claims. That is, after all, the conclusion to be drawn from the mentoring relationship with Arjuna Ranatunga that gained so much for Murali in his formative years on the national side.
For the moment though, it is perhaps far more agreeable to just indulge in a bit of forgivable nostalgia on that footage from The Oval in August 1998 when Muttiah Muralidaran arrived upon the world stage, taking sixteen England wickets in the match (seven of them on the last day), and raise a glass to The Smiling Assassin, not only for the immeasurable joy he gave us for eighteen years, but also for the fact that, as the London Sunday Telegraph pointed out, throughout the vicissitudes of his career he 'has always shown himself a pukka gent.'