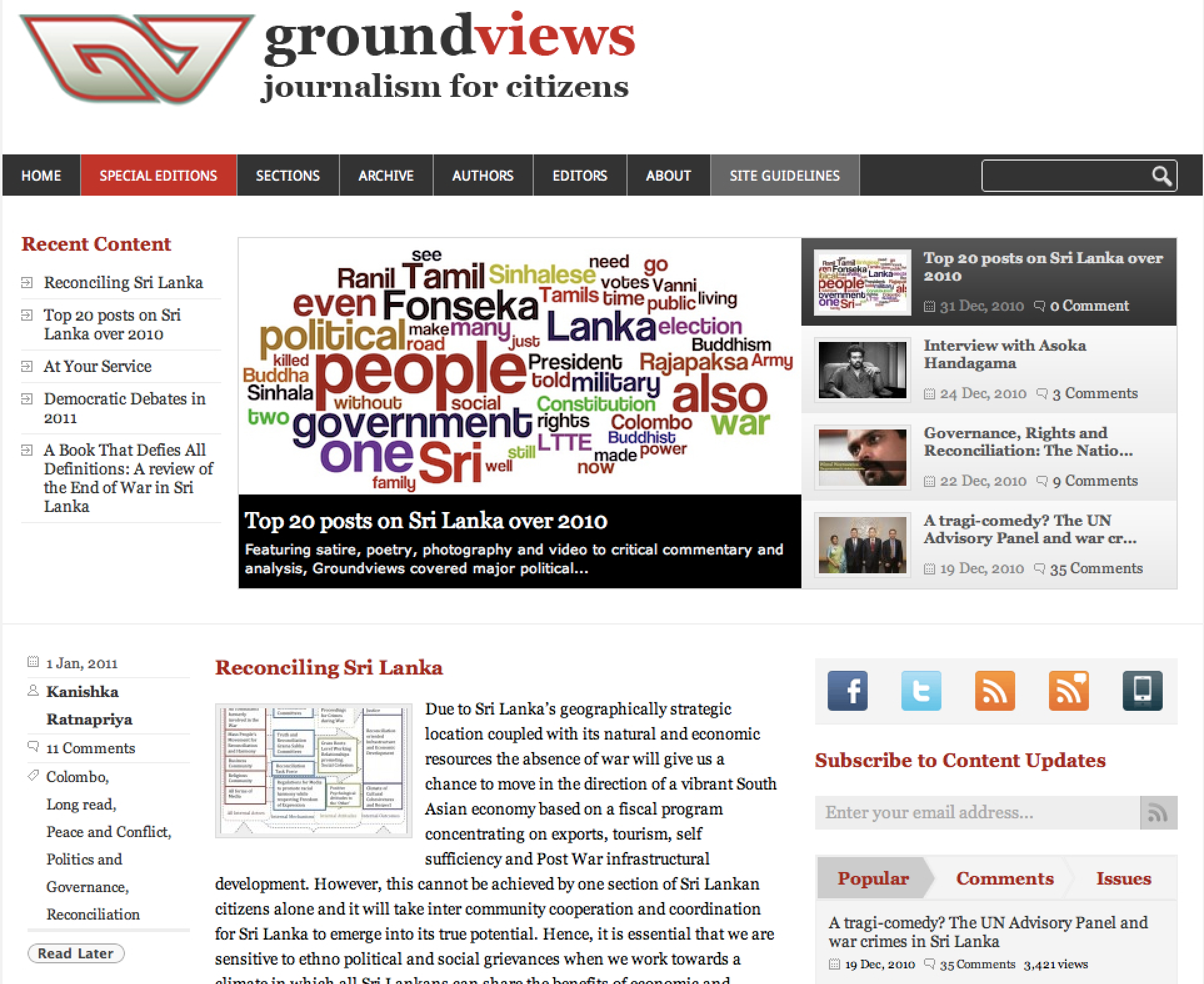 Image shows version 2.0 of the site, launched in 2009.
Groundviews is a citizens journalism website based in Sri Lanka. The site uses a range of genres and media to highlight alternative perspectives on governance, human rights, the arts and literature, peace-building and other issues.
Disclaimer
The content published herein is the sole responsibility of the respective authors. The views and opinion expressed, and the content published herein do not necessarily reflect, unless expressly noted, the Centre for Policy Alternatives (CPA) or any of its members of staff.
Guiding principles
Our idea of citizen journalism and content herein adheres to that which is outlined here.
Our vision
To demonstrate, by example, that citizen journalism can enable civil, progressive and inclusive discussions on democracy, rights, governance and peace in Sri Lanka.
This site was the first attempt in Sri Lanka to create a means through which citizens in civil society could pen their own perspectives of life in conflict zones, call attention to humanitarian emergencies, give information on security / ground conditions and present alternatives to the status quo. The site is also a forum for critical debate, including academic commentary anchored in ground reality that would or could not find expression in traditional / mainstream media in Sri Lanka today. It is also a site for new media innovation, demonstrating by example how web and mobile platforms, apps and technologies can, inter alia, bear witness to violence, document rights violations, record corruption as well as stories of resilience, courage and hope.
Funding and support
Groundviews was set up under the Voices of Reconciliation Project, conducted by the Centre for Policy Alternatives (CPA) from 2005 – 2006, funded by CIDA and AusAID. From February 2007 to late 2009, Groundviews did not receive any funding from local or international sources. From late 2010 to the end of 2013, core operational costs were met by funding from Ford Foundation. The Centre for Policy Alternatives is the institutional anchor for Groundviews, since its inception. Funding since 2013 noted below,
Internews – 15th September 2012 – 31st March 2013
Friedrich Naumann Foundation for Freedom (FNF) – 1st February 2013 – 31st May 2013
Google Media – 31st March 2013 – 30th March 2014
Sri Lankans without borders (SLWB) – Canadian – 25th Aug. 2014 – 08th January 2015
National Endowment for Democracy (NED) – 01st May 2014 – 31st December 2015
FNF (Corridors of Power) – 01st May 2016 – 31st August 2016
FNF (Liberal Concepts and Solutions) 01st January – 30th November 2017
FNF (3 D Modeling Website) – 01st March – 30th November 2017
Global Voices Citizen Media Summit 2017 (GV) – November – December 2017
Management Systems International (MSI) – SPICE (Trilingual Reporting on the Struggle – 01st – 30th April 2017
East-West Management Institute (EWMI) – 01st May – 31st October 2017
Democracy Reporting International (DRI) (150 yrs of Tea and the Right) – 01st to 31st August 2017
Counterpart International – 05th October 2017 – 15th August 2018
US Embassy, Colombo – 15th October 2017 – 30th November 2018
International Media Support (IMS) – 01st May 2018 – 30th April 2019
FNF – 2019 – 2020
NED – 01st February 2019 – 31st January 2020
Research on Social Media in Sri Lanka, led by Dr. Amarnath Amarasingam – 04th October 2019 – 03rd September 2020
International recognition
In December 2007, Groundviews was awarded an Award of Excellence in New Communications from the Society for New Communications Research. It is the first and to date only civil society and media web initiative in Sri Lanka to have won a competitive international award for excellence in journalism and media. "Groundviews exemplifies the mission of this awards program: the successful and innovative use of new communications solutions and social media practices to enhance communications and relationships" commented Mike Manuel, SNCR Best Practices committee chairman.
In 2009, Groundviews won the prestigious Manthan Award South Asia. The grand jury's evaluation of the site noted, "What no media dares to report, Groundviews publicly exposes. It's a new age media for a new Sri Lanka… Free media at it's very best!"
Key moments
Publication of Winning the War, Winning the Peace, an article by Dayan Jayatilleke, Sri Lanka's hawkish Representative to the United Nations in Geneva in July 2008. Dayan subsequently became one of the best read and most commented on authors on Groundviews. His sustained wide-ranging and deep engagement with content and commentary on this site was the only example, in any local media, of a highly placed official of the Rajapakse regime engaging in debates on issues related to human rights, war crimes, genocide, governance and humanitarian aid.
In March 2009, the widow of Lasantha Wickremetunge (the most senior journalist to be assassinated in Sri Lanka in January 2008) wrote in desperation to Groundviews to publish a letter to the Inspector General of Police on the death of her husband.Groundviews was told that no newspaper in Sri Lanka was willing to carry this letter in full.
Groundviews was the only voice to critique a reference from Wikipedia used by the Sunday Times, a leading newspaper, to buttress a case for the alleged pro-LTTE bias of Canadian Liberal MP Bob Rae, deported from Sri Lanka after first being issued a visa to enter. It was recommended for the syllabus of a leading journalism school in Sri Lanka as a case study in the study of online sourcing.
In one of the most under-reporting yet compelling humanitarian news in post-war Sri Lanka, Groundviews was the first and only media site to report on the flooding in IDP camps in August 2009. We also published the first images, taken secretively from a mobile phone, of the devastation on account of the flooding in the IDP camps – images the government of Sri Lanka does not want the world to see. This groundbreaking content was republished in the New York Times and the BBC, as well as other renown local and international media sites.
The creation of Banyan News Reporters, a device to encourage a number of authors to use well written satire to interrogate issues related to corruption, war crimes, impunity, censorship, civilian displacement, abductions, torture, extra-judicial killings, human rights violations, "national security" and humanitarian aid. It is the only  example of satire used in the pursuit of peacebuilding in Sri Lanka, and now has a cult following with some article republished in mainstream media.
"The citizen journalism website Groundviews did some of the most telling early reporting on the conditions within the IDP camps, alerting national and international opinion to the growing conditions of squalor and distress following heavy rains in August and then October 2009. The website's reporting was accompanied by a poignant commentary on the level of concern of the mainstream media in the situation in the camps." – Excerpt from Freedom in Solidarity: Media Working for Peace in South Asia, published on behalf of the South Asia Media Solidarity Network (SAMSN) by the International Federation of Journalists (IFJ) Asia-Pacific. (Pg. 40)
Freedom House noted in its 2013 annual report on the global media, "Web-based media and blogs have taken on a growing role in the overall media environment, with outlets such asGroundviews and Vikalpa providing news and a range of commentary, even on sensitive stories and events that are barely covered by the mainstream media."
Related content
For content in Sinhala and Tamil related to the issues highlighted on Groundviews, please visit Vikalpa.
For short videos on pressing needs and vital issues in Sri Lanka, visit the Vikalpa YouTube Channel.
For compelling photo journalism by Vikalpa, visit its Flickr page here.