About six months after the end of the war, in November 2009, the government of Sri Lanka relaxed restrictions on travel to the Vanni[1] and started to allow some of the displaced people to go back to their villages.
Although the government still maintains some restrictions on travel, I managed to visit these areas many times. My visits including overnight stay in Vanni without beds, attached bathrooms, running water, electricity, helped me to better experience and understand life there after the war. It also increased my admiration for some of my friends, Catholic priests and sisters, who warmly welcomed and hosted me and my friends every time we visited, despite the very basic and difficult life they had opted to live.
My visits took me to interior villages deep inside the Vanni. From Paranthan on the A9 road to Ponneryn, and then further south on the A32 road, down to Vidathalthivu, visiting villages such as Mulangavil, Thevanpiddy. We also visited villages and towns such as Mallawi, Thunukai, Uruthirapuram Sannar, Eechalavakai. In the Mannar district, we went to Adampan, Alkataveli, Uylankulam etc. East of the A9 road, in the Mullativu district, we visited places such as Oddusudan, Katsilaimadu and upto Vattapalai on the A34 road.
The A9 road was crowded with buses, vans and even luxurious vehicles such as Prado, Defenders etc. I had talked with some and most appeared to be tourists from the south going to Jaffna. Name boards from buses indicated the variety of places they were coming from, practically all districts of Sri Lanka. Many were picnicking under shady trees on the roadside, others admiring war monuments built by the military.
However, I saw no tourists and luxurious vehicles along the dusty, broken and bumpy roads beyond the A9 road. Every time I went in a van, after the journey, the drivers told me they will have to send the van for repairs and service! The times I went by motorbike, it was a bit easier to negotiate the gaping holes on the roads, though the dust, heat and sitting upright for hours was not so comfortable.
What's hidden beyond the A9?
On most occasions as we turned from the A9 road or from the Mannar – Medwachiya road to go interior villages, it seemed to arouse suspicion and curiosity in soldiers. Familiar questions of earlier years, such as "where are you going?" "why are you going?" "who are you" were thrown at us. Our response that we are going to visit friends didn't appear to be a satisfactory answer. In the Vanni, it seems to be considered something abnormal and suspicious to visit friends!
My Tamils friends from the North found these questions offensive.
"This is our land, our people are living here, these soldiers are from outside, how dare they ask us all these questions and stop us? Why can't I visit my place? Why can't I visit my relatives and friends? Why can't I invite friends (meaning me)?" were the angry and frustrated refrain I was to hear often from my friends.
Most of my friends were Christian priest and sisters, some of them were going to their own places, own land and houses. Places they had grown up, and their families had been living and still lived. These were also areas where they had served their religious and social ministries and their colleagues were now living and working in very difficult circumstances.
The fact that I was Sinhalese from Colombo seemed to arouse further suspicions and curiosity amongst the soldiers.
We asked why they were trying to stop us from visiting, especially as these were areas formally declared as areas cleared of land mines and people were already living there.
"We don't know, we just follow orders" was the inevitable response. Some of the soldiers were apologetic. On several occasions, it was mentioned that we have to get permission from the Ministry of Defense or that we should go to a nearby Brigade Headquarters and get special permission or a pass.
My friends and I tried to maintain our composure and sometimes soldiers at the check points tried to help us by contacting their superiors while we waited patiently. Some occasions, soldiers did their best to sooth our frustration by offering us chairs, chatting to us and giving us tips about how bad the roads were! I didn't think they had anything else to offer. On one occasion, we waited for about 30 minutes near Paranthan on the A9 road and one solider rode on a bicycle to inform the checkpoint that the commander had given a special permission for us to proceed to Uruthirapuram. On another occasion, me and a priest friend from Mannar waited in vain in the hot sun for about an hour at the Mankulam junction check point awaiting permission to visit the recently returned people in Oddusudan. The permission never came and we left the embarrassed and apologetic soldiers at the checkpoint and turned back. On yet another occasion, we waited patiently at a barrier in Vattapalai in the Mullativu district for about 30minutes, again while the officer on duty contacted his superiors and that superiors contacted his superior. We wanted to proceed to Killinochi through the shortest road through Puthukudiruppu that we learnt was already open, but not for civilians. Permission never came and we finally turned back and took the longer route through Mankulam. When we turned back and went, some officers on duty offered to call us on our mobile phones if they did get permission from their superiors to allow us through, but we never got a call. On several other occasions, the soldiers or officers at the checkpoints consented to allow us to proceed after some initial hesitation.
Anyways, like we did with the LTTE during the time they were in control of the Vanni and restricting travel to Mullativu and other interior villages, my friends and I did manage to negotiate with those trying to stop us and visit our friends in the interior villages.
Militarization
On most roads inside the Vanni, whether on the A9 or interior roads, I felt as if we were travelling within a military camp. Military camps and check posts were along all the roads.
In Pooneryn, the main road literally ran through a newly built Army camp. In several other places including the A9 road, army camps occupied the main tarred road and we as civilians were forced to take a roundabout route, on muddy dusty makeshift pathways. In the more bushy and jungle areas, sign boards on the roadside indicated military camps inside the jungles.
Soldiers were everywhere with uniforms and with weapons. Some soldiers were in civil but were easily identifiable through the gun on their shoulders, even as they were walking or riding their bicycles. Other soldiers were relaxing, playing cricket and bathing in small streams. The buildings that were in the best conditions were all military and police structures. I could very well empathize with what one elderly gentleman in Mulangavil told me; "it looks as if it's their (military) land and we are strangers, while the truth is they are occupying our land".
Clearly, the military has less to do on military matters now. I saw and heard in several places that the military is assisting with road construction, distributing water, organizing cultural and sports events etc. I also heard of efforts of some military officials to assist civilians in their basic needs. In view of the massive needs of the population for basic services and infrastructure, and the very weak civil administration and reluctance of the government to allow NGOs access to help those in need, people are compelled to depend on the military for even basic services like water.
Security fears
The huge military presence, with past experiences of abuses, has caused deep rooted fear amongst many of civilians I spoke to.  "We are scared to have young girls and boys walk around in the dark" one mother told us.
Catholic sisters who had gone to be with the people had sent additional reinforcements, as they didn't want sisters to be alone.
"I was accused several times by the Army intelligence of being in the LTTE. Another boy was also accused. The Army had also told a villager that I would be taken away. I'm scared and don't go anywhere alone" was what one man in Kathalampiddy, close to Vidathalthivu told us. "Although only two people had been threatened, the whole village is now scared" another woman from the village told us.
"Will the Army leave soon?" one anxious young man asked me, to which I had no answer.
Snakes have also instilled fear in several villages in visited. In one village I visited, snake bites had caused two deaths and several injuries.
Sexual abuse
"In front of our own eyes, and inside our premises, the army was touching a young girl…so what would happen if we are also not there" one Catholic sister asked me when I met her in the Vanni.
Amidst the huge military presence, one lady was raped in newly resettled area of Alkataveli, close to Adampan and north of Mannar and one person was killed in Killinochi. The checkpoint and soldiers with their guns had been unable to prevent or bring perpetrators to justice. An incident of sexual abuse by a soldier in Nachikuda was narrated to me. I heard of other incidents of rape, sexual abuse, killings, but could not get confirmation.
Two young female students we spoke to complained that they felt they were being harassed by regular requests to see identity cards as they cycle to school in nearby Illupaikadavai. "They don't ask the boys, they only ask girls, even when they know we don't have identity cards at our age, and they know who we are. It seems they are trying to flirt with us" one girl said.
Happy to be back…but incomplete return
Most of the people I met would start conversations with bright smiles, saying they are happy to be back in their own land, despite all they have lost and the adverse circumstances.
But as we continued to listen to them and be with them, we would often be left speechless and helpless, as tears welled up in their eyes.
Most families had returned incomplete. Not just without properties, but also without their loved ones who had been killed, missing and detained.
Discriminating the dead
Many of the people I met in Vanni had parents, children, brothers and sisters, grandparents and other close family members killed during the final months of the war in 2009. It almost seemed normal and inevitable in most of the villages I visited in Vanni.
Since 2006, I had met families of Sinhalese killed in claymore attacks, suicide bombings by LTTE in rural villages such as Kebidogollwe, Moneragela. The sorrow I experienced with them and with the Tamils in Vanni was not very different. The tears and sorrow didn't seem to have an ethnic dimension.
But how the society and government deal with these certainly seems to be on ethnic lines.
Society and the government had been quick to condemn killings by the LTTE and mourn with the grieving families. Sinhalese people killed by claymore attacks, suicide bombings had got death certificates, compensation from government and even business groups. They all had funerals, often with media coverage, even state patronage. I had seen these on TV, in newspapers, and saw and heard from family members and villagers. I felt these were some basic measures, even though we all know lives lost can never be compensated.
But there seems to be a reluctance of Sri Lankan society and the government to mourn and grieve with the Tamils who had lost thousands of loved ones within a few months. The large number of Tamils killed don't have death certificates, no compensation, no funerals. "We had no time to mourn, leave alone a funeral. We had to run over the dead bodies, just to save our own lives" one woman whose two children were killed told us.
"About 25 have been killed in this Grama Seweka division. I can easily collect the details of those who have been killed in the village, witnesses etc., and assist people to get death certificates and compensation. But I have not got any instructions from the government. I think the government wants to cover up that so many people were killed. Im scared to do anything by myself as I might fall into trouble" said one Gramw Seweka in a village in Manthai West division when I asked him about this.
I tried to find out procedures for obtaining death certificates, but was not successful. In the Vidathalthivu area, I was told there was a mobile clinic to issue birth and death certificates, but that all applications for death certificates were rejected.
Families of those missing, detained, injured
Families of those killed were not the only ones who were crying.
Many didn't know where their loved ones were living or dead. And if they are living, where they are. Most had seen their children, husband, brother etc., go off with the army. Subsequently, they had searched in IDP camps, detention centres, hospitals, with relatives. Except few, many had failed to find their loved ones.
"I live crying everyday, and searching for my 3rd son. He was injured and taken to a hospital by the armed forces. I heard that he was in Mannar hospital and I went there. With help of Police there, I could find the name of my son on the register. I was told by the hospital that the Army had taken him away after getting him discharged. But I couldn't find the Army officers who had taken him. I can't find my son. Who will find my son? There are so many mothers and fathers in this situation. Can those who have elections find our children?" was what a mother from Krishnapuram told us.
In April, I and some friends joined an 67 year old man now in Zone 4 of Menik Farm IDP camp (Chettikulam, Vauniya district) to find his missing son. We went to Padaviya hospital where the son had been admitted after being evacuated from the Vanni by the ICRC in March 2009. Padaviya hospital records showed that the son, who was mentally retarded and unable to walk, was indeed admitted and had been transferred to Vavuniya hospital. When we came to Vavuniya hospital, there are no records of such a person being admitted.
Many others I met had similar stories.
In every village, I would also meet people whose children and family members are being detained, for almost a year and some for many years. They have not been charges in court of law. And have limited access to friends, family and no access to ICRC and lawyers.
"I have come back to my village. I could probably build my house. But my son is a prisoner. I don't know when he will be allowed to come home. First the LTTE took him and now the Army has taken him. How can I be happy at coming back when my son is still a prisoner and I don't know what will happen to him" asked a mother with tears in her eyes.
Each time I visit the office of the National Human Rights Commision (NHRC) in Jaffna and Vavuniya, I run into anxious families, glancing through the list the NHRC had displayed. This list has a round one thousand names of people being detained in Boosa detention camp and elsewhere. But the governments officials have claimed over 10,000 are detained in Vavuniya alone. Many thousands more are in detention facilities all over the country.
But these helpless families don't have access to a centralized list with any government or independent agency, to check and see whether their children or loved ones are in any official detention facility.
Fear of Sinhalese domination
In the interiors of Vanni, I could see many sign boards in Sinhalese. Despite the fact that almost all the civilians in Vanni are Tamil speaking now, Tamil language was visibly absent in many sign boards.
Some places and names had been given new Sinhalese names by the military. As I took a photo of a signboard in Sinhalese marked "Ali handiya" (meaning elephant junction) Along the Mankulam – Mullativu road, an army officer rushed to stop us and asked us why were taking photographs. We asked in turn about this board. "The Tamil name is too long and complicated, so when we took control of this area, we put this name, as this is much easier for us" was his explanation. My friend from Mullativu was inside the van, but kept quiet, but he couldn't hide his anger and hurt afterwards.
Some of the signboards in Sinhalese are those with names of Sinhalese soldiers. Gamini Kularatne Mawatha in Pampaimottai and Ranawiru Abeysundara Mawatha in Kalliyadi are examples. When I asked a villager what this meant, he said he thought it was their village name written in Sinhalese, and was shocked when I told him that it was not the village name, but a Sinhalese soldier's name.
At the Mankulam junction on the A9 road, there is a signboard in all three languages. But in addition to the usual and accepted Sinhalese names, the board also mentions older Sinhalese names. "This is an attempt to show that these lands are Sinhalese lands" one Tamil priest told me.
Foremost place to Buddhism even in Hindu and Christian villages
A striking feature along the A9 road, in the Killinochi town is the large arch proclaiming "May Buddhism shine". From what I understood from the civilians I spoke to, vast majority of the civilians were Hindus and a significant number Christian. However, there were of course no arches or boards proclaiming "May Hinduism shine" or "May Christianity shine". The Lumbini Viharaya, the Buddhist shrine in Killinochi town was spick and span and was obviously being given a lot of attention.
Compared to this, the Hindu kovils and Christian churches were visibly in bad shape, some were abandoned and buildings damaged.
Along the A9 road and the smaller roads in the interior villages, new and shining Buddhist monuments and statutes were visible. All of these were villages with large majority of Hindu and Christian civilian populations. I saw soldiers cleaning up an area in Mankulam with a Bo Tree, probably to put up ayet another Buddha statue.
There was even a Buddhist dagaba in the premises of a Catholic Church which was occupied by the Army when I first visited Manthai West AGA division in Mannar district, immediately after people were allowed to go back. 09.
I have a lot of respect for Buddhism. But I wonder why Buddhism has to given such a prominent in villages where the civilian population is predominantly Hindu and Christian? Is it because our constitution has a clause saying "foremost place to Buddhism"? Or to show that Buddhism is the religion in Sri Lanka and people in Vanni had better learn to accept it now?
New monuments for the Army and destruction of dead Tamil militants cemeteries
Along the A9 road such as in Killinochi and Elephant pass as well as in interior villages such as Pooneryn, there were monuments built by the military. These symbolize victory for the military and the government, but for most of the Tamils I spoke to these monuments symbolize domination of their lands by the Army. And glorification of a war that killed and injured thousands of their loved ones.
There were no monuments for the thousands of Tamil civilians who were killed and went missing in the war. I asked many times, in many places from many people about any monuments to remember the thousands of Tamil civilians killed and gone missing, but there were none.
Making this worse is the destruction of cemeteries with dead LTTE cadres by the Army. I saw at least one in Vanni, while I had seen such destructions in Jaffna as well. Despite it's brutality and record of violence & killings, the LTTE had a tradition of respecting it's dead cadres and this had provided family members and friends to visit the graves of their loved ones and conduct religious and cultural rituals, especially on special days such as birthday and day of death. Now, family members are compelled to gaze emptily at gravel heaped together.
Re-displacement and occupation of land by Army
In my most recent visit to the Vanni, earlier this week, I went to Eechalavakai, along the Periyamadu Road from Vidathalthivu, in the Mannar district. There, I met some people who were still living in tents in a common village land as displaced persons. Amongst them was a 10 day old infant.
"We were told by the Divisional Secretary that we can go back to our lands. So we came from the camps. But when we came and started to clean up the land, the land we have been living for more than 25 years, the Army came and told us to go away. When we asked why, they told us that they are going to take our land for a Army Camp" one villager told us.
Later, we were shown their lands, in nearby Sannar, where notices were pinned to trees saying "This land is reserved for Army"
Houses
Most of the houses had been damaged. Most people I met were living in temporary make shifts tents built with canvas and tin sheets provided with foreign aid. Many more were living in makeshift houses that were damaged. When I first visited Adampan, some people were living in a church.
We also saw a number of houses destroyed. Some were totally destroyed and will have to be built from scratch. Others were partly destroyed, but parts still standing.
I was told by people that while some houses were damaged during actual warfare. In case of other houses, people had just abandoned their houses and left as the Army advanced. Several had been converted as bunkers by the LTTE. Others had been occupied by the Army. Some are still occupied by the Army.
Basically, there was hardly any house that was in good shape that I saw. Except some that were occupied by the Army.
"The house we built had to be abandoned during the last phase of the war. When we came back, the house had no roofs, windows, doors. There was not much fighting in these areas. Who took these? Why did they take these? What was the connection between war, terrorism, LTTE and the roof, windows and doors of our house?" questioned a Principal of a school close to Killinoch town.
"When we came back (after displacement), we found that roofs, doors, windows of all houses were missing, except one house. The remaining house with roof was because the army had used it as their camp. Valuable household items were also missing" commented a middle age man from Vattapalai, close to Mullativu. Another middle aged man from Katsilaimadu, also close to Mullativu showed visible anger as he told us "I have heard that doors, windows etc. is available for sale. This means selling our own things that were stolen from us. There was no war in these areas, we left everything. Walls of houses are there. But nothing else."
Education
Along the A9 road and along the interiors, we saw many school children. Some schools buildings had been renovated some had not been repaired after been damaged or abandoned. And there were many classes being held in the open air under trees.
In one of my visits to Thevanpiddy, I was surprised to hear that that the whole Church, the residence of the priest and even the garden was being used for the school, as the school itself had been damaged. In a subsequent visit this week, I learnt that some classes are still conducted inside the Church.
One of my friends from Jaffna, is now teaching in this school. "We do our best to teach our children. But we who try to educate the children have no hostel or proper facilities to stay, while the Army and Police have good buildings" lamented my friend, who stays the weekdays in the makeshift school and travels every weekend to Jaffna to be with his family.
We had the chance to chat with several students, teachers and principals and one Deputy Zonal Director of Education, who I met by coincidence in the train I was travelling to go to Vanni. Below are some of the stories we heard:
In Panikankulam Government Tamil Mixed School, along the A9 road, we found that there are 19 teachers for 18 students. However, teachers have to travel 2-3 hours, and some even more, from Jaffna and Vavuniya, on a daily basis. A free bus service was provided till the Presidential elections of 26th January, but since then, the teachers have to spend a major portion of their salary for transport.
But in other schools, there was a clear lack of teachers. One Principal there were no teachers for Mathematics, Science and English
We met some students (aged 17-18) who had sat for the G.C.E Ordinary Level examination in December 2009, and were now volunteering as substitutes for teachers
At the time we visited in February, we learnt that only 10 of the 54 schools in the Thunukai division had started. 18 out of 29 were functioning in the Poonagary division.
At least in two schools, we heard that children walk at least 8km a day (4km either way) to go to  school, as there is no bus service or any other transport system
Some children have also been compelled to travel far to distant schools, as schools in their villages had not reopened
Several children told us that they had not received text books or even copy books
We observed that some children were in school uniform, while others were not in uniform. "Many children don't have uniforms, they have not been given uniforms and parents don't have livelihoods and can't afford to buy school uniforms. So we allow them to come without uniform" explained one Principal
Most of the support for students comes not from the government, but from UN. The UN's World Food Program (WFP) was providing mid day meals to some school students. One Principal told us the WFP subsidy comprises rice, dhal and cooking oil and is an average of Rs. 2.00 per student
UNICEF provides most other materials, from mats for children to sit on (both indoors and classes under trees) as well as school bags, books, tools etc.
Several Principals and teachers also told us about teachers and children who had been killed and injured during the last months of the war. Principals also reported about their students who had been abducted /recruited by the LTTE. One Principal added some students forcibly recruited are now detained by the government
Military restaurants and people's restaurants
One of the initial sources of livelihood when people went back to villages in the Vanni were the small tea shops that they set up along the A9 road and other roads.
But these were overshadowed by the bigger, better looking and better equipped "Janaavanhalas" (People's restaurants) put up by the military. Each and every time I go along the A9. There appeared to be more military run restaurants than before. In the small Paranthan junction, there were around 10 such restaurants, run by various divisions, brigades of the military.
"We have nothing, had to start from scratch and wanted to slowly build up business. The Army has the resources to put up big structures, refrigerators, tables, and chairs etc., also people to work. Visitors coming in buses and vans from the south go to the bigger restaurants run by the Army. Most of the visitors are Sinhalese from the south and maybe they prefer to go to the restaurants run by the Sinhalese soldiers. So although thousands of buses and vans go on the A9 road, we have very little business and it's very difficult to build up and develop our tea shop" was the grievance of one elderly women, at whose small and basic tea shop I had stopped to have some tea.
Cultivation and fishing
As I visited the Vanni, I was struck by the fertile land and greenery, especially around Adampan. It was refreshing to see that some farmers had already started cultivation in these areas.
However, in most parts of Killinochi and Mullativu, there was no cultivation yet and I heard despairing farmers waiting to start cultivation. Some had received some agricultural tools, but no seeds. Most importantly, many still didn't have access to their farmland. Some remain occupied by the Army, some areas are claimed to be still not demined and other areas simply declared off limits without reasons.
Fisherfolk on the western coast have been more fortunate in terms of easing of restrictions since the end of the war. Restrictions still apply however, such as around Iranathivu, Periyathivu, Sinnathivu, all of which are occupied by the Navy.
Some fishermen complained to us that the Navy had beaten them. "We thought the restrictions were lifted and went nearby these fertile areas for fishing. But we were beaten by the Navy and told we can't fish there as the area belongs to the Navy. At least they could have informed us without beating us" was what a group of fisherman told us.
A major problem these people face is the lack of boats and nets, as most of these had been abandoned when they fled for their lives. Most boats and nets were lost, while others are damaged. Some said boats had been stolen. "There were about 250 boats in our village, but now, there are only 3 left" one fisherman told us. Another fisherman told us that they can earn about Rs. 1,000.00 per day when they go fishing, but they only get the chance to go once a week on average, due to lack of boats.
Government servants such as the Grama Sewekas, Divisional and District Secretaries and their staff, health officials, teachers and education officials have also returned to work.
Freedom of Association
The government is also trying to restrict any peaceful mobilization, collective action of empowerment of people in the Vanni.
The Presidential Task Force headed by the President's brother Basil Rajapakse had granted permission to some NGOs to launch some projects to assist people in need of assistance. "But permission has been granted only to build houses and infrastructure and start income generating activities. Permission has been rejected for counseling, capacity building and empowerment activities. So we are restricted in what we can do" said one head of an NGO based in Mannar, which is keen to assist people in Vanni.
"We tried to start a small association to help people who were helpless. But the army doesn't allow us to meet" an elderly gentleman told us in Vattapalai, close to the Mullativu town.
What does the future hold for Vanni?
Vanni people had suffered a lot. Under the authoritarian rule of the LTTE when people, including children, were forcibly recruited to fight, dissent was punished and many lived in poverty. Then during the war, where entire villages were displaced more than ten times, some had been injured, all had lost properties, and most have had their loves ones killed, missing and detained.
So people I met in Vanni are happy that the bombings and shelling have ceased. They are relieved to have been allowed to go back, after multiple displacement and subsequent detention by the government.
But they still face an uncertain and fearful future.
Most people in interior villages live isolated lives, surrounded soldiers they fear. Men live in fear of being abducted or detained. Women and girls live in fear of sexual abuse. They also fear domination of their lives, lands and culture by the Sinhalese and Buddhists.
Students are concerned about access to educational facilities. Farmers and fisherfolk await opportunities to engage in their traditional livelihoods.
Even those who had suffered under the LTTE and had opposed the LTTE are saddened as the cemeteries of Tamil militants are destroyed and monuments are built by the military and for Sinhalese soldiers
And the despair and fear worsens as the rest of country prepares for a massive celebration of a war victory, while people in the Vanni cry over their dead family members, try to trace their missing family members, try to recover from their injuries, await release of detained family members.
Divisions between Sinhalese & Tamils, North & South become clearer as the Sinhalese in the South celebrate and Tamils in North mourn for the same occasion. If Sri Lanka is a home to one family, where Sinhalese and Tamils are brothers and sisters, what we might see on the occasion of one year since the end of the war is something like having a funeral and a wedding in two rooms of the same house for two children of the same family.
One year after the end of the war, reconciliation would be a hollow and empty word unless concerns such as the above are not addressed.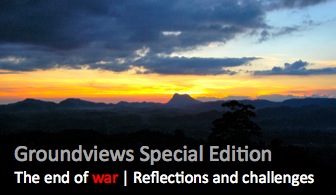 ---
[1]
Vanni is the term commonly used for areas previously controlled by the Liberation Tigers of Tamil Eelam (LTTE). The area comprised the whole districts of Kilinochi and Mullativu and parts of Mannar and Vavuniya districts.
This report is based on many visits to villages in the Vanni between November – May 2010.