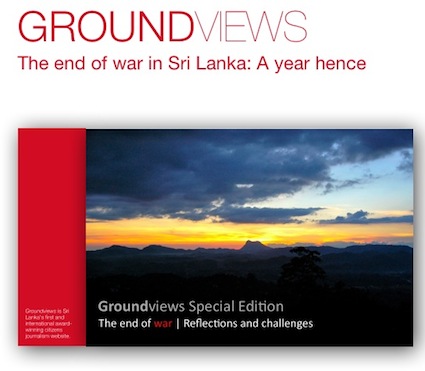 Download the 162 page compilation of content as a PDF in high quality (25.4Mb), or low quality (3.7Mb). The low quality version is good enough to read, but the photos will look and print much better in the high quality version.
From 19 – 27 May 2010, Groundviews ran a special edition on the end of war in Sri Lanka. Over this week alone, the site received over forty thousand readers and exclusively featured over eighty thousand words of original content, one video premiere, over a dozen photos, generating over one hundred and fifty thousand words of commentary. Tens of thousands more have read and commented on this content since, making the special edition a sui generis archive of intelligent debate, incisive critique and vital perspectives that mainstream media in Sri Lanka, even post-war, is too fearful to feature.
For example, one memorable and particularly hard-hitting comment inspired by the content in this special edition came from Tathagata Bose, an Indian medical doctor who based on direct experience with the treatment of large civilian casualties at Menik Farm just after the end of war averred:
"I am an Indian pediatrician who served with the Indian Medical Team at Menik Farm IDP center. The point I am trying to raise is this – we were managing scores of infants with bullet / shell blast injuries (some festering, mostly healed). It gives an idea of the extent of collateral damage suffered by the civilians caught in the last days of the conflict. If an infant could not be protected, imagine the plight of older children and adults. The so-called "Sri Lankan Solution" being touted as the panacea for dealing with terrorism worldwide needs a thorough relook."
A significant challenge when publishing web content in print form is to capture the vibrant nature of online debate and discussion. Because of the sheer volume of reader generated commentary, this volume only contains the original contributions by the authors. Links are provided to each article on this site, and readers are very strongly encouraged to engage with online comments.
The articles are published in the order they appeared on the site. However, the final three essays were not part of the special edition online and are included because the authors anchor their key arguments to issues, processes, people and events flagged in the special edition.
Groundviews was set up to bear witness, contest the status quo and document inconvenient truths. The comment by Dr. Bose alone is a cogent example of the site's unique role, recognition and continued relevance post-war.
The content in this special edition alone is a compelling record of hope that risks disappointment, defiance that trumps despair and a resilient, indefatigable search for identity, truth, accountability and closure – vital narratives that need to be heard and which can't be censored, curtailed and contained.
Veritas vos liberabit.