Editor's Note: These are excerpts from a long-form story on the experiences and reflections of Muslim families in Akurana, Ambatenne, Pallekele, Digana and Katugastota, three months after a series of violent attacks against their communities. Groundviews visited these areas in the first week of June 2018.
Individuals whose homes and businesses were damaged by Sinhala-Buddhist extremist mobs spoke with increasing frustration of the inadequate State response to the violence. They also outlined the probable causes that would motivate these groups to wreak this violence.
In order to ensure attention to key issues, we are publishing each as an excerpt.
Mr. Jazeel (captured in featured image) walks around his shop, located on the bend near the Akurana bridge, 12 kilometres from the bustling Kandy city. It looks the same as it did on the night of March 7, when a mob set fire to the shop premises and his workshop behind it. Petrol bombs were thrown into his showroom, and the ensuing damage has left the building unsafe for renovation. It needs to be torn down and built again.
'We received 100,000 rupees from the government in the immediate aftermath, that was all', he says. This compensation barely covers a fraction of the cost for a single piece of equipment that he would have to purchase, let alone the reconstruction of his entire showroom. To add insult to injury, officials are asking him for bills, blueprints and other documents to help assess the value of what he lost. 'I tell them "Sorry sir, I wish I could show you all that but I lost it all in the fire'", Jazeel says.
The Attorney-General's Department visited to valuate his building, but Jazeel says nothing was put down in writing, and he was not given any concrete idea of when the next round of compensation would be paid. 'I had a heart attack late last year – all of this isn't helping with my recovery.'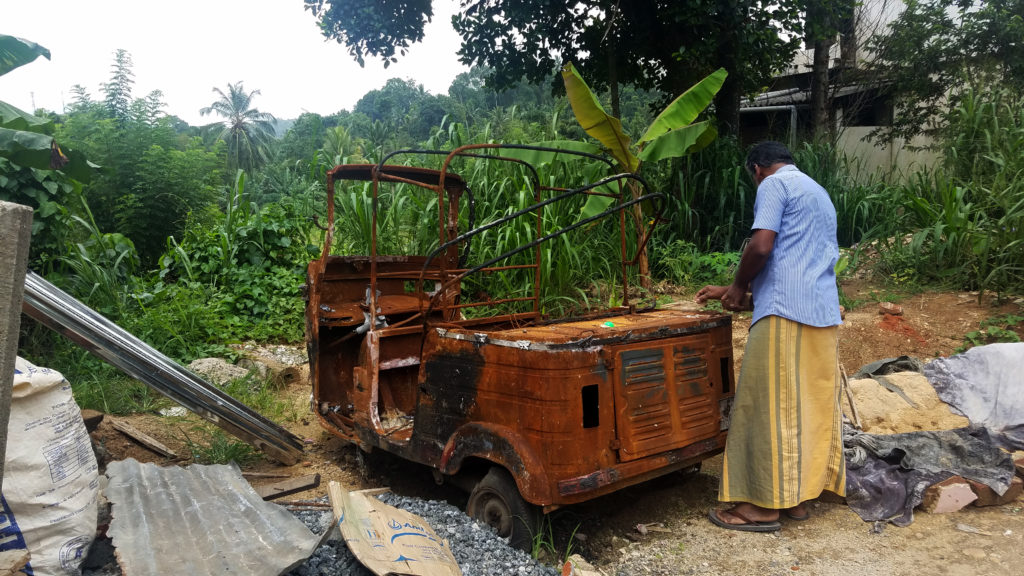 The skeleton of Fazil's three-wheeler sits near his home in Ambatenne, 10 kilometres from Kandy and located near a steep bend on the winding hill-country road. He pulls out a wire contraption from what used to be the passenger seat. 'An umbrella. They set fire to this, set it in the back of the vehicle. The whole hood would catch fire first, and then it all burns.'
'I'm rebuilding the wall of my house, and replacing all the broken glass. This is with my own personal savings,' he says. He notes with relief that the mobs didn't do anything to the small tailor shop attached to his home, aside from breaking the lock. He would have had to replace thousands of rupees worth of equipment and cloth, and would have been left without any source of income.
'The three-wheeler was my life, it was what helped me support this family', Fazil says. Though he is frustrated by the destructive mobs that took away his source of livelihood, he is also angered by the inefficiency of State officials, who he believes collectively stand in the way of a swift recovery.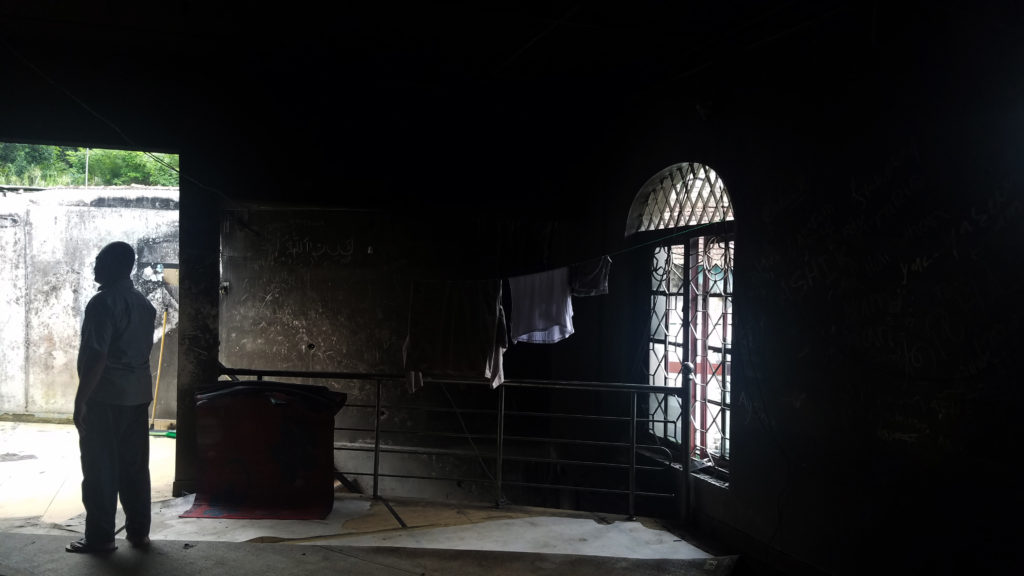 'I've been able to rebuild all of this because of people's generosity,' says Nizar, whose shop, holding close Rs. 3 million worth of goods went up in flames. He notes that compensation of up to Rs. 500,000 has been received from the Government, but adds that the compensation is inadequate given the extent of damage to some shops. He taps a small table, holding a display of 1 kilogramme detergent packs. 'This is what I bought with the Rs. 100,000 they gave me'. He shakes his head.
Nizar then walks through the Masjidhul Laafir, the walls of which are still covered in soot from the fires. They are blistered, and the windows that open out to the small balcony are shattered.
'Money is coming in' he says; from individual donors, from aid organisations and 'from Qatar'. A generous person gave them the entire neighbouring space to use as a temporary mosque, where blueprints for a new mosque have already been tacked. 'Four floors' he says, 'it will be bigger than what we had before.'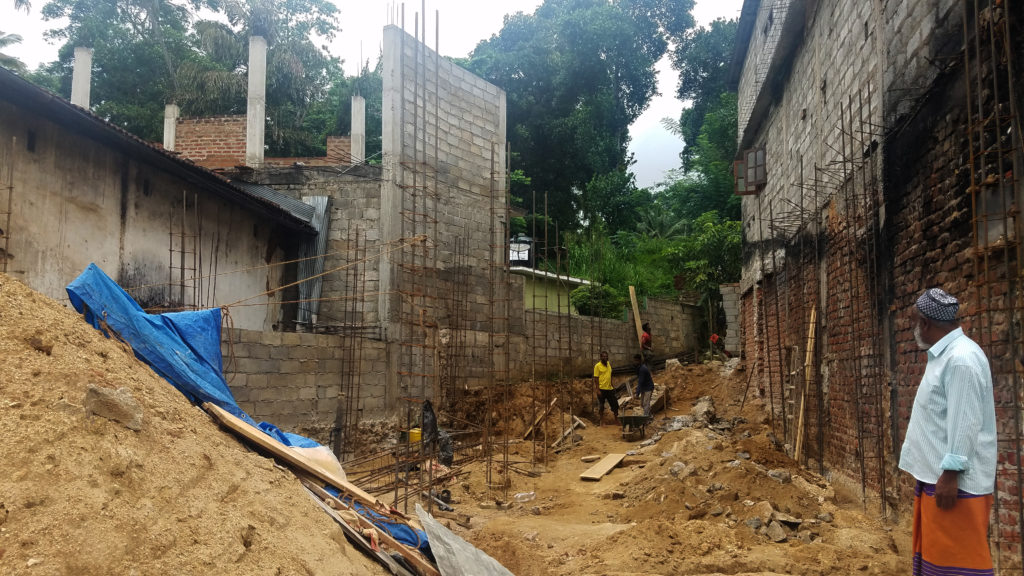 Some families lost more than others. Samsudeen's youngest son, Abdul Basith, died of asphyxiation when their shop in Pallekele was set alight. Samsudeen received just Rs. 100,000 as compensation for the devastating loss. Apart from that the family home and shop have been entirely torn down. Samsudeen is overseeing reconstruction and worries about his older son, Fayaz, whose skin burned off in large swathes as he tried to escape the burning house. He has a family of three and won't be able to work for a long time to support them due to the injuries he sustained on that night.
This new house is being built because of the 'kindness of others' but Samsudeen says that it doesn't cancel out the compensation that the government owes him and all those affected in the violence. 'We are able to build, but they are still responsible for providing compensation for what we lost. That is their duty.'
Read the full story here.