"Ten years later, I still get called a 'kotiya'," T. Rameshkumar, 43, victim of a false charge under the Prevention of Terrorism Act.
One morning in April 2008, Rameshkumar picked up a hire in his tuk tuk in Digana and was driving to the destination when he was suddenly accosted by a group in a white van who assaulted him, blindfolded him and pushed him into the van; his life would never be the same again.
He was taken to an abandoned building and beaten for four days before being moved somewhere else for a week. "I can't remember anything about that place except for my brother's bag and his shoes stacked against the wall, so I knew that at least he was with me," he said. Rameshkumar was taken to the Kandy Police Station the next day and tortured there for several months.
"They told me I was being arrested under something called the PTA on charges of terrorism with the LTTE," he told Groundviews. The controversial Prevention of Terrorism Act (PTA), one that permits arbitrary arrest and detention, has been a human rights concern of the international community and citizens of marginalised communities since 1979 when it was adopted as a temporary measure. The Act, which was recently used to hold student activist Wasantha Mudalige with no evidence for six months before his release, has repeatedly resulted in the unfair detention and the torture of political prisoners in the country, especially following the aragalaya last year.
According to the US Government's Human Rights Report on Sri Lanka 2022, the PTA allows courts to admit as evidence any statements made by the accused at any time and provides no exception for confessions extracted by torture. On March 22, parliament amended the PTA to include judicial oversight to safeguard against torture without removing the clause allowing for the use of confessions made to police while in police custody. International and local NGOs have called for the PTA to be further amended eventually abolished and replaced with legislation in line with universal standards.
Human rights and civil society organizations alleged that torture and police brutality, particularly to extract confessions, remained endemic. The Human Rights Commission of Sri Lanka (HRCSL) noted that many reports of torture referred to police allegedly roughing up suspects to extract a confession or otherwise elicit evidence. As in previous years, arrestees reported torture and mistreatment, forced confessions and denial of access to lawyers or family members. On November 15, the National Police Commission reported that it had received approximately 1,200 complaints against police during the year.
Rameshkumar, who claims he has never even been to the North, detailed his experiences while imprisoned under the draconian law. "They used to move us between what I later found out were the Katugasthota Police Station and the Kandy Police Station every day – every night they would torture us," Rameshkumar continued. "They put plastic bags over our heads and push lit cigarettes into our face so that the bags melt into our skin," he said. "Once they squeezed my genitals so hard that I bled every time I urinated for a week."
Two months into his arrest, Father Nandana Manatunga Director of the Human Rights Office, an NGO based in Kandy, became involved in Rameshkumar's case and finally got his family access to him. He was presented before courts once in every 14 days with no legal representation. "In the five years I was held I was not given access to a lawyer and we told everyone we met that we were being tortured but no help came." Rameshkumar recalls banging his head against the walls of his cell in an attempt to take his own life.
When Rameshkumar was finally given his day in court five years after his arrest, he pleaded guilty to charges of terrorism and was remanded by the High Courts as a result. But he claims he pleaded guilty just so that his nightmare would end. Rameshkumar's arrest and charges were based on photos of him inside an alleged camp of the LTTE. He attests that the pictures were of him on a pilgrimage in Sabarimala in South India. Sabarimala is one of the world's largest pilgrimage sites and receives about 10 to 15 million male devotees annually. "We wear all black as part of the traditions and a picture of me in these garments at the site of pilgrimage is what was used against me," he said. The same pictures were used to glean confessions of alleged terrorist activities while being tortured.
Father Nandana led the litigation on a Fundamental Rights Application to the Supreme Court after Rameshkumar was remanded by a High Court. Two years later, Rameshkumar was released from prison as a result.
The officers involved in his arrest and torture have faced no accountability or reprimand for their actions. "Some of them are comfortably retired with pensions, I still drive my tuk tuk," Rameshkumar said.
Rameshkumar's brother, whose identity has been kept anonymous, had retired from the Army when he was arrested. "The trauma and shock from what we went through when we were imprisoned has made him mute," Rameshkumar said. He is no longer communicative and is being looked after by the family.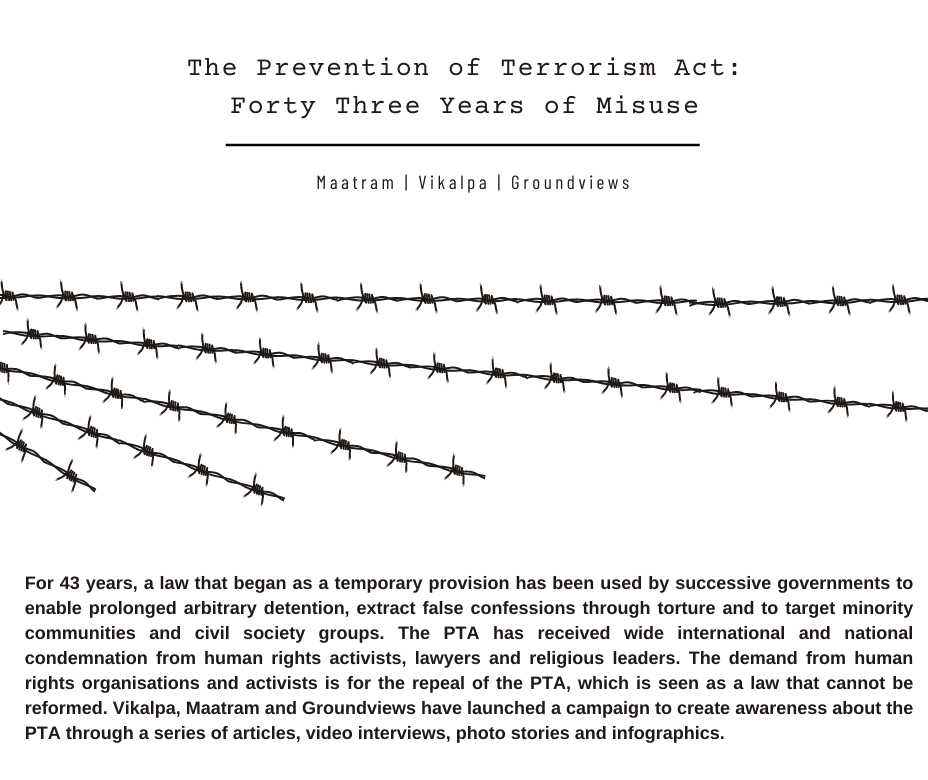 Watch the complete interview of Rajeshkumar below.