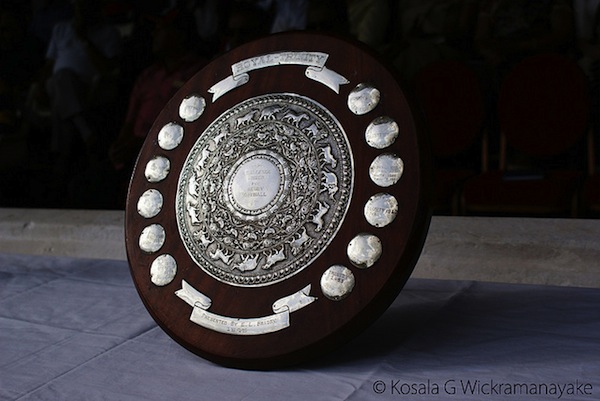 Image courtesy Trinity College website
History and tradition are great mentors. History assures us of who we are, and if we are brave enough, it can also teach us where we have failed or triumphed, behaved honourably or been disgraced. Tradition, for it to be useful, must be wisely chosen and morally crafted; because it is the conduit through which history's best lessons flow down the ages. Great traditions are not always old, but the best ones are usually those that stand the test of time and like good wine, enhanced by age. Where it is not mistaken for blind ritual, tradition sets out an honour code on how we should behave as well as treat ourselves and others with dignity. As much as history and tradition helps chasten us and help preserve the integrity of our social fabric, they are also vulnerable to misinterpretation and exploitation. Sometimes, when history is ousted by myth and tradition is confused with petty ceremony, the manifest outcomes contradict every perception of who we really are and how we ought to behave.
There are historical facts that ground us in reality and historical fiction that deludes us. The often bandied about claim that the Bradby Shield encounter is the oldest schools rugby fixture in the world is – unfortunately – a delusion. In the possible absence of stronger contenders, the honour of playing the oldest rugby fixture – including alternating home and return legs – should belong to Edinburgh Academy and Merchiston Castle School in Scotland. Their claim to have played against each other annually without a break since 1857 remains unparalleled so far.
It should not sadden us Trinitians and Royalists however, to find out that our traditional encounter on the rugby field is not the oldest of its kind in the world, nor does it diminish the significance of the Bradby Shield in any way. Thanks to those who have worn the majestic red, gold & blue stripes and blue & yellow stripes with honour, we have a rightful claim to a proud history of playing the game and a great honour code associated with it.
A claim is also being made that the Bradby Shield is the "blue-ribbon event" in the Sri Lankan rugby circuit. Finding evidence for this claim is a much less strenuous undertaking. Even though each school is entitled to be proud of the long-standing sports fixtures they engage in against traditional rivals, perhaps none can match the fanfare and prestige associated with the Bradby Shield or the "Battle of the Blues" between Royal and S. Thomas'. With a return leg and two weeks of eager anticipation, jovial sledging and hype in between, perhaps the Bradby Shield edges out all others. I wonder whether it would take nothing short of a Cricket world-cup fixture to dislodge it from its pride of place in the entire Sri Lankan sports calendar!
Indeed every Royalist and Trinitian is entitled to a share of that pride and prestige, but it is important that we understand who has conferred that prestige to the event and what we have done – and must continue do – to be deserving partakers of it. It is not an honour that is inherent in the institutions we represent and to an even lesser extent in us as individuals. The prestige of the Bradby Shield that we share in – be it as players, school boys or alumni – is an honour bestowed on us by the sports loving public of Sri Lanka. Perhaps, over the years they have come to notice something special in the way we play the game, and the care with which Royalists and Trinitians have upheld the dignity of the event. They may have recognised in our traditions – values worth aspiring for and honouring. Therefore, as much as it gives us cause for great celebrations every year, taking part in the Bradby Shield also calls for some introspection and humility on our part.
We must understand that the pride of place occupied by the Bradby Shield encounter as a premier sports event in Sri Lanka is not ours to take for granted – but a privilege to be earned and renewed every year. In an era where games are broadcast to all corners of the country and indeed the globe on national television, the responsibility on players and spectators to uphold those values and to augment the traditions we all profess to honour have never been greater. Events that took place at the Royal Sports Complex two weeks ago and our collective response to it as Trinitians and Royalists so far – if they haven't diminished the decorum that is associated with the event – have done little to preserve it.
Indeed the history of the event is strewn with many images and memories of noble sportsmanship. However, if we look closer and with rose-tinted glasses set aside, there has also been some measure of ignoble behaviour both on and off the field. There is no shame in acknowledging the truth – only cowardice in failing to do so. This week, we have a chance to mend what may have been strained and to reaffirm our commitment to upholding and handing on untarnished the better traditions of the great institutions we represent and love.
Dare I say that it is just a game after all! The result of this year's Bradby cannot aspire to anything greater than being 'memorable'. So it will be each year, as both camps fight it out for fresh memories of glory. There is glory in equal measure even in defeat as in victory. What draws us to the hallowed turf every year is something greater than the hope of a thrilling win. I am tempted to call it the spirit of the Bradby Shield, but I am afraid that any attempt to capture it in words would make it disappear altogether. There are some things that one man's memory cannot contain. They can only exist in the collective memory and aspirations of a great crowd. I have heard it in the roaring echoes of Bogambara and felt it years ago, in the moving silence of supporters and rivals alike when a crucial kick at goal was lined up in the dying minutes of a game.
That long observed silence of even rival supporters when a kick is lined up has been a hallmark of the Bradby that set it apart from every other encounter in the season; but no more. Those were some of the treasures that were entrusted to us who bear the names of Trinity and Royal in our hearts. We may have squandered some, but let us resolve anew, to be worthy custodians of that legacy today, so that when the time comes for us to hand it on to the generations that follow, we may do so with competence and communicate to them without words, the great responsibility that comes attached to it. It is only then, and with the cheers that roll, that we may remember our own great days and jolly days with solemn pride.