We are very pleased to announce that films from Moving Images will be part of the first Kandy International Film Festival (KIFF). Though the official schedule is still being finalised, we have been informed by the organisers that Moving Images will be screened from 4 – 6pm on Saturday, 25th at the Kandy City Centre. A moderated discussion will follow. The selection of films will be from A Lost White Tribe: The Eurasians of Sri Lanka by Menika van der Poorten and Koothu, kerosene and paper: portraits of resilience by Kannan Arunasalam.
Please join us. Ticketing information for KIFF can be accessed here.
The Kandy Film Festival will be a four-day celebration of global cinema, with a special focus on Asian film and upcoming talent, in the UNESCO world heritage city of Kandy, Sri Lanka. Against a stunning background of gardens, hilltops and cultural architecture, the Festival will showcase an exciting program of films celebrating diverse techniques, styles and themes relevant to the region. As noted on its website, the Festival is designed to generate an inclusive and tolerant environment to allow a close-knit and passionate artistic community, including Sri Lankan students and youth, to engage in debate, dialogue and be inspired by the power of film to understand the human experience.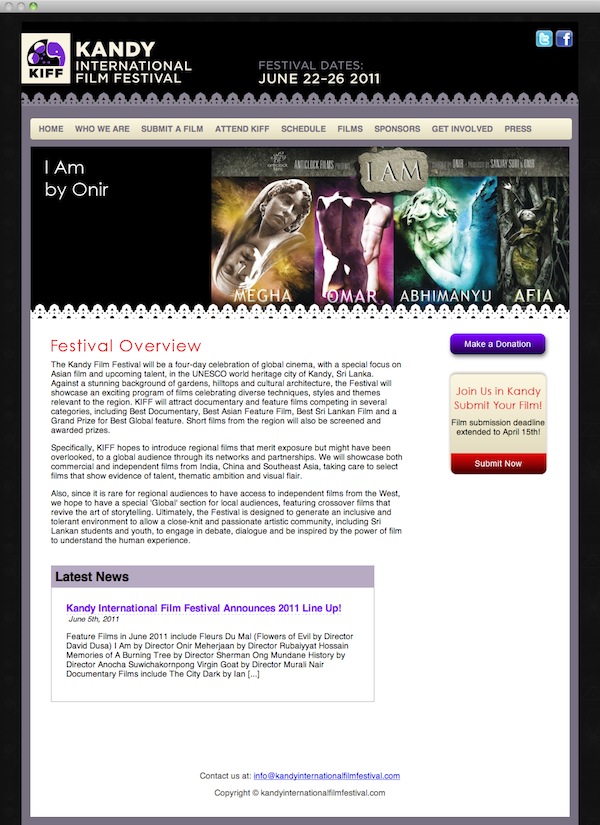 Moving Images is a series of stunning short-form documentary and narrated photographic portraits on facets of life in post-war Sri Lanka. These high-definition productions, the country's first, range from portraits of resilience from the war ravaged Jaffna and reflections on the Eurasian community by the last surviving Eurasians themselves to fascinating lives in Colombo invisible even to most who live and work in the city.
Some of the comments we received after the premiere of Moving Images in Colombo were,
"moving images is FAN TAS TIC. Please convey my congratulations to those involved in it—they tend to be online acquaintances or friends of friends or people I follow on Twitter. Thinking of Kannan Arunasalam, Sharni and Tari Wickremaratne particularly. How marvelous it looks. And, of course, to you! It looks spectacular. And as always, I am amazed at how much you accomplish."
"I love Moving Images. Inspiring, and beautifully produced. Congrats. We're gearing up for some relatively similar stuff here, but perhaps not so classy, more mainstream."
"A sincere thank you for last evening. There was certainly something to say and not merely something to show!"
"Absolutely f******* fabulous."
"I've had a look through a lot of the videos that you and Kannan have put up – this has immense value and I'm so glad something like this exists. They are all just great stories and beautifully shot."
"Groundviews has been producing some great content in the last couple of years and the 'Moving Images' is super stuff. Congratulations! "
"Looking at kerosene nearly brought tears to my eyes. This is my Jaffna."
"Beautiful and evocative images. Look forward to seeing more stories soon."
"excellent pictures."
Of particular note is that the co-editor for Groundviews, Nigel Nugawela and the producer of A Lost White Tribe: The Eurasians of Sri Lanka, Menika van der Poorten, both hail from Kandy. Nigel will lead the moderated discussion after the screening of the films.
Trailers for the productions follow along with the flyer announcing the launch of the content back in April this year.