Featured photo by Tavish Gunasena
Arun Welandawe-Prematilleke was awarded the Gratiaen Prize 2018 for his play 'The One Who Loves You So' (TOWLYS). The drama explores the relationship between Vidhura, a 'Colombo trust fund baby', and Nick, an expatriate, who meet through the dating app Grindr for what is initially meant to be a one-time hookup.
Over two days, confined mostly to Vidhura's one-room apartment, the two make love, drink, tell stories, and fight. They fight over sexuality, relationships, and what it means to love another person.
Arun spoke to Groundviews on the process and content of the play, the award, and the space for queer art and performance in Sri Lanka.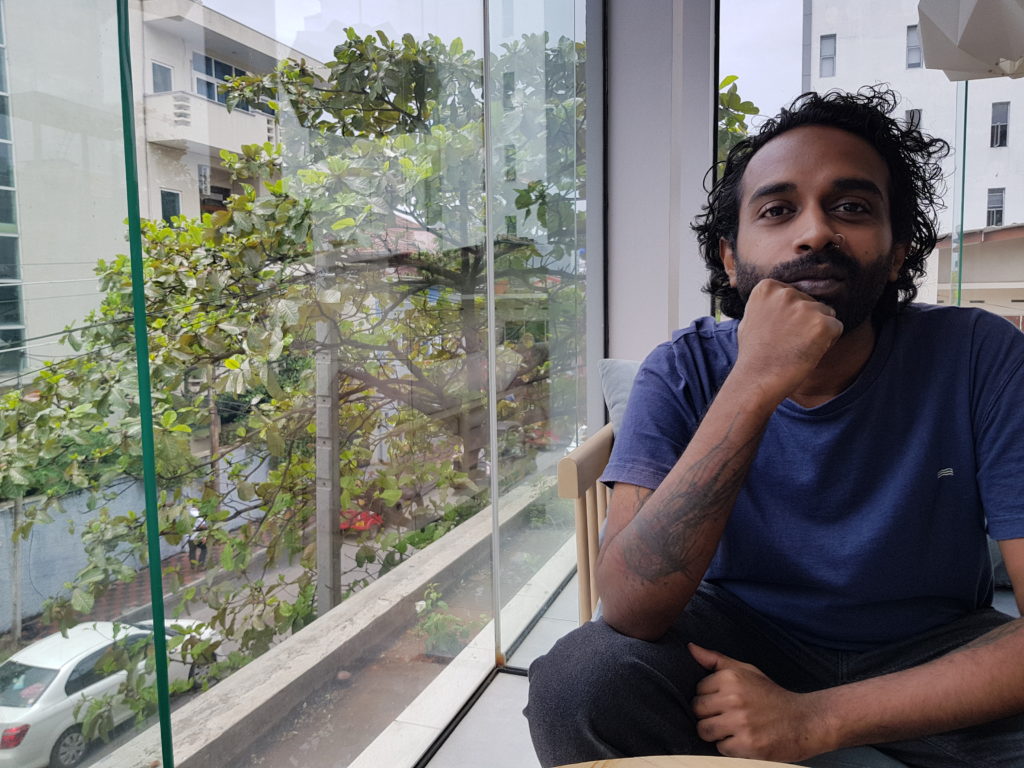 On the process of staging the play
Anyone who has watched TOWLYS wouldn't be surprised to know that the Censor Board rejected the play thrice before it was given the green light. At the time, Arun and his team considered limiting the show to private venues because the prospects of it being approved looked dim.
"They called me in and asked me to change four lines, completely arbitrarily," Arun said of the final approval from the Board.  It also had to be explicitly stated that TOWLYS was for an audience of ages 18 and above.
TOWLYS ran from August 15 – 17, 2018 at the Namel Malini Punchi Theatre in Borella, entirely crowdfunded, to packed houses on each night.
Following the play's success, there have been requests and comments that the play should be translated and performed in Sinhala, something that is now in the works. Arun notes that this will not simply require a direct translation of the script, but also a change in the dynamics between the characters, so that they are more relatable to the audience.
Regarding the Censor Board's approval of the Sinhala version, Arun remains uncertain. He feels that the Board 'cares less' about English plays, on the assumption that they have a limited audience. He wonders if TOWLYS would be approved if it were in Sinhala, while simultaneously saying that given the Sinhala theatre's inherently more political and incendiary nature, it might be a perfect fit.
"There's this assumption that 'Colombo audiences aren't ready for it'' Arun says, commenting on how artists – be they playwrights, authors or musicians – hold back in pushing their audiences to confront difficult or uncomfortable issues or concepts. The successful run that TOWLYS had appears to prove that audiences are ready to be challenged – they are just not given the type of production that does so regularly enough.
On his influences
While discussing his own work, Arun also refers to queer artists in the generation before him, and how their work expresses their identity and struggles with it. Shyam Selvadurai's acclaimed novel Funny Boy is one such work.
"The word itself, 'queer', is something that's more recent, and there's privilege in being able to use it, to make such an obvious claim of identity," he says, noting that many artists in the generation before him might have had to shirk the label solely out of necessity.
He also notes that there are several young queer artists from whose work he draws inspiration, but cannot name as he is unsure if they can claim their queer identities in public yet. The decision to do so is still a contested one in Sri Lanka. Sections 365 and 365A of Sri Lanka's Penal Code criminalise 'carnal intercourse against the order of nature' have been used to punish and target queer persons since it was introduced in 1886.
On TOWLYS' place in Sri Lankan literature
"I think it's not the LGBT factor that makes the play stand out, but the frankness with which it deals with sex," Arun says, adding that he was focused on making the play as sex-positive as possible. TOWLYS is essentially a love story, but sex is deliberately centred as a fundamental part of the relationship between Nick and Vidhura, because most works often write sex off as 'passion' and nothing more.
"I'm also happy it has had this impact without the work being 'important", in a sense,' says Arun, referring to how most stories around queer individuals are focused on the struggle with their identities, or the strain of coming out to their families and communities. "TOWLYS is just a love story about two people,' he says, 'and is far from speaking for an entire community."
On the representativeness of TOWLYS
The play's characters come from a very specific class demographic – they speak English, they use smartphones, they can afford data to use Grindr for regular hookups.
"When we take specifics such as gender, race, and class, we don't realise that sometimes class has more power than the other two, giving the person an enormous privilege'. Yet, despite this, Arun's two characters embody and discuss small gaps in the experience of being from the upper middle class. The nitty-gritties that worry the Sri Lankan, Vidhura, speak to this; he talks about how 'going out and meeting someone' is not an option, and his occasional frustration of having to resort to a mobile app to find intimate partners.
"When you try to speak for an entire community, you miss intricacies. You sand out the edges. You can't ignore the differences between each person's individual experience," Arun says that most creative work of this nature anyway comes from outside the queer community. He says there is discord among the LGBT+ community as well, because people are different; testament that the experience and identity is hardly a monolith.
His initial idea was to write about the Grindr app as a whole – embody a host of characters using it, and their various experiences dating or hooking up through the social media platform.
"In the end, I chose to write what I know," he says of choosing the stories and characters that interested him as an artist. "There is someone out there who can tell the other stories better than I can, because they know it better".
On TOWLYS and the struggle for LGBT+ rights in Sri Lanka
Two events preceding the writing of the play were formative in the final product. Firstly, Arun experienced a break-up. Secondly, the Sri Lankan cabinet rejected the proposed National Human Rights Action Plan (NHRAP) that recommended the repeal of Sections 365 and 365A of the Penal Code. At that juncture, the personal became political.
"'Culturally inappropriate' were the words that were used, and to exist as a queer person became a political act" Arun states. Nevertheless, TOWLYS was an avenue through which he reflected on his own experiences, with no expectations, and without the aim of furthering a certain idea – it was not specifically intended to be a 'torch' for the LBGT+ cause in Sri Lanka. "But the fact that the award happened in the first week of Pride Month is not lost on me!" he says.
However, it has served the purpose of taking the conversation of rights for this community to a demographic that might have not previously been open to listening to these stories. Those who do not openly talk about sex, let alone queer sex, are pushed to reflect on it by the play.
Queerness and sex, especially outside community spaces, is regularly discussed in reductive terms. Mainstream media also regularly publishes factually incorrect or misguiding information about LGBT+ individuals – a study by LGBT+ rights collective Young Out Here logged numerous such instances across Sri Lankan publications to highlight the frequency of prejudicial reporting.
TOWLYS seeks to begin unpacking the complexities behind these reductive terms. It does this both through unabashed depictions of sex on the stage, and also through the nuanced dialogue that the characters engage in as they delve into their own sexualities, and how these are seen in and by the society around them.
On the space for queer artists in Sri Lanka
"While we do understand why it occurs, it's frustrating to see that our issues are always on the backburner," says Arun, responding to the erratic nature in which conversations around LGBT+ rights take place in Sri Lanka. Following the striking down of Section 377 of the Indian Penal Code, the conversation to repeal Sri Lanka's own (and virtually identical) Section 365 was reignited. In the wake of President Sirisena's homophobic comments during the political crisis of October 2018, there was renewed discussion on the need to de-stigmatise LGBT+ persons and their relationships.
Progress in securing rights and freedoms for the community remains stagnant, and Arun feels that granting these is often framed as taking away from larger issues, when it actually isn't – "Giving rights to one community does not have to mean sacrificing something else."
Arun feels that the role of the artist and that of the political or social activist in a space such as this are vastly different. Those who are well versed in socio-political struggles and furthering causes through advocacy have important work to complete themselves.
Arun notes with happiness how people approached him after seeing the show to share that they felt that their own stories were being told, and that it contributed something to their own journeys. He looks to humanise what it means to be queer in Sri Lanka, in a way that it relates to people in their own lives. "Maybe my part is to create work like TOWLYS, which I can only hope contributes to changing attitudes about the community in small ways,"  he says.