Photo by Ruvin de Silva
'Cast as Mother' – a dramatic reading of an upcoming play by Stages Theatre Group was held at the Lionel Wendt on May 24. Directed by Ruwanthie de Chickera, 'Cast as Mother' featured the writings of thirteen women from the Sinhala and English stage on their experiences of motherhood. The 90 minute presentation drew its material from a 300 page manuscript, and was performed in Sinhala and English. The play, which is currently being devised, will be staged from September 13 – 16 at the Lionel Wendt Theatre.
Stages Theatre Group encouraged members of the audience to write in with feedback. Here we publish a cross section of excerpts of these reviews and comments.  In shows to come, Stages will continue to promote Audience Reviews that will no doubt contribute to a culture critical debate in the arts.
###
If motherhood in Asia, and especially in Sri Lanka, is one of the prototypical roles which frame the lives of women, 'Cast as Mother' effectively explored the multidimensionality of the lives of these women, irreducible to this single socially-sanctioned role. It was not however a breast-beating militant railing against society's attitudes to motherhood but a sensitive and emotive yet equally irreverent and humorous foray into what it means to be a contemporary mother.
Harshana Rambukwella (Excerpt from review on Groundviews)
In one act, a letter is read by a lone woman onstage first – the letter to her mother. In a quick scene-change, we witness the same lines being repeated, but this time, as a conversation between two women – mother and daughter – who has now become a mother herself. The words, spoken before as a monologue, are now transformed, and every line, every sigh, takes on new meaning. This is Ruwanthie's signature style – searing, powerful but simple staging ideas, through constant playfulness with dialogue (one calls to memory her play 'Two Times Two is Two' in particular), relying solely on the power of the dialogue and the potency of the performer.
Subha Wijesiriwardane (Subha's blog)
Watching such a riveting performance as this makes one realize the dearth of meaningful, timely and socially sensitive plays in Sri Lanka. Plays such as this fall into a genre of theatre which need to be vociferously encouraged and endorsed, as they have the ability to serve as a major catalyst in constant remembrance to a gradually degenerating fabric of society, of questioning and reinforcing communal and individual values. It drives home the importance of recognizing and being in touch with each other's human emotions.
Radhieka Peeris (Excerpt from review in Ceylon Today)
"Behind every successful woman is another woman looking after her children!" That was a line from the 300 page bi-lingual manuscript titled 'Cast as Mother' which had us all in stitches of laughter but which struck such a chord with many – certainly with me. And that too was just one line from many that rang so true.
Prashani Rambukwella (Mythil's Secret blog)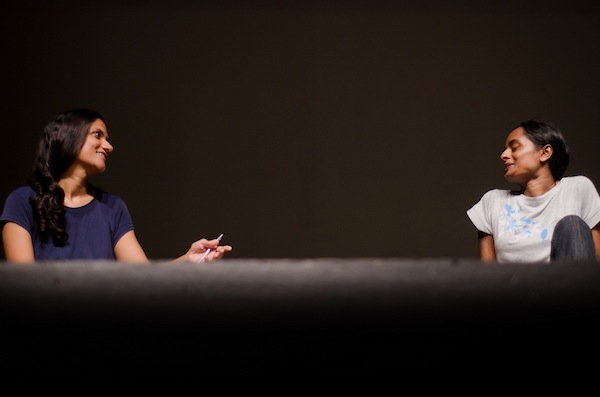 Photo by Ruvin de Silva
I initially thought this would be a straightforward reading, so what I saw last night I thought was fantastic. I can't tell you how much I enjoyed and appreciated seeing how you had put the performance together when it could have easily been a very linear one. The creativity of the tasks was brought out well in how you had put last night's performance together.
The inclusion of Prasad and Pasan really complemented the reading last night. The Sinhala theatre actresses really stood out and were really in a league of their own, especially Kaushalya (Fernando), Nadie (Kammallaweera) and Malkanthi (Jayasinghe).
Iromi Perera (via email)
Overall, I felt the English dialogue was not on par with the Sinhalese dialogue. This could also be because maybe the delivery was far stronger and more effective in Sinhalese. This is not to say the English ones were bad, but just not as good.
Marisa De Silva (via email)
I was completely riveted that evening. I was laughing and crying through the whole thing. I must admit I was skeptical about how you would pull it off, especially since for me the literature on the double and triple burdens that women shoulder has become somewhat hackneyed now. And the feminist activist rhetoric on the same issue is also sounding stale. This is not to say, of course, that the issue itself is no longer important or that it is resolved. And your production certainly underscored those points.
Asha Abeyasekera (via email)
First of all, the reading was truly refreshing! I know a lot of the things that were discussed go against the grain of what wives are supposed to feel and supposed to be, yet for far too long the loudest voices have been these " women who have it together" so it's high time that all voices are heard and one does not over power the other.
Tamara Handy (via email)
Was refreshing to see wives and mothers talking about all aspects of wifehood and motherhood without having to put disclaimers by saying how much they love it and what a wonderful experience it is, like we usually hear.
Lakwi Perera (FB event page)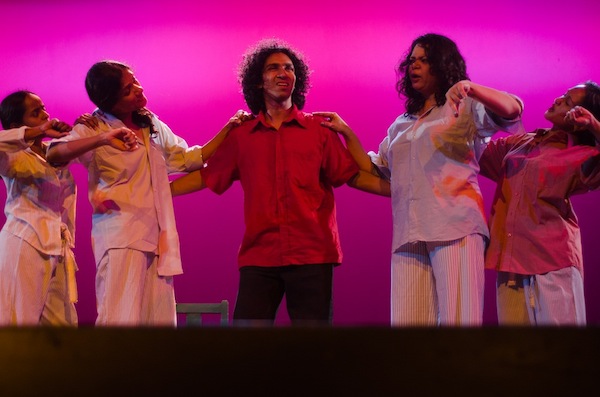 Photo by Ruvin de Silva
What particularly appealed to me was the candid nature of the writings and the sincerity with which it was presented – I also felt some of the actresses from the Sinhala stage stood out. Projection was an issue in places – but these are just technicalities that you can iron out.
Hiranya Fernando (FB event page)
Whilst understanding that these are solely the views of the women writing it and how they feel, perhaps it could be a little less one-sided. All husbands and fathers aren't b******* who pass on the full burden to the mother. Many truths were spoken. But I also felt it was a little too negative. The beauty of motherhood could have been spoken of more. But then that is what is spoken of always, and perhaps this is just a presentation of the flip side.
Ravi Gamage (FB event page)
Especially loved the letters section, but had a little bit of difficulty understanding the reviews segment (though it made sense afterwards on second thoughts). Though everyone on stage was awesome, the Sinhala actresses stood out because they were so 'real'.
Shanuki de Alwis (FB event page)