Featured image by Raisa Wickrematunge
Fort Railway Station was eerily quiet on August 9. The ticket-counters and the Station Master's office were empty and unstaffed. There was a heavy police presence at the station, but none of the police seemed confident about when the next train was arriving.
'One is supposed to come now. I don't know when', said a police officer that Groundviews spoke to.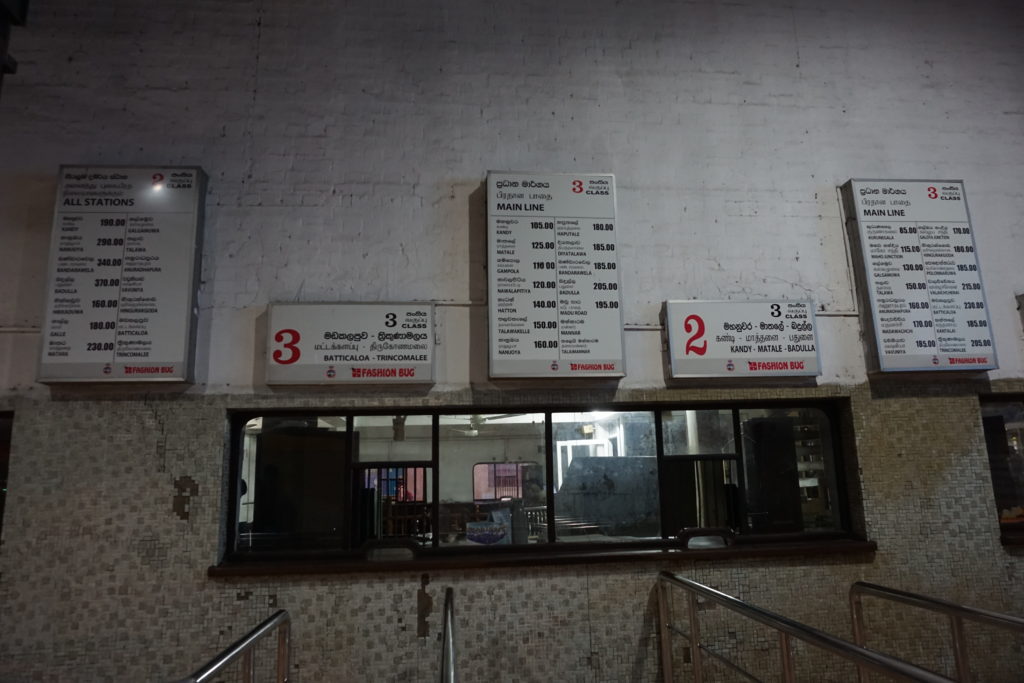 On August 8, several railway unions called a sudden strike at around 3 pm.
One month before, on July 26, the railway trade unions, including drivers, supervisors and controllers launched another strike. On both occasions, the unions were asking for higher pay.
An SMS sent out on the evening on August 9 informed the public that 8 trains would be leaving from the Fort Railway station.
Technical supervisors to operate 8 trains from Colombo Fort today. Train Schedule for this evening –
Chilaw 5pm & 6pm
Rambukkana 5.15pm
Mahawa 6.10pm
Galle 5.30pm
Avissawella 5.20pm
Kandy 4.35pm: CGR Control Room

— Ranga Sirilal (@rangaba) August 9, 2018
'We got the message. We came to see when and where the trains would be going to' said a gentleman waiting to return to Enderamulla with his daughter.
A frustrated crowd waited on the platform. A few trains left, and two more had just been announced, and were due to arrive at the platform soon – though no one knew what soon meant. A lone announcer manning the PA system said that the trains would be stopping at every station between Colombo and their final destination. Passengers could be heard weighing out whether it would be worth to take a 'slow train' back, or if they should just find a bus.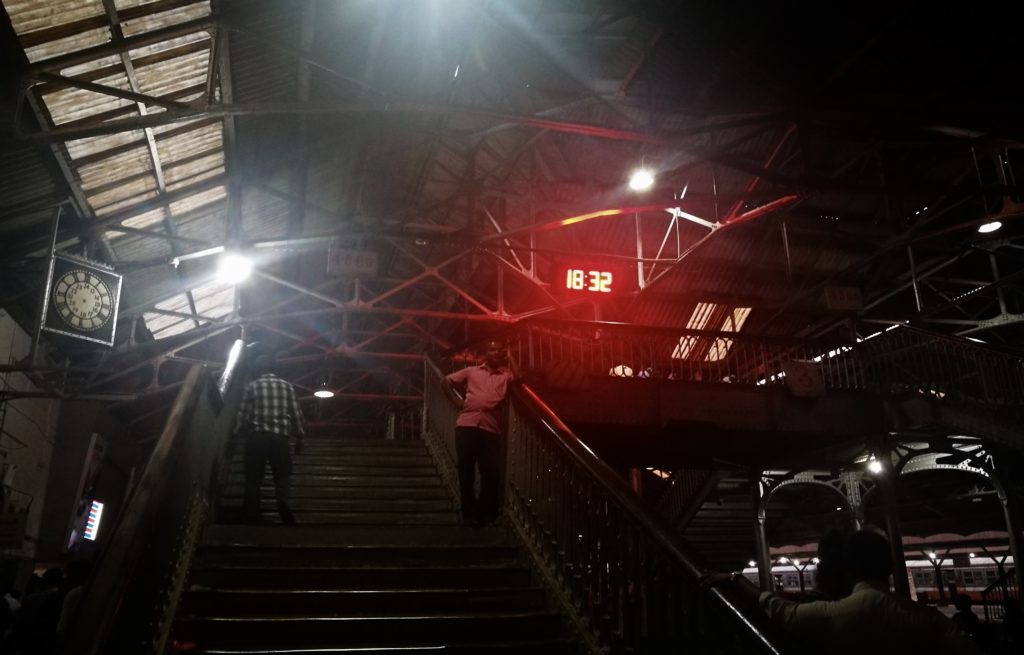 Groundviews also spoke to commuters from Gampaha and Pallewela waiting to board the trains.
At 7.01pm, a train left for Chilaw, taking with it a small portion of the waiting crowd.
"We have been here since 6 pm," said two men with several heavy bags in their possession. They were in luck – the next train, bound for Maho Junction, would pass their stop at Polgahawela.
However, none of the Night Mail trains were in operation, and a gentlemen looking to travel to Kankesanthurai was turned away at the gates of the station by police officers.
At 7.05pm, a train bound for Maho Junction pulled into the platform. It departed half an hour later, this being the last train to leave for the evening. Trains leaving on the Kelani Valley and coastal lines had ceased much earlier in the day.
'Passengers are reminded that this is the last train for the day, there will be no trains after it. Please leave the station after it has departed'.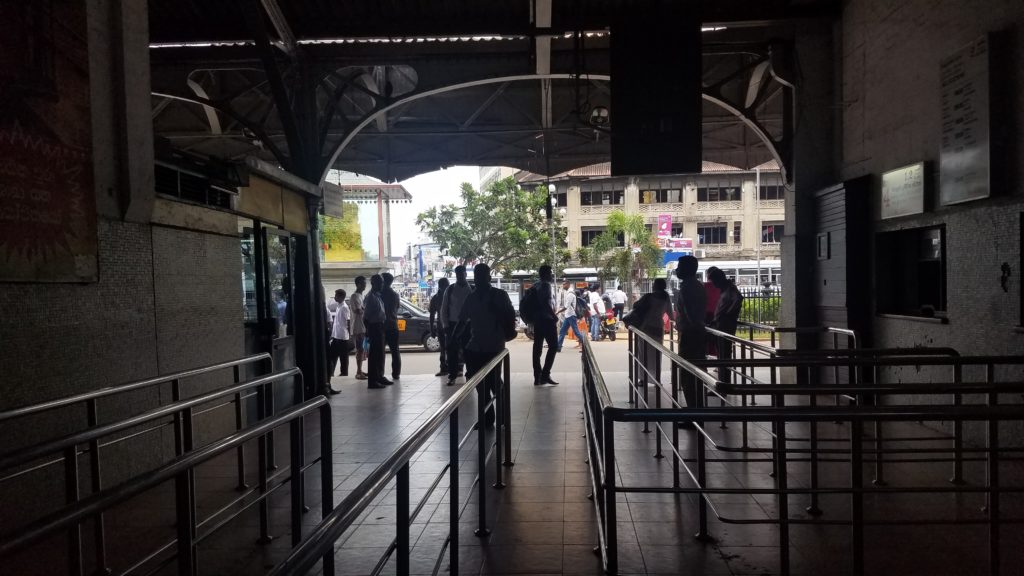 On several online forums, foreign travelers lamented that they would miss out on an experience they had been keenly anticipating on their visit – the train ride from Kandy to Ella.
A lady and her daughter were waiting to hear news of the very same train; they had travelled to Colombo two days ago and now found themselves unable to return to Badulla due to the strike.
On Twitter, it was noted that there had been railway union strike action for a total of 2 weeks during the past year alone.
As the strike came into effect on August 8, commuters looking to return home from work found themselves stranded. In anger, some began a protest calling for privatisation.
"Privatise the train service, we had enough of these protests" angry Train passengers launch protest opposite Colombo Fort Railway Station against sudden strike action by railway trade unions at 3pm today without any prior notice over a Salary issue pic.twitter.com/WGeaUDS4qx

— Azzam Ameen (@AzzamAmeen) August 8, 2018
A standoff began with those railway employees who remained in the Station-Master's office. The situation became so tense that the STF had to be called in to defuse the situation.
A further complication was that several students sitting for the ongoing Advanced Levels examinations would potentially be affected by this action. A free bus service was launched, operated by the Army for Advanced Level students. Extra CTB and private bus services also began running while retired train drivers were asked to report to duty.
Several MPs condemned the strike action and asked the unions to suspend the strike before holding discussions, but the unions remained adamant.
MPs condemn the ongoing railway strike, call for discussions, but the Railway Trade Union Alliance says the strike will continue https://t.co/6PFSBlEZTk #lka #SriLanka pic.twitter.com/YCXLCQ2Lsm

— Groundviews (@groundviews) August 9, 2018
The Deputy Transport Minister noted that increasing the salaries of the striking workers would mean having to increase all other State sector employee's salaries. He added that some of them received as much as Rs. 200,000 once other allowances were added in. (A set of payslips purported to be released from the Ministry of Transport Media Division showed monthly payments of over Rs. 150,000, including a large amount for overtime).
Meanwhile, many pointed out the heavy and continued losses made by the Railway Department.
A call for privatization? #lka Railway dept. losses: 2016 – Rs 6.8bn and 2017 – Rs 7.5bn. #strikeSL https://t.co/1XVp38xLy9 https://t.co/FSSipWxwiI

— Advocata Institute (@advocatalk) August 10, 2018
While this public tussle continued, those most inconvenienced remained commuters, especially those commuting in and out of Colombo for work.
On the morning of August 10, Groundviews was told by a police officer at the station that the 8 trains that left yesterday would have to return in order to transport more passengers.
'These are all retired drivers, they were called back to serve and only these few have come so far. They have to go, come back and then take the next load of people today.'
The officer noted that the furthest distances the trains were traveling were Galle on the coastal line and Polgahawela on the Main Line. There would be no train access to the North or East.
In the meantime, it was announced that 95-octane petrol had been increased by Rs. 2 and super diesel by Rs. 1, following the fuel price formula monthly update. Shortly after, the Inter-Provincial Private Bus Association announced a strike to commence from midnight on August 12, partly due to the fuel price hike and increase in bus fares. It remains to be seen how the Government will tackle this fresh challenge.
The Government is also reportedly considering gazetting rail transport as an essential service under the Essential Public Services Act, which would mean any parties obstructing the service would potentially face imprisonment or a fine.
Given the public outcry and anger on August 8, it must be asked why this option wasn't considered earlier. The strike continues for a third day without resolution.
Editor's Note: Also read "The Budget and the Inequality Crisis" and "Why Doctors and Students are Protesting Against Sri Lanka's Only Private Medical College"