Featured image courtesy Amila Tennakoon/Global Voices
The international citizen media network, Global Voices, will be holding their biennial Summit in Colombo, Sri Lanka on December 2-3, 2017. The event will take place at TRACE Expert City in Maradana, and will feature debates, discussions and workshops with independent journalists, digital media experts and online activism communities from around the world.
The event will open with an exploration of the future of digital conversations in Sri Lanka, and continue with contributions from speakers including State Minister of Finance Eran Wickramaratne, LIRNE Asia Executive Director Helani Galpaya, and MIT Center for Civic Media Director Ethan Zuckerman.
Panel discussions will focus on some of the most pressing issues lying at the intersection of independent media work and the open internet, such as online freedom of speech, inequalities in the digital technology ecosystem, and public accountability in post-conflict societies.
"Hosting the Global Voices Summit in Sri Lanka is significant," said Sanjana Hattutowa, founder and editor of Groundviews, Global Voices' local organising partner for the event. "The featured conversations and issues covered hold deep relevance for our country's tryst with the fullest realisation of our democratic potential post-war, and warns us against the rollback of the freedom of speech. From the local participants to the globally renowned voices coming to the Summit, this is an unprecedented gathering of writers and minds at the cutting edge of media, storytelling, technology and rights."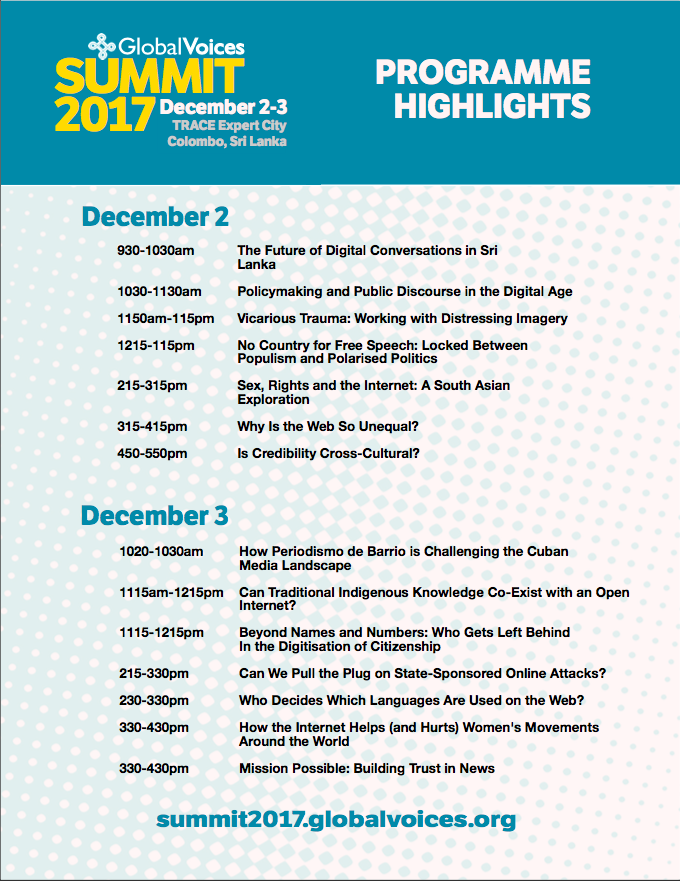 Data scientists and digital activists from local and global organizations will also offer training workshops in the use of emerging technologies for online media analysis, video activism and digital security.
Participants from over 50 countries will be in attendance at the two-day event.
The Colombo Summit is the seventh biennial meeting of the organisation, which originated at Harvard University's Berkman Klein Center in 2005. Global Voices' international community is composed primarily of volunteers collaborating across borders to produce stories and research on themes such as online freedom of speech, online social movements and indigenous, and translating into over 30 languages. Previous Summits have taken place in London, New Delhi, Budapest, Santiago de Chile, Nairobi, Kenya and Cebu City, Philippines.
The Global Voices Summit is supported by the Ford Foundation, MacArthur Foundation, Mozilla, Google and UNESCO. The local organising partner for the event is Groundviews/Centre for Policy Alternatives. Other local sponsors include Lanka Bell, Calcey Technologies, Roar Media, UNDP and Hashtag Generation.
The Summit is open to the general public, who can register for the event at the https://summit2017.globalvoices.org/.
Simultaneous translations will be available for the plenary sessions in Sinhala and Tamil.
# # #
For more information, please contact Georgia Popplewell at +94 769498344 or email at [email protected]