Featured image by Raisa Wickrematunge
The flat, cardboard boxes are stacked almost to the ceiling. The neatly glued label of one of them is clearly visible when a door opens – briefly releasing a puff of air-conditioned chill before a librarian yanks it shut.
"Divaina" it reads.
Most people would think of the National Archives as their first stop when accessing historical records. The Archives contain an impressive repository of information, including thombus(land registers) dating back to colonial times. People looking to trace their genealogical history might visit the Archives, or researchers looking to browse through a collection of some 300,000 photographs, or documentary film footage.
Just a few steps away, the National Library keeps a stock of records that is equally fascinating, for those who'd care to search for it. There is a collection of ola leaf manuscripts in Sinhala, Pali and Sanskrit on display. The Intangible Cultural Heritage Collection includes folk songs, music and drama. A few of these are accessible through the National Library's Digital collection, though it's evident that this is very much a work in progress – many of the mp3 files don't download, and some of the sections, such as for 'Rare Books', are empty. The Library is also home to audiovisual records and maps, Government publications, and a number of theses and dissertations.
On this occasion, Groundviewsis here for the Newspaper Collection. The National Library archives copies of newspapers dating back to 1976, in English, Sinhala and Tamil. This is what the boxes contain. The newspapers have been arranged in chronological order and neatly bound with twine.
What we are looking for are the ripple effects of an event familiar to every Sri Lankan, though few want to dwell on it – Black July.
View the full story, compiled on Atavist, here.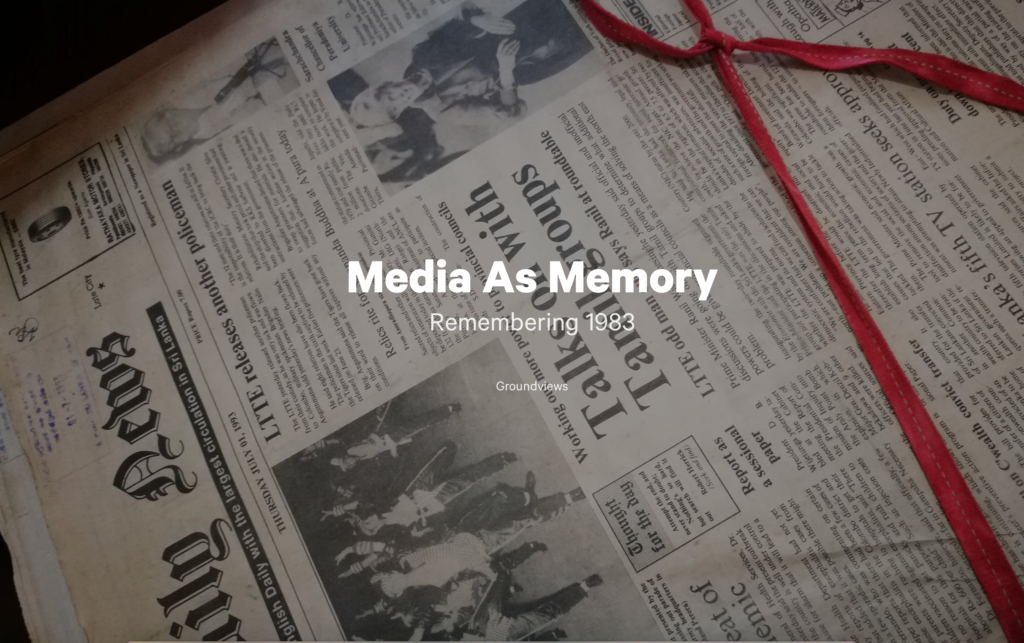 Editor's Note: To view more content from Black July, click here.