Featured image courtesy Dinuka Liyanawatta/Reuters
November 6 marks the deadline for candidate applications for the Office of Missing Persons (OMP). The signing of the Office of Missing Persons gazette drew praise from the UN, with United Nations Secretary-General António Guterres terming it a 'significant milestone'. Yet, locally, concerns were raised on the process of the OMP's operationalisation. This highlighted the need for Sri Lanka's transitional justice process to move beyond the mere promise or achievement of milestones, and for critical, informed discourse around these processes.
Echoing these sentiments, the UN High Commissioner for Human Rights, Zeid Ra'ad Al-Hussein on September 11 urged Sri Lanka not to view its obligations under the Resolution as a mere 'box-ticking exercise' in his opening statement to the UN Human Rights Council.
It was in the aftermath of this that the UN Special Rapporteur for the promotion of truth, justice, reparation and guarantees of non-recurrence, Pablo de Greiff, visited Sri Lanka in October 2017. He issued a statement at the conclusion of his visit, which included travel to the North of the country, saying that Sri Lanka 'continued to deprive itself of the full benefits of transitional justice.'
This statement was duly given coverage on mainstream and social media. However, most of the reporting focused solely on de Greiff's comments, not on their implications.
At first glance, it might appear that there were no major gaps – de Greiff flagged the slow progress on transitional justice overall, and called for the State to make use of the Consultation Task Force for Reconciliation Mechanisms (CTF) report, before addressing questions of truth, justice, reparations and non-recurrence in turn.
However, to Attorney-At-Law and Co-Founder of the South Asian Centre for Legal Studies, Niran Anketell, the statement has some chilling implications. These become particularly apparent when comparing his recommendations for the Truth Commission to those on accountability.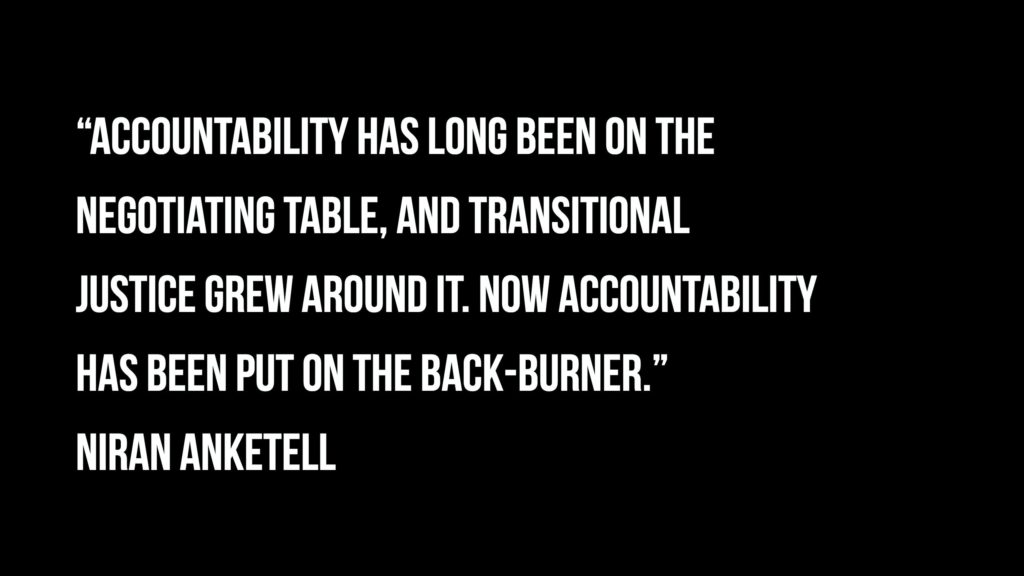 De Greiff said the Truth Commission needed to have a broad temporal scope and called for legislation to be implemented 'promptly' with adequate victim representation. However, there was a "bizarre" lack of tangible process put forward in the section for Justice, Anketell said, apart from recommendations to seek out cooperation agreements in the Global South, and the need for progress in 'emblematic cases' (such as the "Trinco 5" killings in 2006 and the murder of 17 aid workers from Action Contre le Faim in Muttur).
"Even when it comes to the nationality of judges, he has commented on politicisation but not outlined on what the solution should be. There is not a word about features such as the Special Court, international participation and the need for a Special Prosecutor. These were the most heavily negotiated, and the most controversial part of the UN Human Rights Council resolution," Anketell said.
This was particularly jarring given that de Greiff had called for the State to use the content from the CTF report, which had recommended the set-up of a special judicial mechanism "forthwith."
"Accountability has long been on the negotiating table, and transitional justice grew around it. Now accountability has been put on the back-burner. This is something activists have risked their lives for."
Having said that, de Greiff did flag the need to replace the Prevention of Terrorism Act with legislation adhering to international best practices, continued militarisation, surveillance and land issues, Anketell said.
Meanwhile, the North East Coordinating Committee (NECC) said that de Greiff had addressed all the major issues that fell within his mandate, including several important areas. They further added that they would comment more fully following his full report, due in 2018. However, the NECC also flagged the sensationalism prevalent in the media in Tamil, with many allowing their personal political views to colour their interpretation of de Greiff's statements.
Although this was only a statement leading up to a fuller report, Senior Researcher, Centre for Policy Alternatives Bhavani Fonseka said she felt there were missed opportunities. "De Greiff alludes to challenges, but his statement doesn't capture ground realities – even though he met victims and affected communities during his two-week visit. How will this strategy make a difference to victims – some of who may be under surveillance?" she asked. In addition, de Greiff appeared to have deliberately skirted around contentious issues such as accountability. He also failed to flag the fundamental flaw in the process to establish the OMP, which could lead problems of its legality later on.
"Sections of civil society continue to keep the pressure on the Government for commitments made in 2015. It's critical independent experts do the same. In the past, representatives such as the Special Rapporteur on Counterterrorism and Human Rights Ben Emmerson and Special Rapporteur on Torture Juan Mendez had issued hard-hitting statements, which in turn put pressure on the State to comply with its own commitments. In this respect, de Greiff's statement fell short, Fonseka said.
Human rights activist Ruki Fernando raised concerns around concrete action in the wake of visits such as de Greiff's.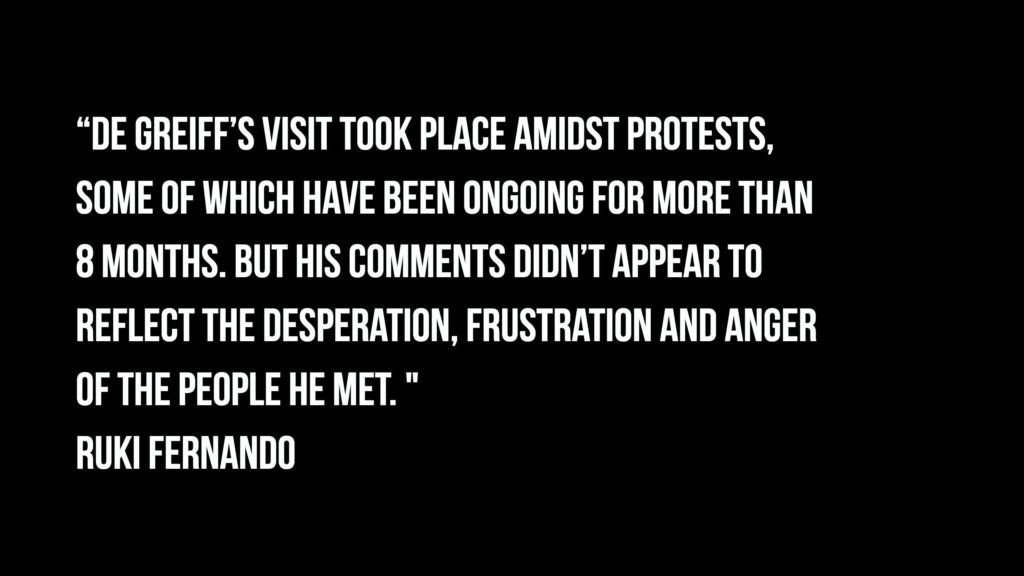 "Pablo de Greiff is the 6th UN expert to visit Sri Lanka in the last 2 years, with the 7th group of UN experts (from the Working Group on Arbitrary Detention) due in December. This is de Greiff's 5th visit to the country since 2015. Many other UN officials have also visited including, the UN Secretary General and the UN High Commissioner for Human Rights. This list of visitors looks impressive, but the implementation of their recommendations is far from impressive and actually negligible. It is the latter, and not the former, that should be used as measure to determine the government's commitment to international human rights framework," he said.
In the middle of de Greiff's visit, the government had officially highlighted that they were not bound by the recommendations of UN experts. Yet the more pertinent point was that a popular and democratic government should not be waiting for such recommendations to honour commitments made to ensure the rights, dignity and well-being of people in the country, Fernando said.
"It's the lack of progress on the part of the government that has led to a series of protests highlighting, among other issues, the plight of families of the disappeared, political prisoners, militarisation and land occupation."
De Greiff's latest visit took place amidst these protests, some of which have been ongoing for more than 8 months, and a few of which he personally visited. He probably drove past some others, including that of the three political prisoners who were on hunger strike in Anuradhapura. His public lecture in Jaffna was delivered on a day of "hartal" across the Northern Province. But his comments didn't appear to reflect the desperation, frustration and anger of the people he had met, Fernando said.
Another shortcoming was that de Greiff touched on the need for institutional and legal reform, without noting that there were continued recurrence of rights abuses such as the acquisition of land by the military, restrictions on memorialisation, surveillance, abduction, torture, arrests under the Prevention of Terrorism Act and continued intimidation, threats and attacks on human rights defenders, even if the regularity and intensity of these offences were less frequent than before.
"He highlighted that transitional justice is about the rights of all communities, and that further delays to already delayed processes will have serious costs. However, even after having met communities protesting day and night against military occupation of land for 8 months, it is strange that he had illustrated the cost of delaying land releases in terms of disincentive for foreign investors, rather than highlighting it as a major obstacle to livelihood and access to natural resources for the affected communities, as well as a deprivation of their socio–cultural rights." Overall, de Greiff's assessment appeared to lack post-war economic, gender and social justice perspectives, Fernando said.
National Legal Advisor to the International Commission of Jurists Thyagi Ruwanpathirana felt de Greiff had been relatively substantive with his comments, particularly in comparison to his previous statements. "The Special Rapporteur strongly critiqued the pace of progress on the transitional justice process. He said that it was 'nowhere close to where it should be, more than two years later,' and went on to tackle the Government rhetoric allowing for constitutional reform to take precedence over transitional justice," Ruwanpathirana said.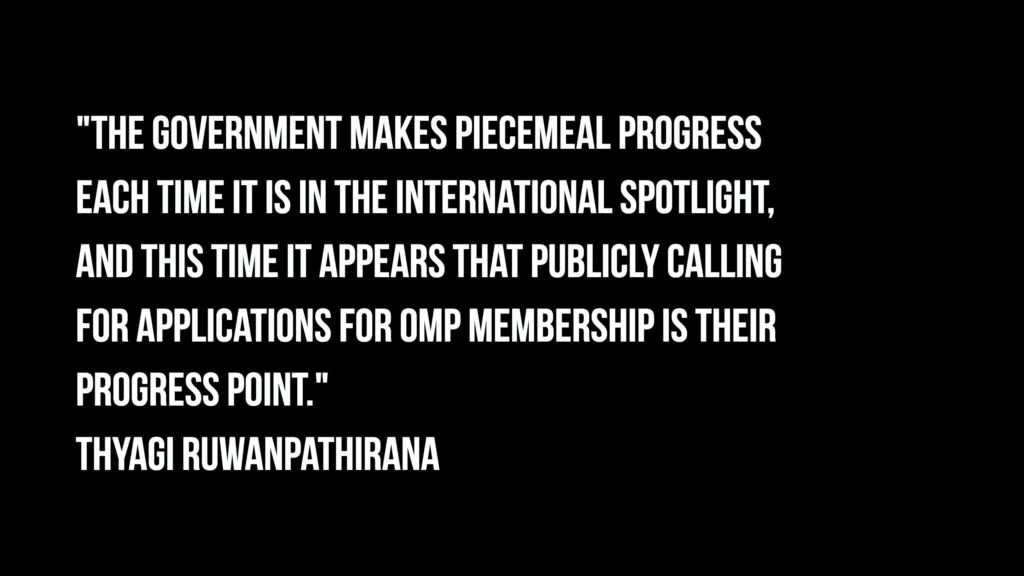 Other positives included de Greiff's highlighting the CTF report and its potential as a resource. He had also acknowledged Sri Lanka's particular history of violence and the complex issues that arise out of conflict in general, such as intra-community victimhood. De Greiff took pains to highlight groups often side-lined in discussions around Sri Lanka's transitional justice process – the victims of terrorist attacks, the family members of the 600 policemen murdered in 1990, and the Muslim communities who were forced out of Jaffna that same year. He also highlighted the polarised and uninformed nature of the debate around transitional justice, and noted that the process had become vulnerable to partisan politics. More specifically, de Greiff raised concerns on a statement widely known to be made by President Sirisena likening the transitional justice process to a 'witch hunt'. He also called for the Human Rights Commission to be given a stronger role in the transitional justice process, including participation in the drafting of legislation – important given that they often critiqued government policy more stringently than civil society.
However, there were areas of concern too.
Ruwanpathirana said that though de Greiff had flagged the lack of progress on emblematic human rights cases, the implication was that this was predominantly due to challenges in terms of capacity and the administration of justice, rather than tackling a wider issue of impunity.
"There was only little mention of the need to enact domestic legislation incorporating the International Convention for the Protection of all Persons from Enforced Disappearances urgently. I felt this could have been a major point to raise, given recent discussions around it and the parliamentary debate on the Bill now being postponed twice. It would have been useful to have the legislation as part of domestic law before the OMP is set up, and he could have stressed on this more," she added.
"The government makes piecemeal progress each time it is in the international spotlight, and this time it appears that publicly calling for applications for OMP membership is their progress point. That despite numerous calls to adopt a timeline to implement the transitional justice mechanisms, there is still no action on this, raises questions around whether the government is serious about transitional justice at all."
Sobering thoughts on November 6 – with the State reaction appearing to amount to, once again, tokenistic 'box ticking'. With the next written update on the transitional justice process only due in March 2018, and a comprehensive report due in March 2019, there does not appear to be any sustained pressure to keep the transitional justice process moving forward. This will only add to the frustration and despair of conflict-affected communities.
Editor's Note: Also read "The Gloves Are Off: Reactions to Ben Emmerson's Statement on Torture, Counterterrorism" and "Sri Lanka's Foreign Policy Trends since 2015: Some Critical Thoughts".