Introduction
In July 2016, the UN World Tourism Organization (UNWTO), in association with the Sri Lanka Tourism Development Authority (SLTDA), organized a four-day international conference in Passikudah, Batticaloa district. Its theme was: "Tourism: A Catalyst for Development, Peace and Reconciliation." According to the UNWTO website, the conference attracted 150 participants comprising 70 international delegates from 26 countries. Among others, it held a session on "Local community involvement and peace sensitive tourism: the role of local communities in not only provision of goods and services but also in decision making to facilitate peace and development".  Local fisher folks and representatives from Community Guest House Owners' Association and Rural Development Society, two key civil society organizations in Kalkudah, Passikudah contend that they were neither informed nor consulted at any stage of the event. To explore more, I visited Passikudah and Kuchchaveli between January 9-14, 2017 and interviewed 7 fisher folks, 4 local leaders and 5 tourist entrepreneurs on site, with the help of a local journalist.
What I found expands beyond lack of community participation in decision-making. Once hostile and an economic backwater, the small coastal towns of Passikudah and Kuchchaveli in eastern Sri Lanka have now become major sites of transformation. Development of tourism infrastructure has taken an aggressive pace following the end of the civil war.
Passikudah is located 35 kilometers north-west of Batticaloa while Kuchchaveli is located 30 km north-west of Trincomalee, their respective district headquarters. Passikudah and Kuchchaveli are coastal resort towns inhabited mostly by Tamil fishermen but also historically associated with tourism. Vis-à-vis fishery, the long stretches of crystal-clear shallow coastlines have been popular sites for tourist attraction since the 1970s, before the war had even begun. A bulk of the tourists then were domestic. Many locals synergised their small fishing economy with tourism by running small-scale homestays and food places. Given their proximities to each other and the beachfronts, they share many experiences—violent contestations during the civil war, a destructive tsunami, and state-led mega investment in tourism infrastructure following the end of the civil war—which has brought unprecedented transformations in the way people live and interact with the new developments.
Civil War, Tsunami and Fisher Folks
Sri Lanka underwent three decades (1983-2009) of a violent civil war which ended in the military defeat of the Liberation Tigers of Tamil Eelam (LTTE) by the government forces. The war was mostly fought on the northern and eastern frontiers of the island nation. The east coast was also one of the worst hit areas in the Indian ocean tsunami of 2004. Fisher folks in east Sri Lanka are victims of and witness to both the destructive events and their aftermath.
Most of the people I met along the way related their experience of the war and tsunami with loss, disappearance, detention and torture, separation of families and mass displacement. I talked to a family in Kalkudah, Passikudah who greeted us at their home. Speaking in Tamil, my local friend briefed them about my interests in learning their stories. We were able to meet the son too, a young leader of the local fisher association. Despite barriers in language, I realised that I could actually understand the general sense of the conversation.
It was their fifth home in less than two decades. In 1992, they were relocated 2 kilometres towards Batticaloa for "safety reasons", then to Passikudah public beach, after which they lived at the location of Amethyst resort until construction began, when they had to shift to their current location. They continued to change homes in response to the tsunami, to dodge the violent events of the civil war as well as due to post-war tourism.
Both the government forces and the LTTE ran parallel surveillance, shifting from daylight to darkness, often through coercion and torture. The government forces imposed six-to-six curfew during most period of the civil war. According to the father of the family, a stout middle-aged man in his forties, the fisher folk had to report their departure and arrival detail each day within a certain timeframe. "If we couldn't make it back on time," he explained, "we had to spend the night at sea risking our lives". He showed us his injured shoulders, smeared in some black substance to reduce pain, indicating the forbidding nature of the sea.
They claim that no government support came along during or after all those years of war and after the tsunami. A number of non-governmental organizations (NGOs), especially after the Tsunami, bought them some boats. Currently, the community of 846 households in Passikudah—750 of them fisher families—have 70 small boats and 62 bigger boats in total. They said the boats they have are very basic and not capable of sailing far into the sea to fish for longer durations. They also lack proper equipment such as nylon nets and proper storage facilities to make profit from fishing. Moreover, they compete with superior fishing boats from more distant territories who often employ LED-lights to lure fish and shrimp.
Post-War Tourism and Livelihood Recovery
Tourism was banned in the east coast during the height of the civil war. However, the arrival of international tourists skyrocketed after the end of the war in 2009. Passikudah and Kuchchaveli were subsequently declared as 'tourism development zones' along with 13 other coastal areas around the island. The state launched a campaign to attract investors to develop the newly declared tourism zones. Neoliberal economic policies of the Sri Lankan state often cloaked in the narratives of post-war "reconstruction" has driven a sharp wedge between the victims of war and the designers of the post-war development.
To see how it has specifically impacted the local fisher folk, I visited a narrow bay, the last remaining harbor for all the fisher folks in Passikudah, one early morning at its busiest. We passed through marshes on a finely paved road that eventually led to tall walls on the right overlooking affluent buildings. Impressive signposts painted on fine wooden boards reminded us that we were in a high-end tourist resort area. Amethyst, Amaya, Anantaya, Maalu Maalu, Uga Bay. At the end of the lineup, the road narrowed down into a dirt path obscured by tall unkempt grass. It opened at a harbor which looked more like a beach lined with a bunch of fishing boats. There were approximately 30 fishing boats of similar size and model, and an equal number of men gathered.
I had scheduled to meet two senior members of the community. A man in grey hair and yellowish sarong showed up and greeted us in Tamil. He narrated his story as people gathered in a C-shape on the bay, facing against the morning sun. He explained that, step by step, they were forced to retreat in the narrow bay we were standing on as resorts kept developing on the beachfronts. Not only were they forced to fish from a narrow bay, many were displaced to clear land for the construction of the hotels. Large sections of the coast were privatised and walls kept the hotel guests in dreamy paradise secluded from the realities of lives outside.
Another man in striped shirt and checked sarong, argued that there is some sort of "Sinhalisation" in progress, of the Tamil villages. He described how public lands near the ocean have been leased out to Sinhalese investors from the south such as Colombo and Galle, who in turn bring more Sinhalese to work in their facilities. Such a trend, he thinks, will eventually reduce the Tamil fisher families in the area to a minority.
In Kuchchaveli, many lost their land during the conflict. Government forces took control of land abandoned by fleeing families, most of whom were farmers. Those who returned after the end of the war had been living in temporary camps for years on end while their previous land remains earmarked for property developers. The camps are built out of scavenged zinc sheets, with no electricity or running water. A man I talked to informed that the farmers had jointly requested the Divisional Secretariat (DS) to grant the land for agriculture. They were dismissed saying the land belonged to the state, not them. Later, they witnessed the DS office grant a part of that same land to Jungle Beach resort. Their subsequent visits to the DS office and letters to the Land Commission and the President for a land grant fell on deaf ears.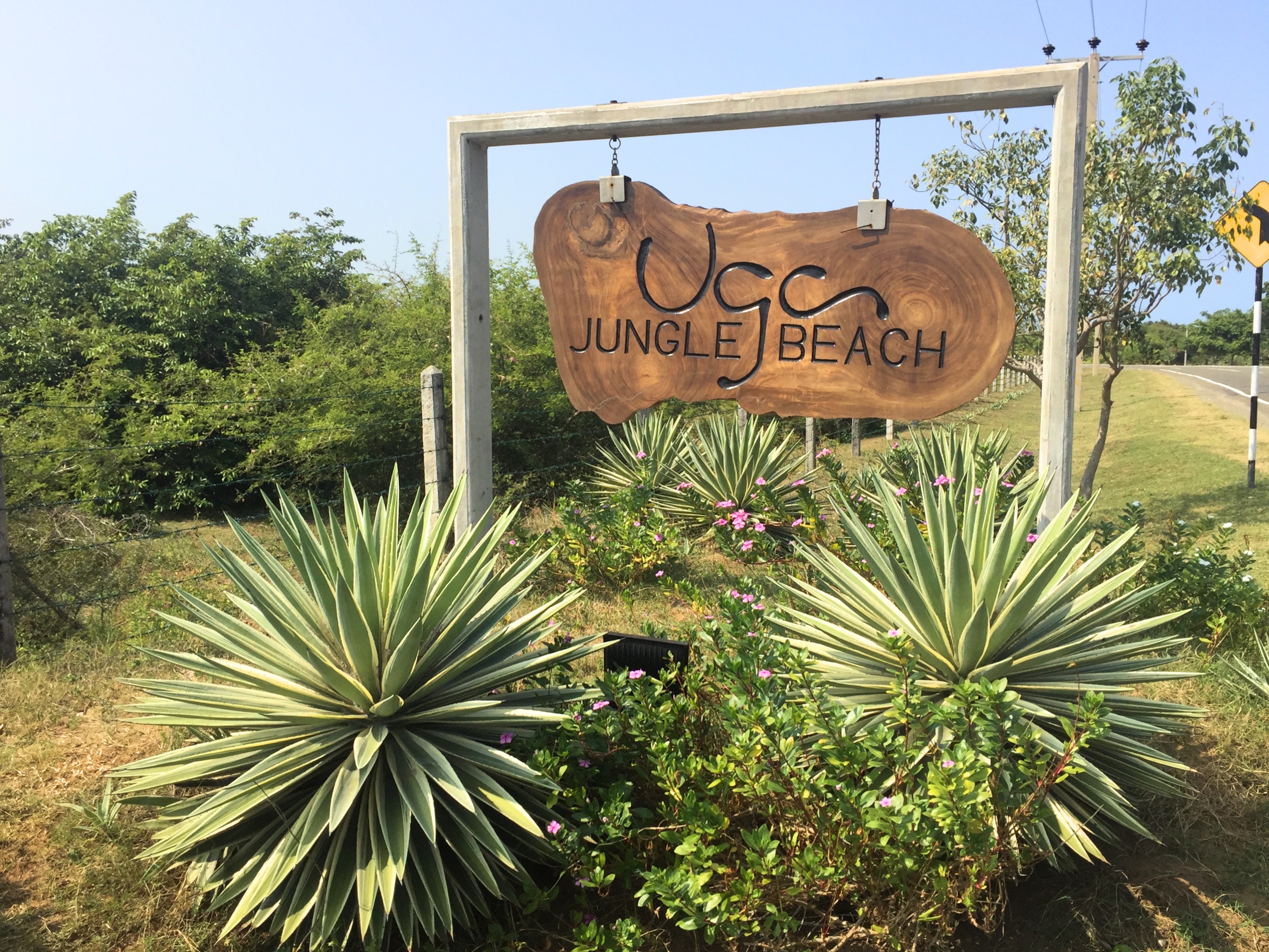 Jungle Beach Resort in Kuchchaveli
In terms of employment, such tourist ventures do not offer much. According to a 2015 report by the Society for Threatened Peoples, employment opportunities for locals were limited to brief periods of construction work and housekeeping, those too under poor conditions. My observations concurred most of its findings. Many luxury hotels boast about their impressive list of corporate social responsibilities. When asked about any support extended by the hotels in Passikudah bay, a group of men mockingly pointed towards a concrete structure under a tree painted with the name of the hotel who built it. I learned that it was initially built as a fish container for the fisher folks but now served as nothing more than trash pit.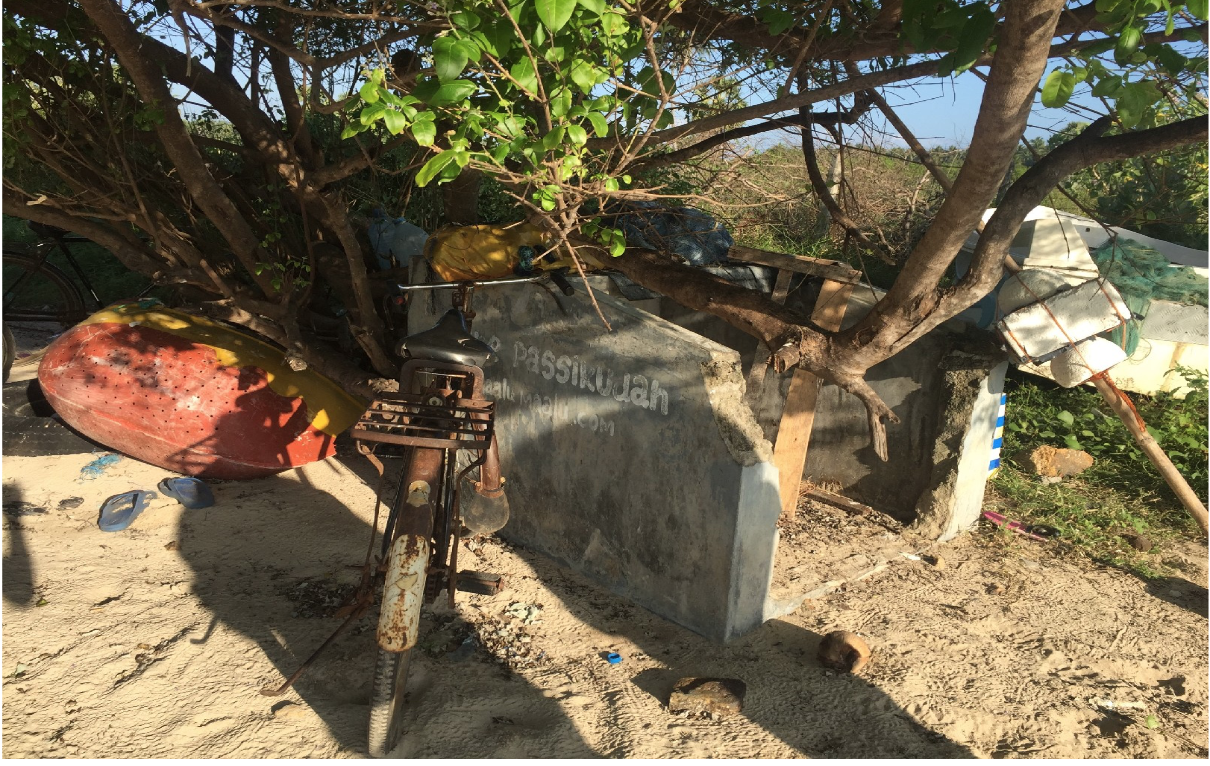 Fig 2. A fish storage facility built as a part of corporate social responsibility, Passikudah
When I visited Passikudah public beach, there were 15 stalls that sell drinks, snacks and other items. Only 3 are owned by community members, according to my interlocutors. Moreover, the biggest stall in the public beach is run by the army which has further limited the potential income locals can generate from tourism. The military has a lion's share of investment in tourism, running chain hotels and a range of recreational activities such as helicopter tour to boat services throughout the country. Services are run at better deals by "underworked" armies who gets salary from the government. But the distribution of benefits is not transparent and reportedly do not go to the national revenue.
Lack of proper Environmental Impact Assessment is another major area of concern. Our driver brought my attention to a pond which he says is polluted by sewage from Amethyst hotel in Passikudah. The pond drain into the ocean few meters away. He says the government has shown no interest whatsoever as long as luxury hotels are concerned.
Community Tourism
Another group of locals, who are trying their lucks in tourism, face entirely different sets of challenges. I talked to representatives from the Community Guest House Owners Association in both Passikudah and Kuchchaveli. Local tourist entrepreneurs, who usually operate homestays and small guest houses, said they face tough competition from luxury resorts which have private beach, pool, bars, snorkeling and various water sports.
In Passikudah, the local guest house owners think they get less tourists partly because they are located further from the nearest beach or sometimes simply because tourists are not interested in leaving their comfort zones and try local cuisines. Besides, most of the luxury hotels are operated by more experienced tourist entrepreneurs with wide networks and marketing advantage.
In Kuchchaveli, which is a popular destination for diving and water sports, locals face uneven competition from seasonal tourist entrepreneurs from southern Sri Lanka (such as Colombo, Galle, Hikkaduwa, etc.) who have their branch resorts and operate services in the area. The Navy operates boat services to the nearby Pigeon Island National Park which has crippled the local boat economy. Local guest house owners in Passikudah also highlighted that let alone providing support for community enterprises, the government imposes heavy taxes on them.
Having said that, not everything is a lost battle for the locals. The secretary of the association in Passikudah notes that profit from tourism has been gradually increasing. He sees immense potential in community tourism. With the association, they are also able to form a unified front to address their common problems. They have also been conducting language classes and short trainings on hospitality and tourism management to prepare the youth in burgeoning tourism economy. According to him, local cultures and products should be promoted as a part of tourist attraction, and locals should have employment opportunities in the industry. "For this to happen," he says, "local community and tourist entrepreneurs should be equally involved in all levels of the decision-making process". Tourism anywhere should incorporate the local population, not alienate them.
Conclusion
Given the power dynamics inherent in the relation, the fisher communities in north-east Sri Lanka are not likely to be free from the existential threat of being evicted time and again, and exercise their basic rights to livelihood anytime soon.
Earlier this year, Prime Minister Ranil Wickremesinghe visited Passikudah and asked the fisher people near Jati Kalkudah bay area to move out once again. A young leader of a fisher association in Kalkudah clarified their stand: "We are not against tourism. We like tourism but we will stay here. We will not move. We have been working here, we need our land. We have no benefit from tourists. We need the land to survive." Seemingly desperate, he warned: "If the government keep chasing after us, we will be forced to sail out to sea and die out there."
Afterword
Subsequent to my visits to Passikudah and Kuchchaveli, I kept thinking to myself: "What can I do?" What can we, as individuals, tourists, development practitioners, organisations, etc. do to make a difference? If you are a tourist or visitor in Sri Lanka, it might be more helpful to consider finding out "what NOT to do" than "what to do". Sri Lanka Campaign provides some useful guidelines on ethical tourism. Also, during the course of my time in Sri Lanka, I was inspired by few organizations such as National Fisheries Solidarity Movement (NAFSO) as well as individuals who campaign fearlessly in the face of a repressive state. Perhaps extending support, in any capacity and forms, to such organisations might be another way to help.
---
Phurwa Gurung studies Conflict, Peace and Development at Tribhuvan University, Nepal. He was a NORHED exchange scholar at the University of Ruhuna, Sri Lanka, in 2016.
Readers who enjoyed this article might find "Paradise Lost: The hidden costs of tourism development in Sri Lanka" and "Tourism in Sri Lanka: Catalyst for Peace and Development or Militarisation and Dispossession?" enlightening reads.