This week, it was announced that Sri Lanka would be paying as much as USD 170 million (Rs. 25 billion) to aircraft leasing company AerCap Holdings, in order to cancel the purchase of 4 A350 aircraft.
The aircraft had been purchased by the previous Government.
The announcement came at the same time as Sri Lanka decided to discontinue budget airline Mihin Lanka, as part of a restructuring plan.
Sri Lankan Airlines have languished in debt for years – the last time it made a profit was reportedly in 2009, one year after Emirates sold its stake in the national carrier. Most recently, it reported a net loss of Rs. 16.33 billion rupees (USD 112 million) for the year to March 31.
Following on from a previous infographic on the Government's decision to apply for a supplementary estimate of Rs. 1 billion for the purchase of luxury vehicles, Groundviews has created an infographic showing what the money spent to cancel the purchase of the A350s could have been used for instead.
The figures are drawn from the Ministry of Finance's Annual Report for the year 2015.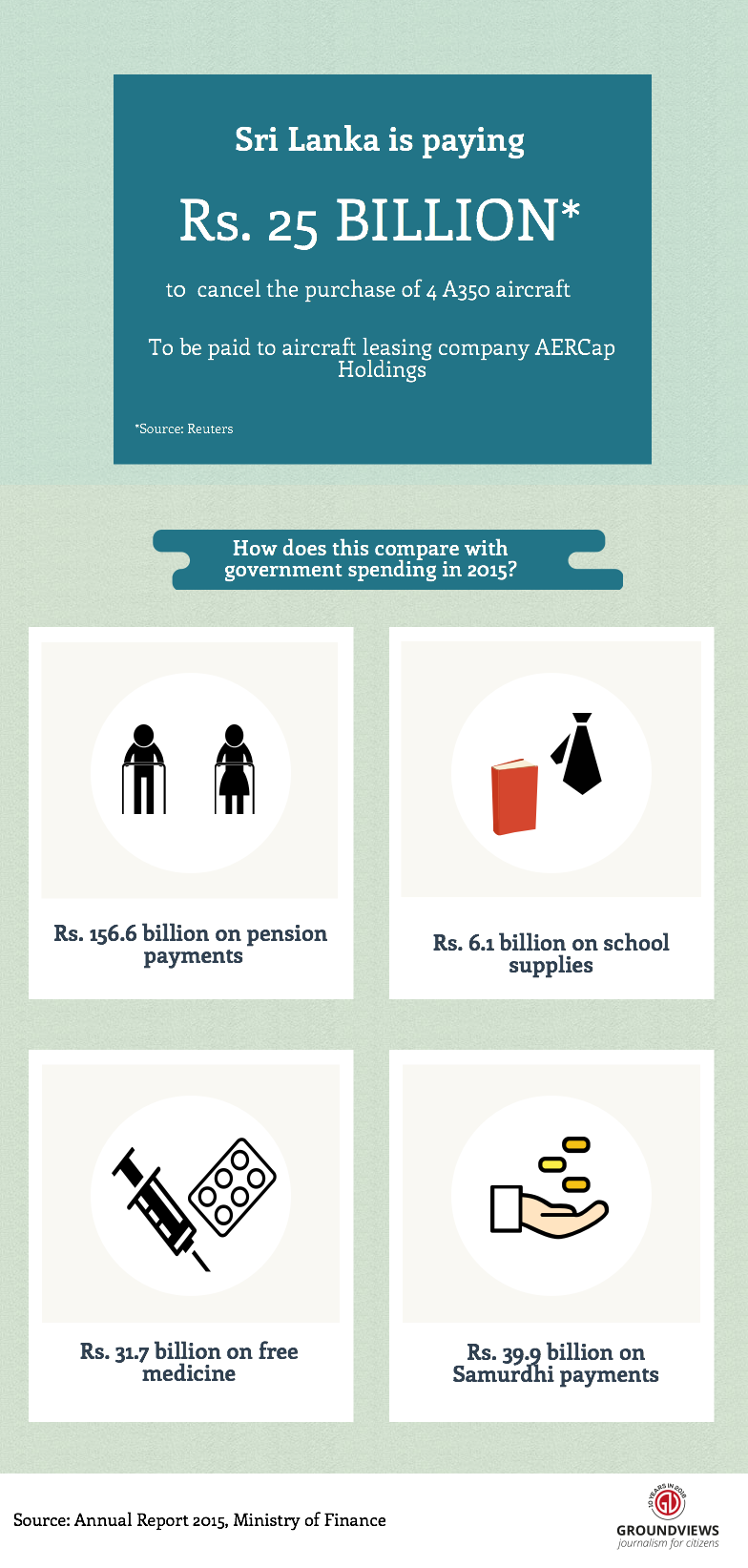 Rs. 25 billion is a significant sum of money – and the announcement was met with anger on social media:
#lka #FlyingFolly @flysrilankan cancels four A350 aircraft, incurs USD98m (LKR 14b) penalty. We pay 4 MR profligacy!https://t.co/BMK6Nolsqg

— Nalaka Gunawardene (@NalakaG) October 4, 2016
As the infographic shows, the money to cancel the order for the Airbuses could have easily been spent on pensions, Samurdhi payments, medicine or school supplies. Sri Lankan Airlines has been languishing in debt for years – auditors flagged the viability of the national carrier as far back as 2009 – and yet the Government continued to purchase aircraft, compounding the losses incurred.
Now, Sri Lanka will have to pay the price – to the tune of millions of dollars.