Last weekend was Vesak, but the streets of Colombo were uncharacteristically quiet. In place of the usual crowds pouring out onto the streets to view the lanterns, and the rambunctious dansals distributing food to passers by, a sombre mood settled across the city. Over the past week, Sri Lanka was hit by the worst floods since the 2004 Tsunami. No one had been prepared for the rains, which came at the heels of a heat wave that parched the earth, dried up the rivers and tributaries, and left Sri Lankans across the country sticky, sweaty, and disgruntled. Just ten days ago, most conversations I had begun with people complaining about the heat: අම්මෝ පුදුම රස්නෙයි! ஐயோ! சரியான சூடு! When the skies finally opened up, many of us welcomed the rains with open arms. After months, the heat finally abated. Everything was green and glowing. I too drank in the rain-soaked breeze that wafted through the windows with delight. None of us imagined that this long-awaited monsoon was in fact, a devastating cyclone that was traversing the Bay of Bengal.
The torrential rain left in its wake, floods and landslides that the Disaster Management Center estimates affected 427,918 people, displaced 319,000, killed 104 and rendered 99 missing. While startling, these numbers don't begin to describe the devastation: Three villages were buried under landslides in Aranayake. In Colombo, as the waters of the Kelani swelled and overflowed, suburban neighborhoods and informal settlements along the river were inundated, and in some cases, completely submerged, with only the rooftops of homes exposed. Many of Colombo's low-lying suburbs became hard to access, leaving communities cut off from access to essential items for days. On Sunday May 22nd, even as the rains finally subsided, around 500 people remained marooned on an island that formed in Kanuketiya, Malwana, only accessible by boat.
As the depth of the devastation became evident, it drew a remarkable public response. At train stations, scores of people heading to work gave away their lunch packets to be distributed to the flood-affected suburbs. Supermarket shelves carrying water bottles and dry rations rapidly emptied, all purchased hastily for donations. Religious sites such as churches, temples and mosques housed displaced people and became key centers of relief work, sometimes working with each other to collect and distribute dry rations, as the Galle Muslim Cultural Association and the Sri Sudharmalaya Temple did over the weekend. While we saw a similar response in the aftermath of the 2004 Tsunami, what was different this time was the alacrity and inventiveness of the island's youth in harnessing their social networks and popular services to organize.
PickMe, Sri Lanka's homegrown alternative to Uber, inserted a flood relief button on its App, and its three wheelers showed up at users' doorsteps to ferry donations to flood relief centers at no cost. A popular site of e-commerce, Takas.lk, enabled people to buy flood-relief items online and dispatched their trucks to flood-affected areas. Some of the most swift, efficient and robust relief efforts came from the twitter-savvy generation that sprung into action, coordinating relief work through Facebook and WhatsApp groups, sending updates and collecting relief through twitter hashtags. Requests have been pouring into these online forums and groups—for jeeps and trucks to deliver goods, for boats to support rescue operations, for medicine, for volunteers to pack and deliver—sometimes to be answered within minutes. Much of this communication has been taking place in Sinhala and Tamil; this utilization of social media for flood relief efforts has not, by any means, been limited to Colombo's English-speaking hipsters.
As an anthropologist, I have long been skeptical of the politics of aid distribution, especially by aid agencies and state bureaucracies. Humanitarian missions often harness discourses of disaster and catastrophe to mobilize support, yet underneath the glossy posters of third-world women and children "waiting" to be saved, lie a darker set of power-relations of race, class, and privilege that separate those who give and those who receive. Moreover, with the rise of entire institutions that subsist on catastrophe, on being the collectors and distributers of aid, a large proportion of relief funds become absorbed into sustaining these institutions as well as their experts who rush to devise solutions with little understanding of the needs and social dynamics of the communities they service. As we saw in Sri Lanka's Tsunami reconstruction efforts, such haphazard solutions produced scores of uninhabitable homes as well as new problems related to land, gender, and ethnic and religious relations caused by aid providers' lack of attentiveness to people's needs and social structures.
Carrying all these reservations, I still decided to try volunteering with several groups. I stuck with one that most appealed to me:  a collective made up of several youth organizations that came together under the hashtag #FloodReliefLKA. Operating out of the JCI Secretariat, they organized through social media, collecting information about specific needs of different communities from state officials, camps housing displaced persons, other volunteers, and members of affected neighborhoods.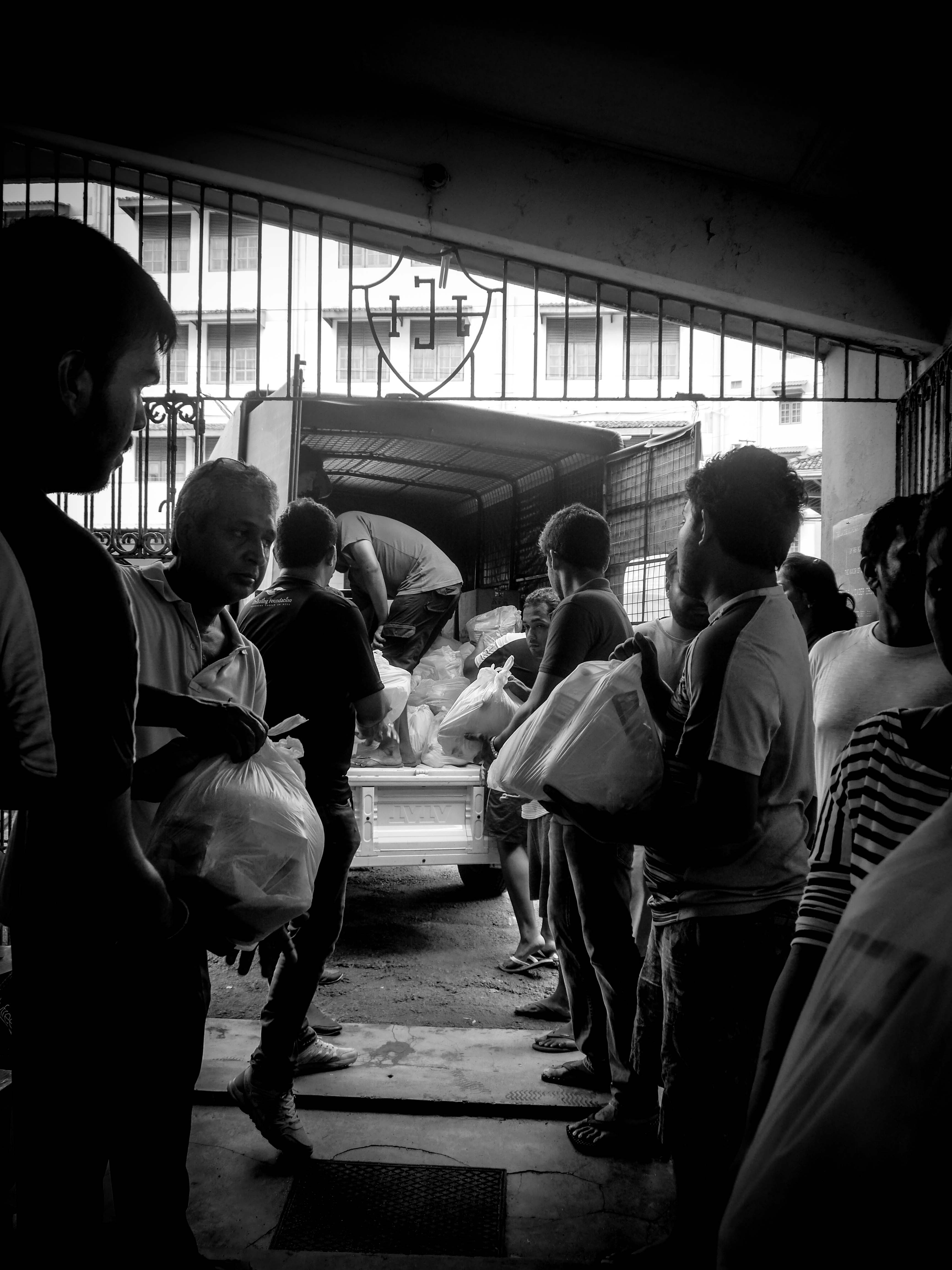 As information streamed in, the organizers got on their phones and laptops, tapped into their networks, posted on Facebook, Twitter, and WhatsApp groups to collect whatever was requested as fast as possible—dry rations, cooked food, medicine, milk powder, cleaning supplies and more. As word got out, volunteers streamed in, as did people carrying bag loads of donations. These were recorded, sorted and stored in a large community hall. At any given point, the hall was full of volunteers, willing to do whatever was needed at hand. Most people had never met before. On the first day, while preparing 100 packages of dry rations, I knelt in front of a row of hastily arranged piles of water, rice, dhal, and biscuits, stuffing them into bags as fast as I could. By the time I sealed my fifth bag and looked up, all 100 had been packaged, ready to be passed along a chain of people standing in line to load them onto trucks heading to Kaduwela. All this, within minutes. "The sheer power of numbers," I thought, marveling also at the speed at which things could get done when needed in Sri Lanka, where everyone complains about heel dragging and inefficiency.
Over the next three days, it became clear to me that there was something different here to the humanitarian efforts I have come to be so skeptical of. For one, this collective was run on a purely voluntary basis—there were no overhead costs, no salaries to pay, no rent or transportation costs, as everything from the trucks and jeeps to the pens and paper used were offered by those who came to help. All the funds donated were spent on buying items as needed. There was no bureaucracy to deal with—just 6-10 young women and men with laptops and notebooks, checking in with each other to make decisions, calling out whatever they needed and asking people to sign up. I was struck by the willingness of volunteers to show up and do what was required, regardless of how mundane or arduous it was. Some took inventories. Others sorted clothes. Those who had vehicles ferried goods across the city. In places harder to access, volunteers took boats or walked, such as two engineering students from Moratuwa University who waded neck-deep in contaminated water to get dry rations across to families in homes inaccessible by trucks. While few openly discussed it, many people noticed and later wrote posts about how a diverse and polyglot mix of volunteers worked on flood relief together. No one refused to deliver aid to places of worship that they wouldn't pray in, or chose suppliers to buy relief items based on their last names—all decisions people make on a daily basis in Colombo, where encounters across ethnic, religious and class lines are a part of everyday life, as is the suspicion, distrust, and fear of others that deeply divide our city.  Alongside this, the greatest strength of the collective was, perhaps, their willingness to stop and critically think about what they were doing, and to listen to what people who were affected by floods wanted. After several days, upon realizing how complicated, thorny, and sensitive the work of relief distribution was, the organizers stopped work and sent volunteers to harder to access suburbs to talk to people and figure out what their immediate needs were. Later that evening, we all sat down and discussed what we found, made priority maps for each area, and got back online, trying to harness donations for as many requests as we could. As I write, we are still trying to meet those requirements.
What I witnessed at #FloodreliefLKA was a network of temporary alliances that formed, stringing together young people across Colombo to respond to the devastation unfolding before our eyes. As we have seen in Sri Lanka and beyond, spaces of empathy and solidarity often open up in the first flush of a disaster; yet, sustaining the openness and collaborative spirit that emerges in such moments is much harder when aid provision becomes bureaucratized, publicized, and turned into revenue-generating enterprises. Already, we are seeing a host of advertisements for micro-finance provisions for flood victims, and self-congratulatory messages about flood aid collected and distributed by media outlets turning their relief efforts into promotional campaigns. Furthermore, as the Tsunami starkly showed in 2004, aid reaches communities unevenly. While accessible areas in Colombo's suburbs and sites such as Aranayake have seen a surplus of aid, we have heard little about aid provision to the North or to communities less accessible from the centers of operation in Colombo. It is critical to keep in mind that unless concerted efforts are made to attend to power-relations of locality and geography, in the process of relief provision and reconstruction, existing hierarchies of ethnicity, class, caste, and gender can become reinforced. Yet, as the waters recede and the dust settles, there is something worth holding onto in the spaces and possibilities for collaboration that emerged, albeit briefly, in the early days of the floods.