A large tranche of documents was released on 9 May 2016 by the International Consortium of Investigative Journalists (ICIJ) around "Panama Papers", a fraction from a trove of more than 11.5 million leaked files from the Panama-based law firm Mossack Fonseca, one of the world's top creators of hard-to-trace companies, trusts and foundations. As noted on the ICIJ website,
The Panama Papers is a global investigation into the sprawling, secretive industry of offshore that the world's rich and powerful use to hide assets and skirt rules by setting up front companies in far-flung jurisdictions.

Based on a trove of more than 11 million leaked files, the investigation exposes a cast of characters who use offshore companies to facilitate bribery, arms deals, tax evasion, financial fraud and drug trafficking.

Behind the email chains, invoices and documents that make up the Panama Papers are often unseen victims of wrongdoing enabled by this shadowy industry.
The list of names associated with Sri Lanka in the tranche are:
The controversial Avant Garde company features heavily in the Panama Papers leaks. A simple Google search is enough to highlight the connections between the former Secretary of Defence Gotabaya Rajapaksa and the company. One of the names associated with Avant Garde and featured in the Panama Papers tranche is Nissanka Senadhipathi, who the pro-Rajapaksa magazine Business Today featured in 2013 as a man "who had no money" (PDF here), which given the information now in the public domain, is a bit of an understatement.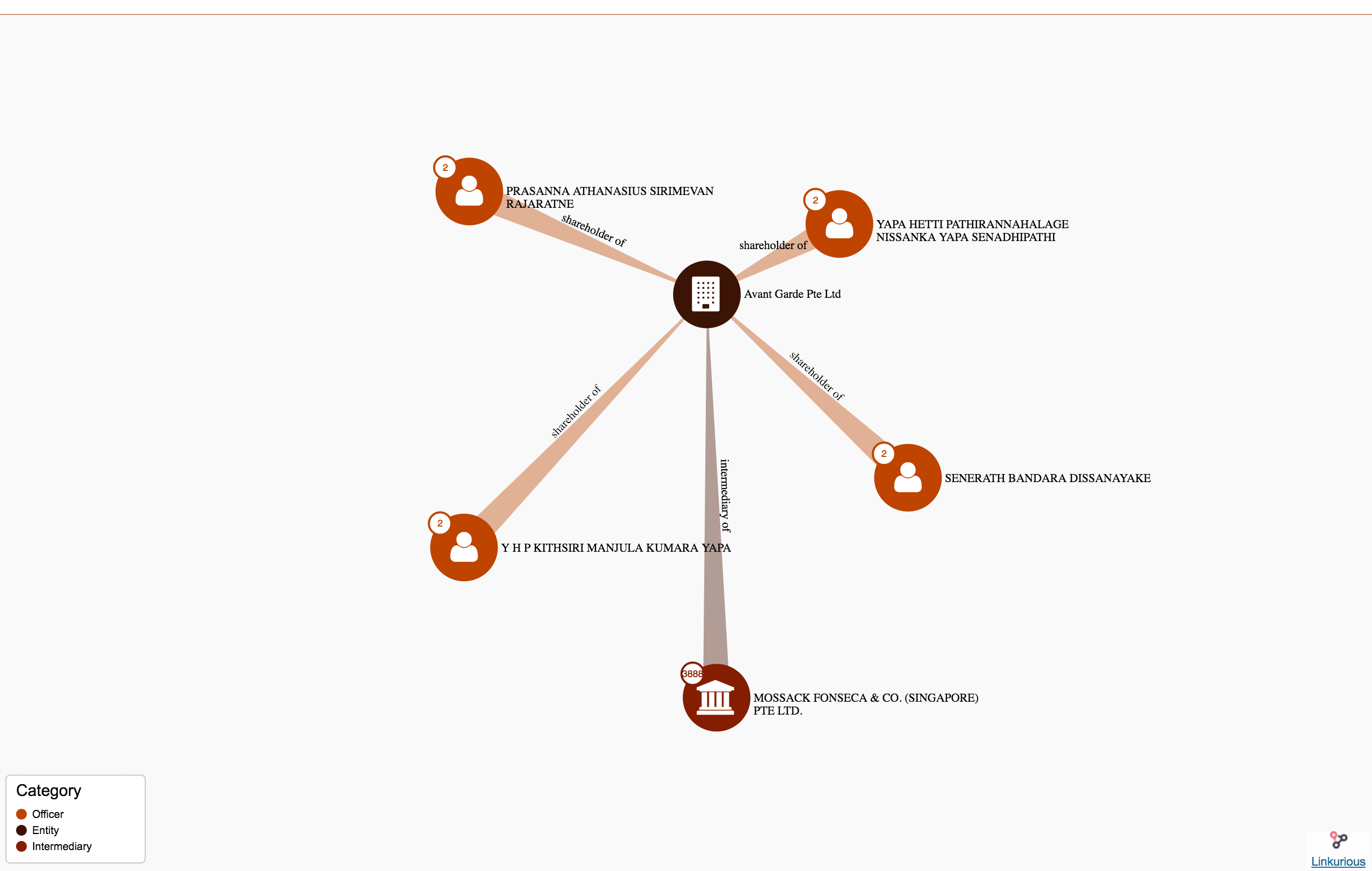 The list of intermediaries linked to Sri Lanka include (link to offshore entities):
SIMON PAUL FINCH, BEST CHEERS LIMITED (link)
ASIA CAPITAL LIMITED, TECLLOYD LTD. (link)
ADVANTEC NETWORK SYSTEMS PVT. LTD., OVERSEAS FINANCE LIMITED (link)
The list of addresses linked to Sri Lanka include:
We've uploaded the full database, downloaded from ICIJ, to Google Drive, to make it easier to access and to also reduce the load on ICIJ's servers. Access the files here, or download them all as a ZIP file here. Where technically possible, we've also converted the very large Excel spreadsheets into Google Sheets, to make it easier to view online and analyse the data. Note that the archive from ICIJ includes data from an earlier tranche of documents called 'Offshore Leaks'.