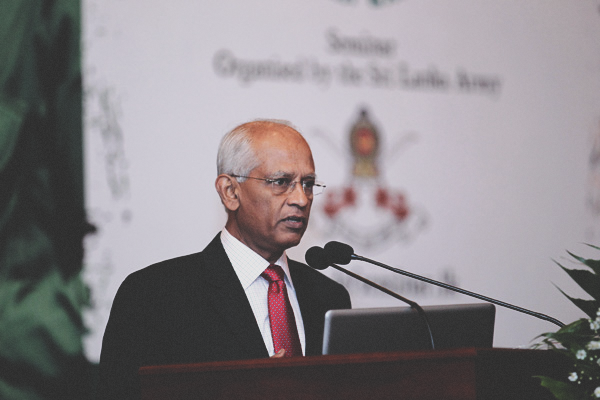 Image courtesy Business Today
The Presidential Spokesman and International Media Unit (i.e. @AnuradhaKHerath) announced on 14th June something that's never happened before in Sri Lankan politics – a Q&A with Lalith Weeratunga, the President's Secretary over Twitter, slated for 19th June, from 2.30pm to 4pm.
A live search of #askLW is embedded below to follow in real time the Q&A on Wednesday and the questions leading up to it.
Ironically, the announcement of the Twitter Q&A with Weeratunga came on the same day Gotabaya Rajapaksa, the President's brother, in a spark of unrivalled genius, called social media no less than a a national security threat in post-war Sri Lanka.
Unlike Gotabaya Rajapaksa and as Sri Lanka's top civil servant, Weeratunga has openly spoken about the potential of ICTs for post-war development and reconciliation. Rather endearingly, Weeratunge noted in late 2012,
"I have somehow resisted in getting into the Facebook and resisted getting into Twitter.I'm not in Linkedin, I'm not in any of these social media things because I don't want to make my life more complex than what it is now. I can't handle a phone, so I might as well not get into these things… Well I don't exactly know this business of Twitter but I'm told that some 140 characters or less are involved in it."
He went on to note,
"When talking about social networking tools I recall the young fellow from Polonnaruwa I met. When Jackson Anthony produced the movie "Kuweni" which was launched about an year ago, he had used this boy to do the marketing. And the boy had done marketing through the Facebook. He was very proud about it. Social networking tools, personal profiles with statements, and photographs can help to understand people from different cultures and geographical boundaries. Well these are the positive things"
Weeratunga deserves a lot of credit for agreeing to a Q&A format well beyond the Government's ability to control, censor or contain. However, the real test and measure of success is how well he will respond and to what he will respond. One and a half hours is a very long time and Weeratunga joins three Twitter Q&A's, with varying degrees of success, linked to Sri Lanka.
Assistant Secretary, South And Central Asian Affairs at the US State Department and former Ambassador to Sri Lanka Robert Blake just over a year ago had a Twitter Q&A session for just thirty minutes, during which time he didn't answer a single question on Sri Lanka. Earlier this year, the UK Foreign Office Minister Alistair Burt also did a forty five minute Q&A over Twitter, which Groundviews has archived in full. In between, on 18th December 2012, Valerie Amos, the UN Under-Secretary-General for Humanitarian Affairs and Emergency Relief Coordinator conducted a Twitter Q&A, which was a disaster. As we noted then,
…it evident that Baroness Amos and her staff are not really interested in addressing difficult questions on Sri Lanka, whether over Twitter, other media or face to face. And so this circus will move on – online events held only to notch up a year's quota of new media interactions to make the UN appear vibrant and cutting-edge, yet with little or no thought given to meeting expectations these events create or generating considered responses to hard questions that when unanswered, ferment even more discontent and anger against an institution that has failed in Sri Lanka, and how!
One sincerely hopes the UN's idea of a Twitter Q&A isn't the model even remotely emulated or employed by the President's Office on Wednesday.
Groundviews is archiving every single #askLW tweet for posterity, and has already made public a fully indexed online portal to access all the tweets anchored to the Q&A with Lalith Weeratunga.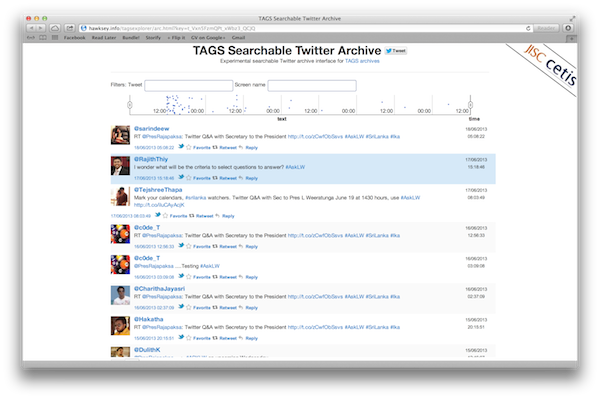 Please ask questions, and join the #askLW debates.
Update, 19 June 2013, 8.55pm: We now have some data, generated by the volume of Twitter traffic during the #askLW session, to share with our readers.
You can download 2,680+ tweets, at the time of publishing this update, as a CSV file here.
Using data visualisation, it's clear @groundviews was the most active account during the session. High res image here.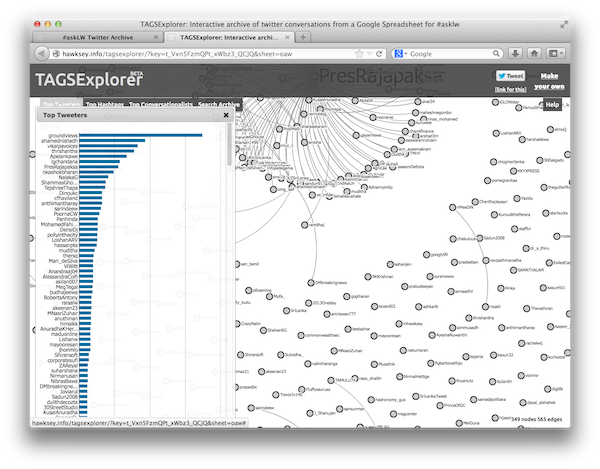 Unsurprisingly, @presrajapaksa, which his Secretary appropriated for the purposes of the #askLW interview, emerges as the top conversationalist. High Res image here.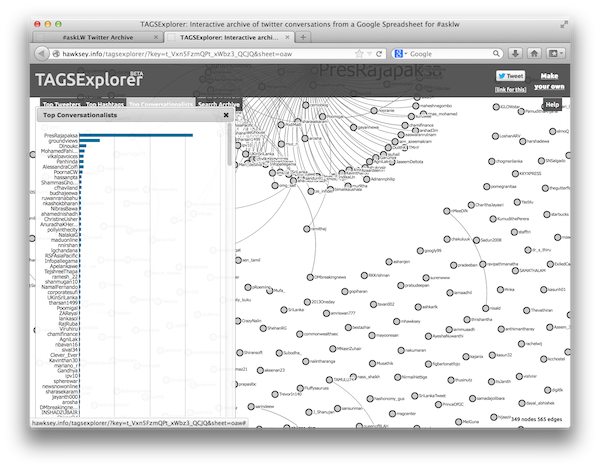 Here's an interesting finding. If the top hashtags used during the session are to any degree indicative of the priorities of those who interacted with the Secretary of President, it's clear that concerns over e-commerce (and PayPal in particular) trump, by quite a margin, concerns around religious extremism and Islamophobia, the disappearance of a journalist, the reconciliation process and progress in that regard and CHOGM. View high res image here.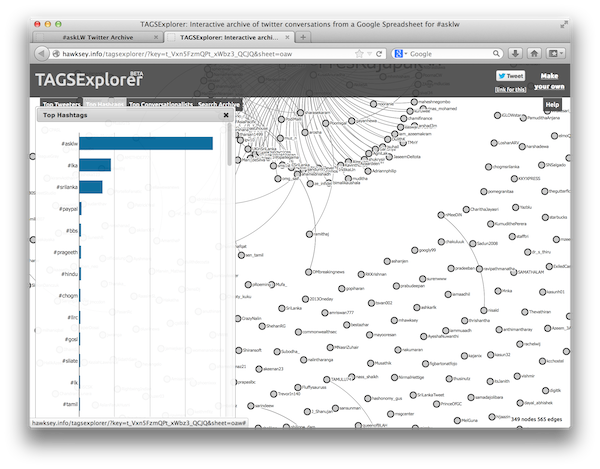 Another way of looking at key interests is to look at the number of retweets, indicative of how a single tweet resonates with a broader audience or group. Over the past day, there were 47 retweets of a tweet on asking whether the President would be attending the finals of a cricket series, if Sri Lanka were to qualify. A question posed by the BBC correspondent in Sri Lanka comes second, but tellingly, wasn't picked up and answered. A tweet on PayPal was also retweeted over two dozen times. Concerns over media freedom and the 13th Amendment clearly generated far less retweets (questions on media freedom weren't answered). A suggestion for Lalith Weeratunga to create an account for himself, instead of using the President's account (which we also tweeted about) seems to have found some traction, but perhaps not within the President's office itself. View high res image here.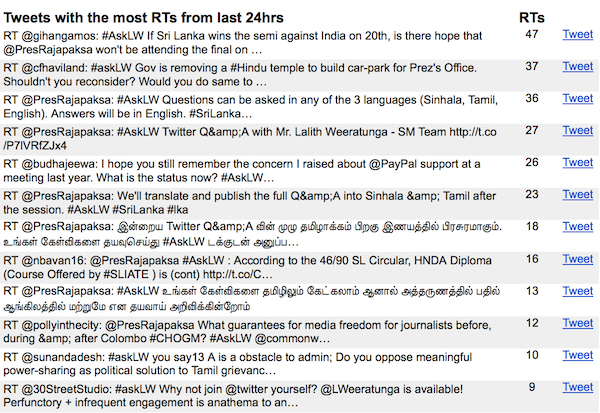 Finally, of the around 2,680 tweets currently in our archive, over 1,140 are original tweets (captured since 14 June, when #askLW was first announced). On average, each of the accounts in the archive published around 8 tweets. There were over 440 links referenced in the tweets! View high res image here.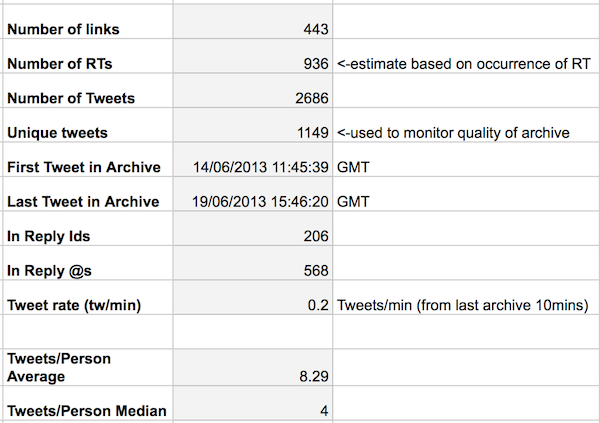 Update, 19 June 2013, 5.05pm: Twitter user @gopiharan created an excellent bundle of tweets Lalith Weeratunga answered in the one and a half hours of the Q&A session.