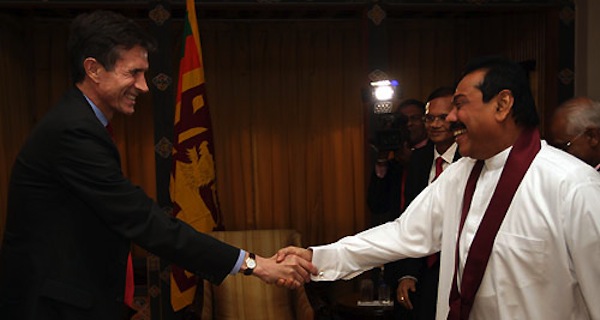 Image courtesy Colombo Page
From around 5pm to 5.30pm today, Ass. Sec. Blake took questions from those on Twitter in South and Central Asia. Ass. Sec. Blake is the Assistant Secretary, South And Central Asian Affairs at the US State Department and former Ambassador to Sri Lanka. South and Central Asia is a large swathe of physical as well as ideological terrain. Fearful that Sri Lanka would be forgotten in the deluge of tweets under the hashtag #AskSCA, we published a story on Groundviews flagging our own questions, and what at the time were a few other questions to Ass. Sec. Blake posed by others on Twitter.
The session didn't see Ass. Sec. Blake answer many questions. It started by his office noting that,
https://twitter.com/state_sca/status/192565222714777600
This was followed by a few tweets on Nepal, and a congratulatory tweet on the new US Ambassador in New Delhi. The first tweet responded to was on the Maldives, followed by one US foreign policy goals in Central Asia. Then ones on Bangladesh, the Maldives, Uzbekistan, the US lease of Manas Base in Kyrgyzstan, LGBT rights, the border security of the 5 Central Asian states and how the lack of secure infrastructure in CA affect New Silk Road strategies.
Sadly, and for reasons best known to Ass. Sec. Blake and his office, not a single question on Sri Lanka was taken up.
This wasn't because there weren't enough good questions. Sri Lanka's BBC correspondent echoed the tweets posted by Nigel Nugawela, the co-editor of Groundviews. Even though the Reuters Sri Lanka correspondent chipped in with his questions a tad late, they are vital ones to ask, and not just from Amb. Blake, but from our own political leadership. Revealingly, many Sri Lankan mainstream media Twitter accounts (e.g. @DMBreakingnews, @Adaderana and @Sundayleader) failed to ask a question. Colombo Gazette, a web based news outlet, posed a single tweet. Bizarrely, Ceylon Today (@Ceylontoday) posted two tweets to Ass. Sec. Blake but then proceeded to delete them.
We have collated in a Bundlr bundle the tweets we could find addressed to Ass. Sec. Blake under the #AskSCA tag. Please leave a comment if we've missed out any. Even though they were all unanswered by Amb. Blake, the questions can be taken up in other physical and virtual fora, including with the new US Ambassador to Sri Lanka, others in Washington DC and US Embassy officials in Colombo. These tweets are succinct tableaux vivants of Sri Lanka today, with concerns over the freedom of expression, human rights, the rule of law, reconciliation and indeed, coherence and continuity of US policies and practices over Sri Lanka.
We urge readers to not forget them, and keep asking.
###
Update, 8.39pm: Ass. Sec. Robert Blake lamented on Twitter the limited amount of time he had to take any questions on Sri Lanka. We responded noting that it would be great if he had more time to spend on these interactions, and perhaps to have them with South Asia and Central Asia as two distinct regions, which would allow for more focussed exchanges around each region. Ass. Sec. Robert Blake agreed, and we then also exchanged thoughts on USAID programming in Sri Lanka and the possibility of Peace Corps volunteers coming to teach IT skills and English.
https://twitter.com/state_sca/status/192628814625513473
https://twitter.com/groundviews/status/192629942138318848
https://twitter.com/state_sca/status/192638477370798080
https://twitter.com/groundviews/status/192641443309961216
https://twitter.com/state_sca/status/192652451776708608