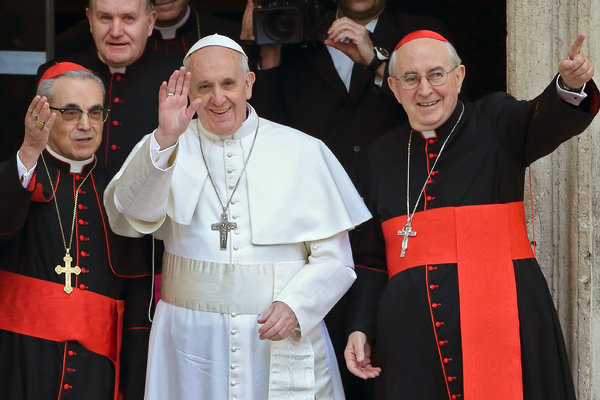 Image courtesy New York Times, Alessandro Bianchi/Reuters
The new Pope has been hailed as someone known for his simple life style, identification and sympathy to the poor, proclaiming "how I wish for a Church that is poor and for the poor".
In his homily at the Mass that formally installed him as the Pope today at the Vatican, he referred to the Church's mission as one that has to show love, concern, and protect all people, particularly those in need, and also the environment. Several heads of states and the US Vice President was reported to have been present, and in their presence, the new Pope called on the "those who have positions of responsibility in economic, political and social life, and all men and women of goodwill" to be "protectors of one another and of the environment". Amongst the heads of state present was Zimbabwean President Robert Mugabe, who faces a travel ban by the European Union for alleged human rights abuses. The Vatican is not part of the EU and a Vatican spokesperson claimed that no country delegation or head of state is invited, but that anyone is welcome to attend and no one is refused.
The Pope referred to powers vested in his position and claimed that "authentic power is service" and that he "must open his arms to protect all of God's people and embrace with tender affection the whole of humanity, especially the poorest, the weakest, the least important". This has a ring of truth from his past as a Cardinal in Argentina – he is known to have stayed in a simple room instead of a grand palace, used public transport instead of luxurious cars and spent time amidst slum dwellers. He is also known to have visited a hospice to kiss and wash the feet of aids patients and having reprimanded priests who refused to baptize children born to single mothers.
But most commentators see him as conservative on issues such as women's ordination, celibacy of priests, rights of sexual minorities, contraception and abortion. I have not seen anything to the contrary.
And the new Pope is said to oppose liberation theology, which became famous in Latin America, and was all about being with the poor, working with them for their liberation and raising voices on their behalf. He seemed to have – and possibly still – belong to sections of the church, like the two previous Popes, who seemed to think that liberation theology comes from Karl Marx than the Gospel of Mark. A key feature of liberation theology was social analysis, challenging structures and rich and powerful individuals that caused poverty, injustice and oppression.
Fellow Latin American and Brazilian Archbishop Dom Helder Camara's famous quote "when I give food to the poor I'm called a saint and when I question why they are poor, I'm called a communist" might be a good framework to try and understand what kind of poor the new Pope has in mind, and type and extent of the role for the Catholic Church he envisions.
Pope Francis (then Fr. Bergoglio) during Argentina's dirty war
Many questions remain about his role as the Superior of Jesuits during the terribly repressive dictatorship in Argentina, 1976-1983. The Argentinean Catholic Church seemed to have had no unified stand, with some Bishops and priests accused of openly supporting the regime, with one priest even sentenced to prison for torture and kidnapping.
At the same time, some Argentinean Bishops and priests were openly critical of the brutal dictatorship. Bishop Enrique Angelelli is widely believed to have been assassinated, though claimed to have been killed in car accident, as he was carrying documents related to the previous murders, including of two priests, which he had strongly denounced. Even in other Latin American countries, Bishops and priests including Jesuits, were assassinated for speaking out against dictatorships.
Two Jesuit priests in Argentina, Orlando Yorio and Francisco Jalics, known to have been adherents to liberation theology and involved in organizing slum dwellers, were arrested and severely tortured in the 1970s. The new Pope was their superior at that time, and had warned them to be careful. But it's not clear whether he had withdrawn support for the two priests, which is an accusation levelled by a well-known investigative journalist, who had interviewed the two priests after their release.
Fr. Yorio had passed away, by Fr. Jalics in a public statement after the election of Pope Francis claimed that "our (his and Fr. Yorio) position also led to misunderstandings within the church" and that he "can take no position on the role of Fr Bergoglio in these events." He claimed that it was only years later that he had a chance to discuss what had happened with Fr Bergoglio, who meanwhile had been appointed Archbishop. "We then celebrated Mass together publicly and embraced one another solemnly. I am reconciled with these events and personally consider them as over", says Fr. Jalics.
The new Pope had claimed in the past that he had worked hard behind the scenes to get the two priests released. He had also claimed that he had helped many others facing life threats by hiding them and on one occasion, even giving his own identity papers to a wanted man attempting to flee. Many other Argentineans, including a former Judge, had defended the new Pope as not having been a collaborator of the dictatorships, and of even having pleaded with the dictators on behalf of the victims and their families.
Adolfo Perez Esquivel, who won the 1980 Nobel Peace Prize for documenting the atrocities during Argentina's dirty war, says that the new Pope may not have had the courage of other priests to oppose and challenge the dictators, but he never collaborated with the dictatorship. Others point to terrible consequences anyone, including priests, had to face if they tried to oppose the dictatorship, which may have led to Pope Francis to keep quiet.
What most Argentineans seem to agree is that the new Pope had not openly identified himself with opposition to the dictatorship, it's dirty war and all the abuses, unlike some Jesuits in El Salvadore and some in Argentina itself, or like Archbishop Oscar Romero and other Priests and Bishops in Latin America during the dictatorships in 1970s and 1980s.
But for victims, their families and anti-dictatorship campaigners, anything short of outright opposition and active participation to topple the dictatorship was a sin.
Archbishop Bergoglio (now Pope Francis) in post dictatorship Argentina
Equally damning has been the new Pope's silence and inaction in the post dictatorship period, as mothers and grandmothers, together with lawyers and activists, tried to trace their disappeared relatives and bring those responsible to justice.
Mothers (and grandmothers) of Plaza de Mayo, probably the most famous and inspirational group of Families of the disappeared persons, accuse him of not helping them in their struggle and even not disclosing what he knew, especially about adoption of babies born to pregnant detained women. Human Rights lawyers have confirmed that the new Pope had twice invoked his rights under Argentinean law to refuse to testify in open court trials dealing with torture, murder and theft of babies born to political detainees, and that when he finally did testify, his responses were evasive. A sister of a disappeared woman has challenged the then Archbishop (Cardinal) Bergoglio's testimony to Argentinean Courts that he only knew of the "stolen babies" after democracy returned to Argentina in 1983, saying her family had complained to the then Fr. Bergoglio about this. According to the BBC, "the Argentine judiciary issued a ruling which stated that the Church was complicit in the abuses, and added that the Church was still refusing to investigate those believed responsible."
Vatican's denials
The Vatican has denied all allegations of the new Pope's involvement, silence and inaction during the dirty war, calling them "anti-clerical left-wing elements to attack the church". The Vatican also claimed that "There has never been a credible accusation against him" despite disappeared person's relatives publicly asserting to the contrary, and Fr. Jalics's refusal to absolve the new Pope of responsibility in relation to his and the other Jesuit's detention and torture. The Vatican denial also seems not to have considered the significance of the public apology offered by the Argentinean Bishops themselves, including the present Pope, about the silence and inaction of the Church during those dark years.
Dealing with the past in Argentina and present in Sri Lanka and elsewhere
Argentina seems to be dealing with it's dark history and moving on, compared to many other countries, such as Sri Lanka. A commission to look into disappearances was established, several former dictators and military officials have been prosecuted and given long prison sentences, reparations were given to victims, memorials have been built, and "truth trials" were initiated. Argentina had supported international standards and mechanisms to deal with enforced disappearances and promotes the right to truth.
The Argentinean Church has also tried to move on, with a formal apology, of which Pope Francis was part of.
But in other parts of the world, such repression and dirty wars continue, such as in Sri Lanka. And Catholic Church leaders in Sri Lanka and elsewhere also follow the Argentinean Church's mixture of open complicity and support to oppressive regimes, deafening silence and the rare opposition by few exceptional priests, sisters, lay persons and Bishops.
Pope Francis will now face these challenges as the leader of the world's 1.2 billion Catholics and an politically and morally influential global spiritual leader and head of state.
As we discuss the challenges facing the new Pope it is essential to recognize the role of local Church leaders, such as local Cardinals, Bishops Conferences, Nuncios and the Roman Curia (Vatican's cabinet). If these persons and bodies do not inform the Pope of current realities, from a perspective of the poor and the oppressed, it would be difficult for a new Pope in faraway Rome to deal with such challenges. A fundamental problem is the lack of opportunities and formal mechanisms for the poor and oppressed – including clergy, religious and lay leaders – to communicate their joys, sorrows and aspirations to the Pope without going through formal representatives mentioned above, who often act as a "gate keeper" to the Pope. These "gatekeepers" have often been hand in glove with the rich and powerful oppressors, including dictators. The new Pope's identification with the poor, his humility, does offers fresh hope to bridge this gap, though it's still very early days.
So will the new Pope be able to give fresh hope and inspiration to the poor and the oppressed? And new and strong leadership and support to the Roman Curia, Cardinals, Bishops, Religious superiors, male and female religious, lay leaders on how to respond to such situations? Will he be able to inspire, encourage and challenge even leaders of other Churches and other religions to engage with such issues?
Sri Lanka can be one case study and an indication on how the new Pope may deal with contemporary dirty wars, dictatorships, disappearances and such abuses, by finding ways to identify with the poor and the oppressed.
During the previous papacy, 2005-2012, Sri Lanka was amongst the countries which had a large number of Catholic Priests, Sisters and lay Church workers killed, disappeared, detained, injured, threatened, intimidated, restricted as they tried to serve the oppressed and raise a voice on their behalf. A Catholic Bishop from the ethnic Tamil minority has been threatened, intimidated, discredited repeatedly in 2012 for his forthright questions, comments and positions on human rights of the Tamil community. Churches were attacked, killing and injuring desperate civilians who had sought refuge there from fighting. And beyond the persecution of the Church are broader and larger issues of historic grievances and political aspirations of Tamil minority, other minorities such as Muslims, the tens of thousands civilians from all communities who have been killed, disappeared, injured, tortured and threatened. Prominent amongst them are journalists, human rights activists, lawyers, judges, opposition politicians, workers, fisherfolk, student leaders etc. who have also been killed, abducted, assaulted, detained, threatened and persecuted for their criticism of the present regime. And Sri Lanka is just one amongst several such situations.
Disappearances and dirty war in Argentina, and what Fr. Bergoglio did and didn't do that time and afterwards, as the head of Jesuits, and later as a Bishop, is now history.
But today, Fr. Bergoglio is Pope Francis, and dirty wars, dictatorships, disappearances and repression of dissidents is still very much a reality, all over the world. The future will tell how the new Pope will deal these challenges. Whether he will globalize and act on the apology the Argentinean Church leaders, including him, offered to the Argentinean people.