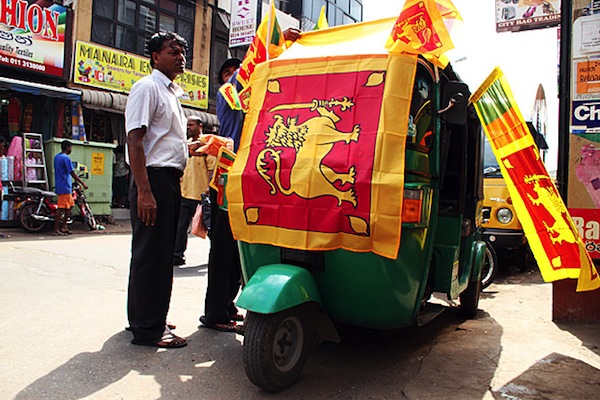 Image via Sri Lanka for 91 Days
This Monday President Mahinda Rajapaksa will celebrate Independence Day in Trincomalee, under the theme Prosperous motherland and an affluent tomorrow.
For weeks Trincomalee has been getting a facelift. Roads are being widened, buildings painted, and signs hung. A 'red alert' (Editors note: this link to TamilNet article will not work if accessed in Sri Lanka) was issued by the Secretary of Defense, which has led to a dramatic increase of police and military presence. I've been told by a community leader that those with LTTE ties have been detained for the week; remember that in 2002 the LTTE claimed Trincomalee as their capital.  According to business owners, police or military have visited every store in town, telling them to close their shops on Monday.
Schools in the area have been closed so that students could prepare their town, as well as to provide additional space to house military personnel. Buses full of students playing instruments could be heard around town Thursday. The parade on Monday will consist of 3,000 personnel from the tri-forces, and will commence at 9am.  The Culture and Arts Ministry has organised a cultural pageant consisting of 860 performers and several elephants.
On Thursday morning a seemingly endless stream of buses started rolling into Trincomalee via Kandy Road. Allegedly Sinhalese are being paid to come to Trincomalee for the festivities. It has been almost half a century since Sri Lanka's independence has been officially celebrated in Trincomalee.  The government expects 100,000 people to attend the ceremony, which will take place at Fort Frederick. This will be the third time that the holiday is celebrated in Trincomalee, the first was 1953 and the second was in 1965.