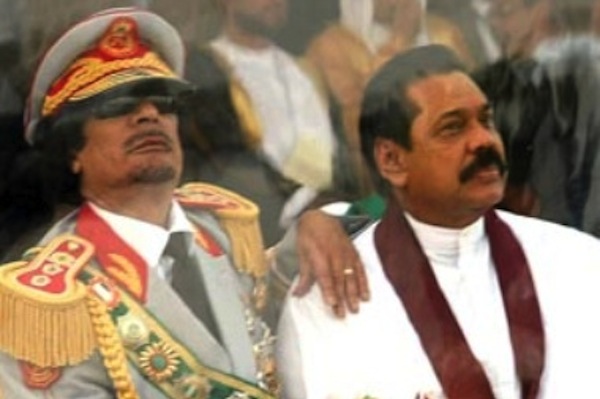 Image from Lanka Standard
The following video features the last couple of a minutes of a longer speech delivered by Dr. Nihal Jayawickrama at the launch of The Sri Lankan Republic at 40: Reflections on Constitutional History, Theory and Practice, a collection of scholarly essays edited by Asanga Welikala, a Senior Researcher at the Centre for Policy Alternatives (the institutional home of Groundviews) on 21st December 2012.
In this excerpt, Dr. Jayawickrama offers a devastating critique of the Rajapaksa administration and its mode of governance. He notes that Sri Lanka today has moved beyond an Executive Presidency based model to a corporate governance mode for the entire country – the Rajapaksa 'sangamaya' (or company) – as noted by the President's brother, Basil Rajapaksa. After flagging in brief some of the serious challenges that arise from this mindset and mode of governance, Dr. Jayawickrama ends with a pertinent question: "What if the [Rajapaksa] 'samagama' goes bust?
The speech in full can be viewed here.
The following biography of Dr. Jayawickrama is taken from The Sri Lankan Republic at 40: Reflections on Constitutional History, Theory and Practice.
Nihal Jayawickrama, LLB (Ceylon), PhD (London), was the Permanent Secretary to the Ministry of Justice from 1970-1977, having been admitted to the Bar as an Advocate of the Supreme Court in 1962. Moving into academic life, he was Associate Professor of Law at the University of Hong Kong, where he taught public law, and the Ariel F. Sallows Professor of Human Rights at the University of Saskatchewan, Canada. He is the author of The Judicial Application of Human Rights Law: National, Regional and International Jurisprudence (Cambridge University Press, 2002). As Chairman of the Hong Kong Section of the International Commission of Jurists, he was a principal commentator on constitutional issues in that territory in the period between the signing of the Sino-British Joint Declaration and the Transfer of Sovereignty. He was Executive Director of Transparency International in Berlin (1997-2000). More recently, he was the Chair of the Trustees of the Commonwealth Human Rights Initiative, London. Since 2000, he has been a UN consultant on judicial reform, human rights and anti-corruption strategies, and has worked with governments and judiciaries in Asia, Africa, the Middle East, and Eastern and Central Europe. He is currently the Coordinator of the UN Judicial Integrity Group.