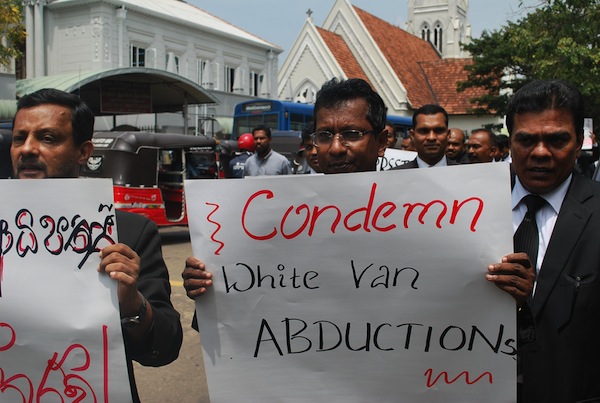 Image from Transcurrents
In the past 5 months – October 2011 to February 2012 – there has been a disturbing rise in the number of abductions, especially in and around the capital, Colombo. Out of 29 abductions and 3 missing persons reported in media, most have not returned to their homes and families, rendering them 'disappeared' persons.
The manner of these abductions has sent alarm bells ringing within the Sri Lankan human rights community, recalling the twin phenomena of the 'white van' and the unidentified gunman' which plagued the country in the period from 1987/1989, and which prompted two visits to the island by the UN Working Group on Enforced and Involuntary Disappearances in 1991 and 1992.
The discovery of a charred body of a man on a small street in Narahenpita, Colombo 5, on the morning of February 13 has served to heighten these concerns. There have been 10 bodies discovered in February in addition to the 7 abductions and one missing person in Jaffna who was later found dead.
Among those abducted have been social activists, businessmen and those identified by the Police as criminals and 'underworld' characters. Labeling abducted persons as belonging to the underworld points to a disturbing new element of 'social cleansing', which is being used to garner public support for these killings and to divert attention from the fact that these abductions are an expression of the collapse of the rule of law in Sri Lanka.
The abduction and killing of individuals from the so-called underworld can be in some way linked to the public altercation between ruling party MP Duminda Silva and Presidential Advisor and former MP Bharatha Lakshman Premachandra, in which the latter was shot and killed. Some of those abducted, 'disappeared' and killed were linked to these two individuals and were either suspects or witnesses to the shooting, which took place on October 8 during campaigning for local government elections in Colombo.
Amongst others who have been abducted are those who have in any way challenged the authorities on issues of impunity and on-going human rights violations. Lalith Kumar Weeraraj and 'Kugan' Muruganandan, two political activists, were abducted in Jaffna on December 9, while engaged in preparations for celebrating Human Rights Day. On February 11, Ramasamy Prabaharan, a Tamil businessman was abducted in Colombo, two days before a fundamental rights case filed by him against the Police was due to be heard. Mr Prabaharan, who was released from prison in September 2011 after two years in detention without any charges being filed against him, was challenging this arbitrary detention and torture while in custody; he had received threats asking him to withdraw the case. On February 12, Chandrapala alias Mervyn, who had been brought to Colombo's court complex in Hulftsdorf for a bail application, was abducted in the vicinity of the Courts while being accompanied by Prison Guards. A full list of the 32 abductions which have been reported in media is attached.
Most of the abductions have taken place in broad daylight, in the capital, Colombo, and in its suburbs. 4 are from Gampaha district, close to Colombo. All 3 missing cases and 3 of the abductions have taken place in the North, with 5 in Jaffna. Of the 32 abducted and gone missing. 7 bodies were found in public places; most of them bore marks of execution. One body was found on the east coast following abduction from the Western province. 5 persons have returned home.  In many cases the Police investigations are inconclusive and pending. Out of the 32, one has been identified as a woman, two are not clear and 29 have been identified as men.
Abductions Since October 2011 in Sri Lanka – Summary List scribd.com/doc/82834794/A… #lka #srilanka @UN_HRC

— Groundviews (@groundviews) February 26, 2012
Dead Bodies Found February 2012 in Sri Lanka – Summary List scribd.com/doc/82834793/D… #lka #srilanka @UN_HRC

— Groundviews (@groundviews) February 26, 2012