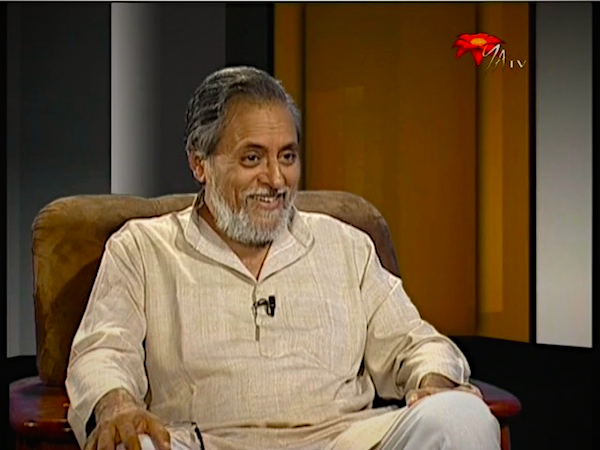 Prof. Gupta teaches at the Indian Institute of Management, Ahmedabad and was in Sri Lanka recently to deliver the first Ray Wijewardene Memorial lecture. Prof. Gupta is one of the world's leading voices on social innovation, and the development of social capital. We began our conversation with Prof. Gupta defining what he sees as social entrepreneurship, and why it is important to recognise and nurture it. He then talks about the difference between big science and small science, and how the support of the former through national budgetary allocations does not necessarily address or strengthen the latter. Prof. Gupta also shares some insights into how grassroots innovation can be supported and through the blending of what he calls formal and informal sciences, development made more sustainable and equitable.
Prof. Gupta's multi-disclipinary background holds him in good stead when he talks about the double-helix of language and culture, and how the preservation of one is to support the development of the other. He speaks of the knowledge rights of people and how at the grassroots, innovations that address common problems and shared socio-economic challenges exists that multi-national companies and even national governments are often unaware of. Prof. Gupta also has a rather unique take on Intellectual Property rights!
Given that so many today use the phrase 'grassroots', Prof. Gupta explains what it means to him, and notes that when he started to use the phrase, it was one that was rarely used or recognised.
Throughout the conversation, Prof. Gupta brings up a number of examples from India and elsewhere to support his argument that innovation exists in the unlikeliest of places, and that these innovations often have a broader applicability and in some cases, even push the frontiers of established science and technology. To listen to him is to realise the untapped potential of this innovation, and in fact, how much of it exists even in Sri Lanka. The other important point Prof. Gupta flags is that this innovation often exists amongst children and youth.
Towards the end, we talk about what impedes innovation of the kind Prof. Gupta's most interested in. Prof. Gupta also ends with five key points, or lessons if one chooses to see them thus, on how a country can strengthen grassroots innovation, and why doing this is vital to its growth.