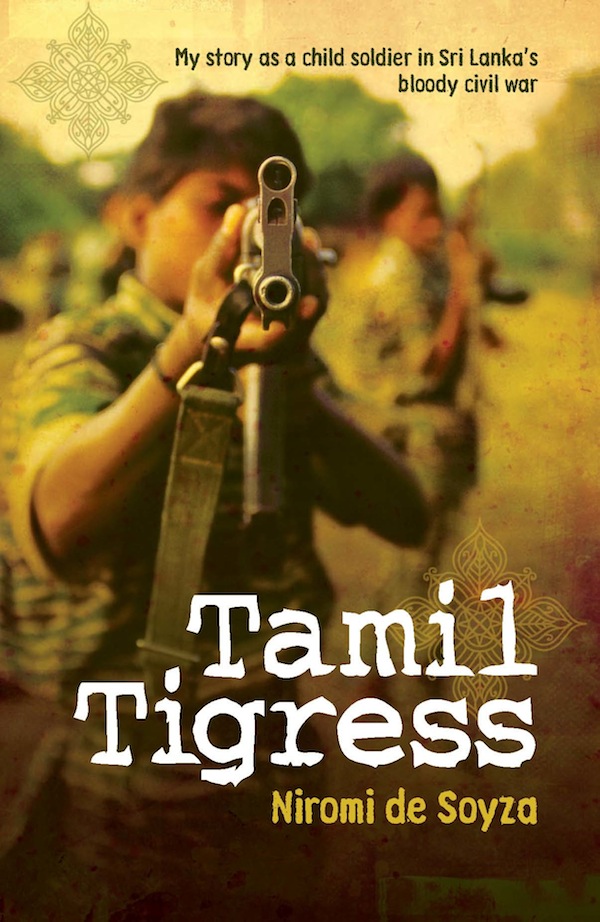 The objective of this research note is not only to uncover the truth or otherwise of the "memoir" by Niromi de Soyza (nom de guerre) titled Tamil Tigress: My story as a child soldier in Sri Lanka's bloody civil war, but to go beyond and investigate the purpose/s of publication of her "personal story" and reason/s for hiding her real name and identity.
This research note is based on the reading of the book under scrutiny in its entirety, promotional blurbs and reviews of the book by journalists in Australia, critical reviews of the book by two persons of Sri Lankan origin living in Australia, listening to the author of Tamil Tigress at a literary festival, and discussions with few people among the Tamil diaspora in Melbourne and Sydney. In addition, I sought an interview with Niromi de Soyza, in order to afford her an opportunity to respond to my doubts, which she tried to postpone for two months (but did not refuse to meet) for reasons best known to her. In spite of her instant granting of interviews to media personnel (both print and electronic) in Australia and participation in almost all the literary/book festivals held around Australia since the release of her book in mid-2011, her evasiveness to meet a researcher from her place of origin compounded my suspicion about the author of the book.
I first came to know about this book when one of my Sri Lankan diaspora acquaintances living in Australia forwarded me a web link to the Booktopia Blog about this book on 02nd July 2011.[i] For this Professor of Medical Sciences at the Monash University in Melbourne the book was "Mind boggling. A must buy." The same Professor forwarded me an interview of the author to the Good Weekend magazine (Sydney Morning Herald) by Nikki Barrowclough on 09th July 2011. My only question at that time was, why is this self-proclaimed Tigress using a nom de guerre in lieu of her real name two years after the decisive end of the civil war in Sri Lanka?
Since I was travelling to Melbourne in late August 2011 in order to commence my Endeavour Research Fellowship at the Monash University, I deferred my curiosity about the book by the self-proclaimed Tigress. In any case the book was not available in Sri Lanka at that time (perhaps even now). After I arrived in Melbourne I have come across two critical reviews of the book that have questioned the authenticity of the self-proclaimed Tigress. One is by Arun Ambalavanar (2011) who lives in Sydney but originally from Karavetty, Northern Sri Lanka. The second is by Michael Roberts (2011) who was an Adjunct Associate Professor of Historical Anthropology at the University of Adelaide (who still lives there) hailing from Galle, Southern Sri Lanka. These two critical reviews of the book rekindled my own curiosity about the book, yet I did not read their criticisms fully immediately.
Then, a lecturer at the Monash College invited me to the World Matters 2011 (an annual literary festival) held at Montsalvat in Eltham (outskirts of Melbourne) on 14th, 15th & 16th October 2011.[ii] On the last day of this literary festival, Niromi de Soyza was to participate as a panellist in the 'Missing Peace' spotlight on Sri Lanka chaired by David Feith (lecturer at the Monash College). I did attend the panel discussion on Sri Lanka and saw the face of the author of Tamil Tigress. Beyond her face, a lot of what she said and the customary tears she shed (real or contrived) raised more questions than the answers I was looking for. Her tears have become customary because she has done it with Nikki Barrowclough (2011) earlier. What astounded me most was what she claimed her "alma mater" is. Then onwards my intense curiosity turned into profound suspicion.
Niromi announced in Melbourne that part of the proceeds of the sale of her "personal story" will be donated to a charity in the name of her "alma mater" and she gave an email address with the username sjc87. When I searched the web for sjc87 I came across the following website http://www.sjc87scholarship.org/. SJC is the acronym of St. John's College (Jaffna) which is a boys-only school and therefore cannot be an alma mater of Niromi de Soyza, who is a woman.
In the list of "Working Committee" members of the 'St. John's College Batch of 1987 Trust' or the 'SJC 87 Initiative: Every Child deserves an Education', the two names given in Sri Lanka have only mobile phone numbers, which is dubious to say the least. In fact, all the contact details of members of the working committee mentioned on the website are mobile phone numbers and email addresses only, which arouse suspicion; there are no postal addresses (even P.O. Box addresses) or land phone lines in any country of their presence. The working committee members are spread across the world: 3 in Australia, 1 in Canada, 1 in New Zealand, 2 each in Sri Lanka, UK and USA.[iii] One past pupil of St. John's College Jaffna living in Australia (who is active in the old boys' association based in Australia) could not identify any of the three working committee members of SJC 87 Initiative living in Australia and New Zealand.
However, the SJC Initiative website does mention a Registration number INC9892583 and Charity fund raising approval number CFN/21586.[iv] But, it is highly unlikely that this purported charity is providing scholarships to children of the schools in Kilinochchi district mentioned on the website.[v] Further, the pictures of classrooms in the beneficiary schools on the website could not have been taken in the past two years.
Moreover, the presenter in the promotional video of the SJC 87 Initiative outlining its activities and soliciting donations is a native Australian woman. This indicates that the primary target of this promotional video is the native Australian general public and not the Sri Lankan diaspora in Australia (who are by this time well versed with such scams by the LTTE lobbies). Ironically, while the entire working committee members are men of Sri Lankan Tamil origin the presenter is an Australian woman.
It is typical of the overseas domiciled LTTE to use host country personnel to advance their cause in whatever form it may take. Prominent members of the LTTE in many countries were/are married to host country women/men; for example, the wife of Anton Balasingam (the former "ideologue", "theoretician" or simply "political adviser" of the LTTE) is Adele Balasingam originally from Victoria (Australia) and was living in the UK until her husband's death in December 2006 whose current whereabouts are unknown; the wife of Chandru Pararajasingam [the head of the Tamil Rehabilitation Organisation (TRO) office in Colombo during the ceasefire time (2002-2005) – TRO was the humanitarian arm of the LTTE] is an Australian named Margaret Pararajasingam. There are four doctors in the working committee of the SJC 87 Initiative; one each in Australia and New Zealand and two in America. I am not sure whether these are medical practitioners or doctorates or just quacks like Anton Balasingam.
The SJC 87 Initiative is probably a scam. The website of SJC 87 Initiative seems to have come online in August 2011 immediately after the release of Niromi de Soyza's autobiographical book in July 2011. There may be an organic link between Niromi's book and the SJC 87 Initiative. This book could have been purposefully written for fundraising to the SJC 87 Initiative AND more. Niromi asserted in Melbourne that she is not in touch with either the Tamil diaspora or the Sinhala diaspora in Australia. If that was the case, how could she be funding the SJC Initiative from the sales of her book? Certainly she is not telling the truth.
Niromi showed (in Melbourne) a picture of what she claimed the "gravestone of Ajanthi" at "Kopay/Urumpiraay" and talked about the desecration of that LTTE cemetery by the Sri Lanka Army for building the new army headquarters (Jaffna) on the same premises in early 2011.[vi] In fact, Kopai (Valikamam East) and Urumpirai (Valikamam South) are not one and the same place but are far apart. The place she was referring to in Kopai was not a cemetery in the first place and therefore there is no issue of desecration of the cemetery.
During the time of ceasefire (in 2003) two large "maaveerar thuyilum illam" (great warriors' sleeping place) were constructed by the LTTE; one in Kopai and the other in Kodikamam in the Jaffna peninsula, as monuments for propaganda purposes (the huge maaveerar thuyilum illam in Kilinochchi was also a propaganda monument and not a real cemetery). One of the compilers of the very first list of maaveerars (great warriors) circa 1990 confirmed to this author early this year that there was no human body ever buried or cremated in any of the aforementioned so-called cemeteries. All the aforementioned maaveerar thuyilum illams were built on crown/state-owned lands.[vii] In fact, the Kopai LTTE cemetery was built on a land belonging to the Department of Prisons earmarked for building a new and bigger prison for Jaffna, which is housed in an old depleted building within the City. However, some other maaveerar thuyilum illams did have bodies of fallen Tigers, either cremated or buried; e.g. Vaharai in the Batticaloa district and Sakkottai in Point Pedro. Secondly, there was no evidence to confirm that the picture of the gravestone shown by Niromi was that of "Ajanthi"; it could have been anyone's.
Niromi claims in her book that she has an Undergraduate Degree in Biotechnology and a Master's Degree in Law (de Soyza 2011: 299). Besides, at the literary event (in Melbourne) the chair said that she holds a Master's Degree in Intellectual Property Rights Law. Taking these claims as truth, is it not ironical for an intellectual property right law graduate to be an admirer of Julian Assange (Purcell 2011), founder of WikiLeaks (who is a proprietary rights abuser)? Furthermore, if Niromi is really an admirer of Julian Assange (who is opposed to confidentiality and privacy), how come she conceal her own name and true identity? Moreover, how could Niromi protest against the alleged rapes by the Sri Lankan Army and the Indian Peace Keeping Force (IPKF) personnel, at the same time being an admirer of an alleged rapist? Is this not duplicitous?
Ironically, Niromi de Soyza has not mentioned (even once) the name of Adele Balasingam in the book, who was the founder of the 'Freedom Birds' (the women's wing of the Liberation Tigers of Tamil Eelam in 1985) and its military wing. (See Schalk 1994) This profound omission by Niromi could be to protect Adele Balasingam (Australian/British dual national) from potential criminal prosecution on charges of 'crimes against humanity' for recruiting underage girls from schools in Jaffna and the Vanni in Northern Sri Lanka for combat (self-confession in her own writings and in interviews given to international media and scholars). This author has testimonies from such affected girls who are still alive. The non-reference to Adele Balasingam could also be a deliberate snub because Anton and Adele Balasingam became persona non grata to the LTTE since about late-2006 after the former acknowledged the responsibility of the LTTE in the murder of former Indian Prime Minister Rajiv Gandhi during the course of an interview to Indian television channel.
On balance of probability, Niromi de Soyza's Tamil Tigress is largely a fiction based on The Motorcycle Diaries by Ernesto Che Guevara (Niromi's teenage idol) and few books and articles on the LTTE by M.R. Narayan Swamy, et al. The writing style appears to be cloned from Guevara (1995) and most of the information on LTTE in Niromi's "personal story" skimmed from many books and articles on the LTTE, e.g. Swamy (1994). However, she may have had some rudimentary connection to the LTTE; like being a member of the Students Organisation of the Liberation Tigers (SOLT). Due to brevity of space, I just give the following two examples to confirm my assertion:
Example 1
"…….A self-trained man, he (Prabhakaran) wanted us to develop exceptional patience and mental strength which he claimed to have achieved as a young boy by staying inside a sack in the sun all day (no ordinary achievement, considering Jaffna's heat), by inserting needles under his fingernails and by torturing insects. He knew he was one day going to fight the Sinhala regime, he said…… " (de Soyza 2011: 121)
Note the striking similarity between the foregoing and the following sentences.
"…….., Prabhakaran began preparing for the battles that he perceived lay ahead. He would tie himself up, get into a sack and lie under the sun the whole day. He would also go and spread himself on chilli bags. He even inserted pins into his nails. At other times, he would catch insects and prick them to death with needles to gain the mental preparation to torture the "enemy""" (Swamy 1994: 52).
Example 2
Niromi claims to be an eyewitness to the point-blank shooting to death of Shanthan (an LTTE cadre) for falling in love with a female cadre Nora by Mahathaya in early 1988 (then deputy to Prabhakaran). (See de Soyza 2011: 276-79) I believe this purported murder was skimmed from an article by Jan Goodwin in which she mentions about Prabhakaran murdering two of his close aides for having sex. (See Goodwin 2008: 4-5) Niromi has replaced Prabhakaran with Mahathaya in order to vilify the latter and justify the former (who is revered by Niromi) as the pro-Tiger lobbies overseas have been doing for the past twenty years.
I am largely in agreement with the questions of authenticity raised by Ambalavanar (2011) and Roberts (2011) and factual inaccuracies pointed-out therein (though some of it could be trivial or even acceptable to Sarvan 2011). According to Niromi, in The Telegraph (London) article, her mother was a teacher (de Soyza 2009: 3), but according to the memoir her mother worked for the Dept of Telecommunications (de Soyza 2011: 94). This double act is certainly not excusable. There are numerous other contradictions, inaccuracies, lies, and misrepresentations which I have not pointed out here due to brevity of space. Nonetheless, Niromi de Soyza should be commended for revealing the class, caste, gender and other social strictures of the Jaffna society; despite some of them are exaggerations.
I could empathise with the rank and file of the Tamil Tigers. I have undertaken a survey of over one-hundred former guerrillas for an INGO in late-2010. I have been helping former guerrillas find jobs in the private sector. But I cannot empathise with dupers, imposters, and scammers masquerading as noble warriors. My suspicion is that there is a group/s of people behind Niromi's "personal story" book, which is at least partly a fundraising scam.
To me, in difference to Ambalavanar (2011) and Roberts (2011), there is a more serious attempt at deception perpetrated by Niromi de Soyza and the people behind her book including the purported charity she is funding through the sales of her book. It is the responsibility of the appropriate authorities in Australia (and beyond) to get to the bottom of this apparently well-conceived and well-concealed scam. At a time when Sri Lanka is reeling under a low-intensity authoritarian regime of the Rajapaksa family (Lions), the last thing Sri Lankans want is ghost or pseudo Tigers.
Muttukrishna Sarvananthan (Ph.D. Wales M.Sc. Bristol M.Sc. Salford B.A. Honours Delhi) is the Principal Researcher of the Point Pedro Institute of Development, Point Pedro, Northern Sri Lanka (http://pointpedro.org) and an Endeavour Research Fellow at the Global Terrorism Research Centre (GTReC), Monash University, Melbourne, Australia from Sept 2011 to Feb 2012. He can be contacted at [email protected]
---