The following article was published in the Uthayan newspaper on 5 March 2011. The translation to English is based on a Sinhala translation published in Vikalpa.
Not a single Sinhala newspaper to date has published a similar account, though many reported on the opening of the new Army Headquarters in Jaffna. Of the English media, only the Daily Mirror quotes a BBC report on the desecration of the graves. As well-known blogger Guruparan notes in a succinct tweet, "This is really sad. A local newspaper has to quote an international media to report on a local story."
No other English media online or in print have covered this story. Readers on our Facebook page have expressed grave concern and outrage over this action by the Army. Sadly, this is not the first time the Army has desecrated LTTE graves. An interview with Prof. Michael Roberts conducted in December 2010 explores this issue in detail, and why it is so damning to reconciliation and a lasting peace in Sri Lanka. As Prof. Roberts notes in an essay dealing with this outrageous practice, "The absence of tuyilam illam, in other words, will serve as a focal point for enhanced embitterment towards the government."
###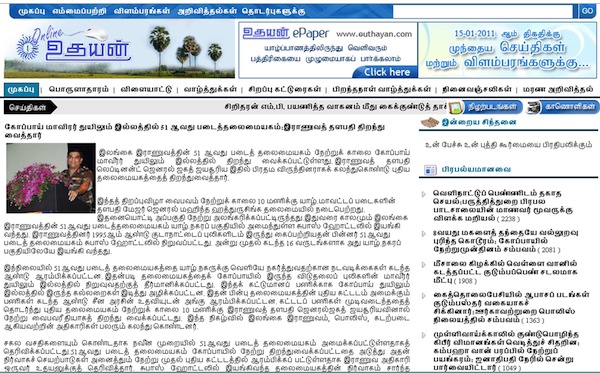 The new headquarters of the 51st Brigade of the Army was opened on the Koppai Cemetery ground yesterday (4th March). The Chief Guest for the event was Army Commander Jagath Jayasuriya, who opened the new headquarters. The event was presided over by Jaffna Army Commander Maj. Gen. Mahinda Hathurusinghe. The entire area was decorated for the event. Up until recently, the Army HQ operated from the Subash Hotel in Jaffna. This hotel was used at the Army HQ for 16 years when in 1995, the Army regained control of Jaffna from the LTTE.
Last year, steps were taken to move the HQ of the 51st Brigade out of the city. A decision was taken to erect the new HQ on the vacant LTTE cemetery grounds. In order to erect the new HQ, all the graves in the LTTE cemetery were destroyed. After this, with Chinese funding, the new Army HQ's work began last year. After the completion of construction, the new HQ was declared open by Army Commander Jagath Jayasuriya yesterday. A number of officials from the Army, Navy and Police were present at the function.
It is reported that the new Army HQ has all the amenities and was constructed to the latest techniques. After declaring the new HQ open, the Uthayan was informed by a highly placed Army official that all administrative affairs were going to be conducted from the new building. Although most administrative functions had been transferred to the new HQ from the Subash Hotel, the technical division and a few other departments continued to function at the old location, though the Army official said that all these would be soon transferred to the new HQ and the entire Subash Hotel would be handed over to its owners.