"The resulting carnage, photographed by Harun, was indescribable, but worse was to come."
The Living Scotsman's review of The Cage: The Fight for Sri Lanka and the Last Days of the Tamil Tigers by former UN spokesperson Gordon Weiss flags, inter alia, photos taken by Ret. Col. Harun Khan when his UN convoy came under attack in the final days of the war. The so-called Convoy 11 incident is covered in detail in Gordon's book. As our review notes,
"Weiss speaks of photographic evidence of the carnage taken by Col. Khan, but there is none to be found in the book itself. Dismembered babies may have been too gruesome to include in the tome, but are photographic evidence of the deliberate targeting of civilians. Weiss does not say who has these photos, but we can assume, amongst others, the UN does."
Referring to the Living Scotman's review, we asked Weiss, via Twitter, whether Col. Khan's photos would be publicly released.

Weiss responded and asked us whether this sort of evidence should be publicly available.

To which we responded in the affirmative,

The response of Weiss was posted on his blog today. It is worth quoting Weiss at length,
"For those who don't know, Khan, who features in Chapter 5 of my book "The Cage", is a Bangladeshi Colonel and UN officer who came under bombardment courtesy of the Sri Lankan Army in late January 2009. He witnessed the resulting deaths and injuries to civilians – "nothing short of intentional murder" as he said – and extensively photographed the carnage. His presence was unfortunate because at the same time the Government of Sri Lanka was denying that its operations were killing civilians at all. There are many other images of the wounded and dead from these days in late January 2009, as well as close-ups of splash marks on trees, vehicles, and shell craters. I will not post other images of the dead, mostly because I think that it is rightly up to a credible and properly constituted judicial authority to weigh the evidence. Khan provided these images to me, as he did his testimony, with the specific intention that this wrongdoing should be known, not merely conveniently buried."
Emphasis ours. The link to the photo Weiss provides is here. A copy of the same image appears below, albeit at a lower resolution.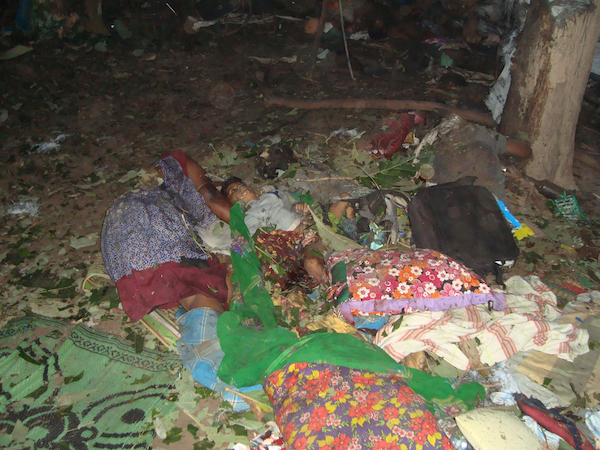 There is however a problem with this photograph. As noted in our review of The Cage, The Report Of The Secretary-General's Panel Of Experts On Accountability In Sri Lanka note on Page 24 that,
84. In the early morning hours of 24 January, hundreds of shells rained down in the NFZ. Those with access to the United Nations bunker dove into it for protection, but most IDPs did not have bunkers and had nowhere to seek cover. People were screaming and crying out for help. The United Nations security officer, a highly experienced military officer, and others present discerned that the shelling was coming from the south, from SLA positions. He made frantic calls to the head of United Nations Security in Colombo and the Vanni Force Commander at his headquarters in Vavuniya as well as the Joint Operations Headquarters in Colombo, demanding that the shelling stop, which sometimes resulted in a temporary adjustment of the shelling before it started again.38 Heavy shelling continued over night, and shells continued to hit the United Nations hub and the distribution centre, killing numerous civilians.

85. When United Nations staff emerged from the bunker in the first morning light at the first opportunity, mangled bodies and body parts were strewn all around them, including those of many women and children. Remains of babies had been blasted upwards into the trees. Among the dead were the people who had helped to dig the bunker the previous day.
Emphasis ours. In both the UN Panel report's description of the incident and Gordon's more detailed and graphic account, the dates mentioned are late January 2009. And therein lies the rub with the image Weiss has published on his blog. It doesn't take a digital forensics expert to open up the image in Photoshop to look at the meta data of a photograph in order to ascertain for example, what camera model and what settings were used to take a photo. We've used Photoshop CS5, but almost any photo editing programme on any platform can access this data, just to underscore the point that this doesn't require any expert knowledge or specialist software. And this is what we see for the image above,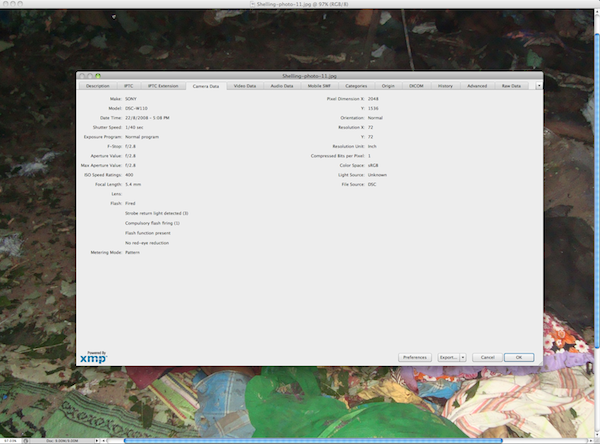 A larger version of this screenshot can be seen here.
The problem is that this photo, part of what Weiss claims is part of "many other images of the wounded and dead from these days in late January 2009" taken by Col. Harun was actually taken 22nd August 2008 at 5.08pm, and not in late January 2009. This emphatically does not help any advocacy, domestic and international, to hold those responsible for alleged war crimes accountable for their actions and calls for independent investigations to determine the veracity of these very serious allegations. It is possible that Weiss was careless, and posted the wrong photograph. It is possible he and the UN, as we noted in our review of his tome, have the originals of these images, where similar scrutiny under any photo editing programme can very easily determine whether they are in fact from late January or earlier.
Weiss in his blog post is concerned that akin to the response of Channel 4's documentary Sri Lanka's Killing Fields, this "this image of a dead mother and children (as well as others in the deep background and to the right side) will quickly be taken up by various loons as evidence of the set-design and pantomime skills of Tamil Tiger Productions Inc. Good luck to them."
Good luck indeed. Though there is a significant discrepancy between the date this photo was actually taken and when Weiss says it was taken, it doesn't appear to have been digitally manipulated. Again, since we aren't experts in this field, we used a freely accessible online digital photography forensics tool to analyse this photo and could find no evidence of airbrushing or other editing artefacts, which are impossible to mask once done. See the image analysis here (where it is clear that nothing has been done to the image to enhance the visceral), and an explanation on how to interpret this here (from which example it is clear the model's lip colour and perhaps size have been digitally altered, similar evidence of which you don't find in the image Weiss has provided). Download a high resolution version of the image analysis as a PDF here (~4Mb).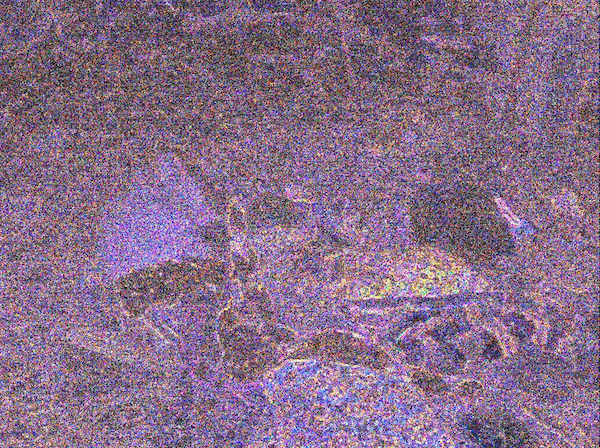 To place this photograph in context, news reports today suggest the government has obtained the raw video footage of what was featured in the Channel 4 documentary Sri Lanka's Killing Fields. Basil Rajapaksa, the President's brother, noted recently that "the massive propaganda campaign carried out by treacherous elements in foreign countries against the country's sovereignty and independence resulted in the controversial Darusman Report, the infamous video footage telecast by British Channel 4, among others". It is unclear what traction, if any, the Channel 4 video has within Sri Lanka. It's freely available online, but has never been shown on public television. However, noted blogger Dinidu de Alwis wrote a blow by blow account of the footage obtained by the government which was broadcast on public television last evening via Twitter. A selection of his live tweeting during the broadcast of this material follows, and is very revealing.
The thinly veiled racism and Sinhala chauvinism of both State and private media in Sri Lanka will, out of fear or favour, along with government and the Army, gladly lap up images such as the one Weiss has put up on his blog today as evidence that all the allegations made against the government and the Army are false or at best, misguided. Images such as this, though they depict an unimaginably horrible reality on the ground in the final months of the war, when published carelessly and bizarrely, without any fact checking, risk irrevocably undermining that which is needed most in Sri Lanka, a peace with justice and dignity for all. That goal is best serviced by advocacy that is principled and evidence that actually corroborates allegations. Anything else, tragically, strengthens the very forces one seeks to hold accountable.
###
Update, 2.20pm, 2 July 2011: Sohan's comment below raises some pertinent points. Since the publication of this post, Groundviews and Gordon Weiss exchanged further thoughts over Twitter. Sohan's point is precisely what Gordon notes in a tweet addressed to us.
We had earlier told Weiss that stating irrefutably that the photo was from late January 09 and then having us discover the photo was from 2008, at the very least, resulted in a credibility gap that plays right into the hands of those who seek to discredit this sort of evidence as doctored, untrue or misguided.
The problem with a single photo published in this manner is two fold. One is to do with the admissibility of this photo in a court of law. The other, with popular perception and optics. These are issues Sohan also flags. If the dates were incorrect set or the batteries were dying in Ret. Col. Khan's camera, at the very least, Gordon should have noted this in his post. To have it discovered post facto is unfortunate, suggesting at best a complete lack of regard for the skill of digital forensics a government can and will command if ever these photos make it to a trial.
A photo shot today on or around Galle Road in Kollupitiya can have a date stamp from 2007, but it would be evident from the construction and the nature of the road that it was actually taken in 2011, after the road was made a single carriageway. Depending on the progress of the construction, a close approximation of location and date could be made. There is no similar artefact in this photo that can date it to late January 2009. Much like the watches that stopped after Hiroshima, there are possibly some photos taken that give a better indication of the actual time and date the images were taken, even though the date stamp is incorrect. However, without any a clear marker however or any artefact on someone's person or captured in the environs that can help fix a time more accurate than the embedded date stamp, these images are, to a court, no different to those employed by the LTTE and its proxies around the world around the end of the war, which mixed graphic footage of recent days with library images of fighting and casualties from years ago.
If court proceedings on war crimes had occurred around the time these photos were taken, Ret. Col. Khan's camera could have been taken to court, a photo taken, and the time stamp compared with those in these photos. If the difference in time was the same (around 5 months) lawyers could argue that these photos, even though they have timestamps from 2008, were in fact taken recently.
This is impossible to do today.
The question of public optics is also pertinent. For perhaps the best of reasons, the manner in which this photo was published risks feeding into an insatiable propaganda drive to deny and decry war crimes allegations. It may be quite tragic, but in fact, the majority in Sri Lanka believe and will stand by what the government says. If we hadn't flagged the discrepancy of the dates, the Ministry of Defence would surely have. The response of Weiss to all this is telling,
Our counterpoint remains simply that,
We risk disappointment to hope that saner counsel, better technical skills and stronger strategic foresight prevails amongst those who seek to hold this government accountable.