Picture courtesy Time.com
Last Monday (12) a desperate situation raged across Colombo, Anuradhapura, Jaffna and Kandy as hundreds of prisoners who had been detained under the Prevention of Terrorism Act (PTA) began a death fast, demanding that their cases be expedited.
Their actions revived a long-running debate on the PTA and its validity in a post-war climate.
The Minister for National Dialogue Mano Ganesan speaking to Groundviews shortly after visiting the fasting prisoners, said 6 of them had been warded in hospital after falling ill due to the fast. Ganesan had urged the prisoners to stop their fast, but they had been adamant that they would continue with their action until they heard directly from the President.
"They told me so many politicians have visited them and made promises… but nothing material ever comes from it," Ganesan said.
During his visit, Ganesan said he had met a group of around 100 prisoners at the Magazine Prison in Colombo. Most of them had been detained for between 5 and 15 years. One prisoner had been detained for 23 years.
"This is a pathetic state of affairs. They too should benefit from the principles of yahapaalanaya. The prisoners are asking for general amnesty, or else for their cases to be heard," he added.
According to TNA MP M. A. Sumanthiran, the Ministry of Justice initially promised to resolve the pending cases by the end of the year. This was not acceptable to the prisoners. As the fast continued and pressure mounted, both Minister of Justice Wijeyadasa Rajapakshe and TNA MP Sampanthan appealed to the President for a solution. It was a statement from President Maithripala Sirisena that finally persuaded the prisoners to call off their fast after 5 days. In writing, President Sirisena committed to dealing with the most of the cases before November 7.
"The majority of these prisoners will be released. This process will be put into operation between October 31 and November 7, with the exception of those who are charged with grave crimes," Sumanthiran said.
The story should end there. However, ambiguities prevail.
There appeared to be some confusion as to which Ministry had to find a solution to expedite the prisoner's cases – Justice Minister Wijeyadasa Rajapakshe said this fell within the purview of the Prison Reforms Ministry, while Minister for Law and Order and Prison Reforms, Tilak Marapana said that the prisoner's cases were being handled by the Ministry of Justice.
Further, Rajapakshe clarified that there were 'no political prisoners' who had been detained. Rather, they were suspected or convicted LTTE cadres. Talks were currently ongoing to release the prisoners who had yet to be charged, Rajapakshe confirmed.
Speaking about the PTA, Rajapakshe acknowledged that there had been complaints that the law was too draconian. The legislation should be more in line with international standards, particularly following the recommendations from Geneva, he added. Yet when asked about repealing the PTA, the Justice Minister said there was need for a substitute bill in its place, which would stop emerging terrorist organisations. As such, repealing the PTA wasn't immediately on the cards, as the first priority was towards finalizing the Budget. No final decision had been made on this as yet, he said. Minister for Law and Order and Prison Reforms, Tilak Marapana echoed this sentiment when contacted.
MP Sumanthiran meanwhile said the Government had in effect agreed to repeal the PTA, particularly following the UN HRC resolution being co-sponsored by Sri Lanka. As such those who had been held for a long time under the PTA had to be released, he said.
While the immediate problem of the fasting prisoners has been resolved, it seems that repealing the PTA isn't yet a top priority – even if there is consensus that the law does need to be re-examined.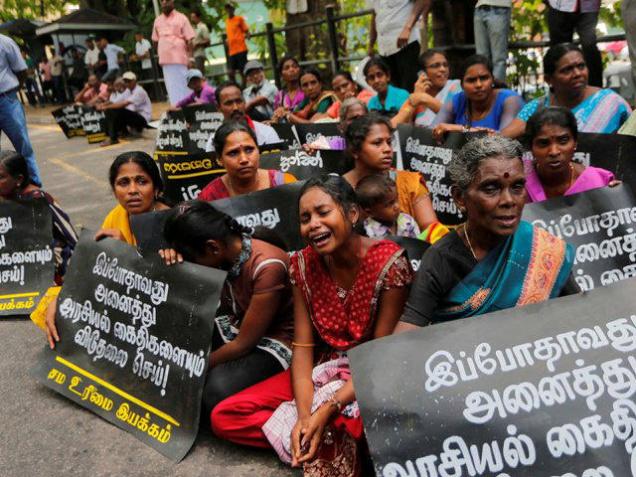 Picture courtesy the Hindu: Family members of Tamil detainees sit for a silent protest in Colombo
Why is this a problem?
Under Section 9(1) of the PTA, a Minister is able to hold a suspect in custody "for a period not exceeding three months." However, provision is made for a Minister to extend the duration of detention for up to 18 months. In practice, those arrested under the Act are often held for much longer.
What's more, Section 10 states that any detention order given by a Minister is final and cannot be questioned by a court of law.
How many does this affect?
According to statistics provided from the Department of Prisons, there were 41 prisoners convicted under the PTA as of 2014. The rest are unconvicted and awaiting trial – this number varies, with most putting the number at approximately 200. (Recently, a Watchdog report  said 182 prisoners were in remand as of January across 11 prisons).
Prisons Department statistics however state that there are currently 19 official remand prisons across the island – so it is uncertain which of the 19 hold PTA detainees.
The result of this legislation has been comprehensively recorded. The Watchdog report showed several cases of prisoners held for over 15 years, evidence of torture which had traumatised prisoners as well as forced confessions – propelled in part by the importance the PTA places on confessions. Even those found innocent can expect to be detained for several years, such as Anthony Chandra, a mother of three detained for more than 6 years. Chandra was subjected to torture and threats in order to disclose the whereabouts of her husband, an alleged terrorist suspect. She did not know his whereabouts, as he had gone overseas. She had 14 cases against her in 4 different Magistrate Courts. Eventually she was unconditionally discharged in May 2015. To date, she is unable to find a job due to the stigma of having been detained as a suspected terrorist.
This mother isn't the only one. There is Ganesh, a 20 year old detained for over 5 years and tortured in order to reveal whether he had links with the LTTE. There is Ramesh, an 18 year old from the East who was detained for 3 years before being released due to lack of evidence in 2015.
As a young reporter in 2009, I learned the story of Mahendran Pulidaran, the 29-year-old who reportedly shot Kanapathipillai alias Satchi Master (an associate of Karuna Amman) in a Batticaloa prison due to an internal dispute. Pulidaran was described as an LTTE cadre. Yet he was just 14 when he was arrested – and he was held for 14 years without a single charge being raised against him. In fact, his only charge was for the shooting – an act that would never have occurred if he was not in prison.
Six years later, with the war long over, it is disheartening to note that there has been no progress in the debate over the role and place of the PTA within Sri Lanka's democratic fabric. While it might be true that some sort of mechanism needs to be in place to protect against terrorism, it is also a fact that people are being detained for years with without charges and in some cases, with no evidence that they have committed a crime in the first place.
For the fasting prisoners, there is hope – but what of future detainees? At present, that's still a question mark.