We feature this video captured by Groundviews today without any additional comment because it is abundantly clear which candidate the sign stapled on to this anomalous polling card refers to. It is also very clear what such an indication outrageously and completely illegally attached to a polling card implies.
As this voter asks in the video, who has the power to commit such a gross violation of election laws?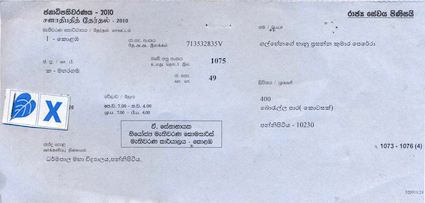 Click here for high resolution image of this polling card.
An English transcript of the video follows:
I am Prasanna Perera. I live in Kottawa, in the Pannipitiya area. When polling cards were being distributed for this time's presidential elections, our house also gets four polling cards. My brother, myself, my mother and father. These polling cards were distributed on the 24th. I saw it on the morning of the 25th. When I saw it, there was stapled to the polling card this sign of a beetle leaf with a cross marked alongside. When I asked my father who stapled this, he said that the card was received in the same manner. When I asked further, he said that the postmaster had distributed it and that he had not considered it to be that much of a problem, because of the way he will cast his vote. But it was a problem for me. After seeing this in the morning, I went to the Pannipitiya Post Office. But they informed that the Postmaster was not in. After this, I told someone in the post office that I wanted to talk about this issue further. They were hesitant to do so, and said that they were extremely busy these days.

What I say is this. Who has the power to commit such a gross violation of election laws? This is a completely unlawful act. I don't have time to do anything about this now. There is only one day left for the election. I had no way to even tell the media about this today because there was no time, and the election will be held soon.

All I want to say is that the public should be more aware of these acts that go against elections.