From my Diary Notes written in Cell No.1, Negombo Remand Prison, (July 31st-Sept 24th 1983)
 
I had my own gruesome experience of the Black July. It was 29th July at midnight that I received a telephone call from my friend and party comrade AJMO Dr. Indra Kumar of his father's sudden death by a heart attack.
By then, Dr. Indra Kumar's wife was in the Thurstan College Refugee camp – the family was scattered – Dr. Indra Kumar was hiding in a private nursing home. Father and mother were isolated in a house at Kotahena. He was so desperate and helpless. He was unable to see the dead body of his father who died in Kotahena. The situation was so dreadful, the entire Colombo and suburbs were in flames. In the mean time, I got news that the son-in-law of the founding leader of our party, A. Vaithalingam was burnt alive together with an Assessor of Inland Revenue, a colleague of mine and several others at Kohuwela Junction.
At 5:00am I drove my Volkswagen to see Dr. Indra Kumar at Park Road, Colombo 5 to find all the cars belonging to doctors in the nursing home completely burnt and turned into ashes.
I drove straightway to the cemetery with Dr. Indra Kumar, a big risk, for a reservation in the crematorium. The caretaker was a little disturbed when I mentioned the deceased's name. However, using the influence of a party colleague who was an ex- Municipal officer I managed to make a reservation in the crematorium for 12′ noon the same day. To take the body of the deceased involved a dangerous risk. The family insisted on a religious ceremony in a smaller way. So I with my party colleague W.I.R.D Hemasiri took the risk of bringing Dr. Indra Kumar's mother and a Poosari from Kotahena for the funeral rites. The burning, looting, killing was at its height in the area of Maradana. We managed to bring the mother a Poosari (Hindu Priest) only up to Rosmead Place.
I locked them up in a room at Lanka Soviet Friendship League at 103, Rosmead Place as goondas were round the corner searching for preys.
The body of Indra Kumar's father was removed to the crematorium by a few us, all Sinhalese. No member of the family could attend the cremation for fear of death.
In the meantime, curfew was declared. The caretaker at the crematorium vehemently refused to perform his duty as he wanted to rush home in Homagama since there was no public transport and the curfew was on.
In the circumstances, I was compelled most unwillingly to place a Rs. 50/- note to the hands of the man at the crematorium in order to put the body in the chamber of the crematorium. So, the cremation was over with -5 of us- with none from the family. It was the most distressing moment of my life.
Dr. Indra Kumar's family left for London for good and they continue to reside there, constantly thanking for all that we did.
On the 30th of July at 8:00pm it was announced that CP, NSSP and JVP were banned under Emergency Regulations for alleged complicity with the communal riots, instigated by some foreign powers.
It recurred to me that the next logical step by the government would be the arrest of Party leaders. As anticipated, I immediately got the news of the arrest of Comrade L.W Panditha our veteran trade union leader and senior Political Bureau member of the Communist Party. I expected my turn and prepared myself with a sarong and shirt in readiness for arrest. A former party comrade Victor De Silva (now in the United States), ex-UC member of Kotte phoned up and offered me a hiding place to evade arrest. I conveyed him the Party thinking that we should face arrest.
At 11 o' clock in the night a team of CID officers in uniform led by ASP Gunawardhena (now deceased) walked in and delivered to me the warrant of arrest signed by Colonel C.A Dharmapala, Defence Secretary.
I was straightaway taken to the 5th floor of the CID, strangely to my own room in the New Secretariat where I worked as an Investigating officer of Inland Revenue from 1964-1970.
By this time, K.P Silva (Party General Secretary), H.G.S Ratnaweera, Advisory Editor, "Ahtha', L.W. Panditha, Deva Bandara Senaratne of the SLFP, Prins Gunesekara, Colonel Prasanna Dahanayake had been arrested and were being interrogated in the 4th and 5th floors.
I was taken to ASP Punchi Banda Seneviratne (now retired DIG) who promptly identified me as an ex-Tex man with his grim face but with a hidden smile and assigned me to a CID officer who is presently a senior SSP for grilling.
To be fair, all officers of the CID were quite courteous and humane for they knew that we were quite innocent.
After recording my entire life history from birth up to the time of arrest, he confronted me with a pointed question,
"Mr. Gunesekera, who was behind the riots?"

Unhesitating I replied, "It is J.R. Jayewardene"
He was taken a back, almost flabbergasted. He repeated the question sternly and I repeated the reply in a relaxed mood. I saw him to be a little disturbed and nervous. I explained to him lucidly but seriously why I thought so. In turn, I asked him to ponder as to why the Head of the State, who is also the Head of the Government  and the Commander of the Forces kept quiet for six long days, allowing the riots to escalate unless he had a pre-calculated plan of his own.
His pen ceased to move. I told him in no uncertain terms that I would not subscribe my signature to the statement unless he recorded my statement as I dictated. I tried to relax him by saying that I am prepared to face the consequences of my statement and he has only to perform his duty as a Police Officer.
So, he advised me to have a sleep on the table and went off to return the following morning for further interrogation, perhaps with advice from the higher officers. He readily recorded my statement (this statement running for pages is in the CID Records for verification of its veracity).
I, along with 13 others were put in Cell No. 1 of Negombo Prison – the cell earlier used as a stable in colonial days.
The first to arrive to see us early in the morning at 6 o'clock was Vijaya and Chandrika Kumaratunaga with biscuits, cheese, cigarettes, etc. However, they were not allowed to see us, for we were kept incommunicado. Fourteen of us, belonging to different political paths were kept locked up round the clock in a small dingy room with an open bucket lavatory attached to the cell. Our friends were only bugs, flies and mosquitoes. We donated them blood quite lavishly. I vividly remember a question asked of me by a CID officer, i.e. "Did you try to overthrow the government?" I replied, "I have not tried but I have a right to do so. But I shall not try to overthrow the state. The CID officer was perplexed. So, I explained him the difference between the state and the government. I sensed that he was inwardly enlightened.
By this time, there were over one thousand remand prisoners, suspects of murders, arson, loot but they were free in this compound but taken to the cells only for the night. We were political detainees and kept locked up. While suspects of murder, arson and loot were allowed to see their relatives daily and were allowed meals from homes, we were deprived of them all for one month.
Sarath Mutthtuwegama, MP to Kalawane had to carry a relentless battle to get us food from home and allow our relatives to see us. (I must mention in this comment that Mr. Sirisena Cooray on the contrary was given all comforts during his detention under the P.A government). Post Script
Grilling continued for ten long days. Our visitors were only Prison Commissioner Jansz, his Deputy Delgoda, and Superintendent Jailors, not for providing comfort but to ensure the prevention of any possible escape.
Present MP for Kelaniya, Mr. Nandasena, SLFP organiser, was an inmate of the Remand Prison with whom I conducted surreptitiously a hunger strike in the Prison demanding good food. We waited till food was cooked and served. It was kept a top secret- even my party comrades in my cell were kept uninformed. In no time, we became popular leaders in the Prison.
I must reveal how the Private Secretary to the Deputy Minister from Puttalam district who was taken into custody for arson approached me to draft a petition to J.R Jayawardena seeking his release. I promptly obliged. Even though he was a UNP'er, the revealing thing that he wrote to the President, saying that he merely carried out orders of his Minister to set fire to a line of Tamil shops.
Response to the petition I drafted for him was so fast that he was released on the following day. Deputy Minister himself called on to take him away. That was how justice prevailed.
However, we were kept there for 56 days and released honourably exonerated. Next morning, after our release, J.R Jayawardena had the guts to telephone Pieter Keunaman and K.P Silva and invite them for talks, seeking advice on the solution to the ethnic problem. Of course, that was J.R.
His Excellency on that day was so gracious as to step out of his Ward Place House to greet them for his conscience would have pricked him to confess his guilt for what he had done in banning the Party and arresting party leaders for no reason. That was J.R's style of governance. Of all the misdeeds of J.R the blackest was the Black July for which the entire nation suffers to date.
I must recall what Sarath Mutthtuwegama told parliament in his usual eloquence directing at Premadasa and Cyril Mathew, "You can charge my comrades for anything but not for being chauvinistic or communalistic".
 
[Editors note: Text was transcribed from handwritten diary notes. A related video in Sinhala featuring the Minister is available on the Vikalpa YouTube Video Remember 1983 playlist.]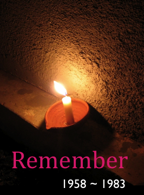 For more articles on July 1983, please click here.