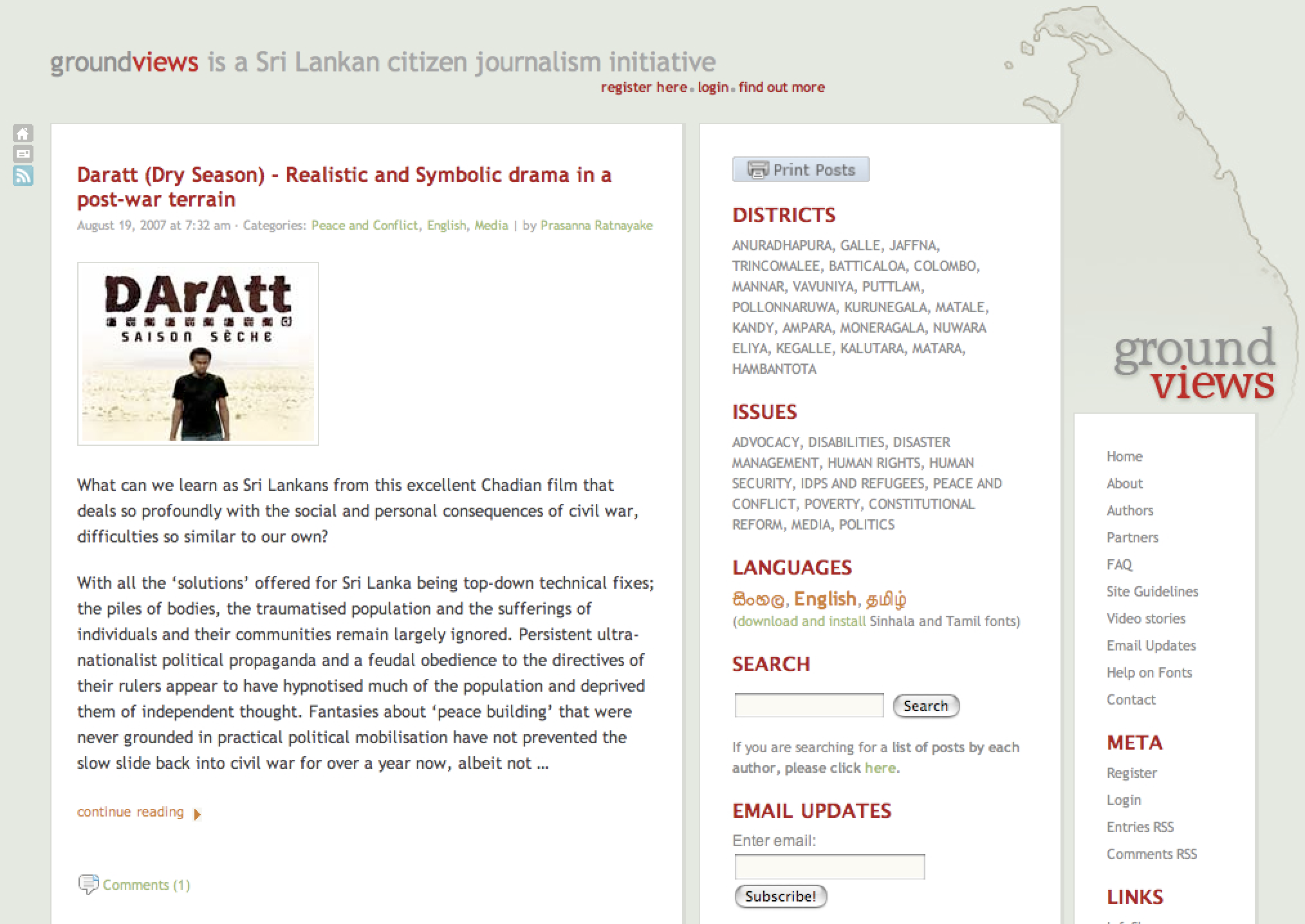 Image shows the first version of Groundviews, circa 2007
Highlighting growing Internet and web censorship in light of content critical of governance and government, increasingly only available online, Freedom of the Press 2013 by Freedom House marks out Groundviews and Vikalpa,
"Web-based media and blogs have taken on a growing role in the overall media environment, with outlets such as Groundviews and Vikalpa providing news and a range of commentary, even on sensitive stories and events that are barely covered by the mainstream media."
"What no media dares to report, Groundviews publicly exposes. It's a new age media for a new Sri Lanka. Free media at it's very best!" – Grand Jury, Manthan South Asia 2009
"Want bottom-up insight into Sri Lankan conflict? @groundviews is awesome. http://bit.ly/9Hq0Vo", via @GlobalIntegrity (the Twitter feed of Global Integrity)
As an avid reader of Groundviews, please accept my hearty congratulations on winning the coveted  'Manthan Award South Asia' from the 300+ nominations. Please continue your good work in advocating for good governance, transparency and  freedom of expression. As the Grand Jury's evaluation noted that it's a new age media for a new Sri Lanka. – Mrs. Shanthy Vadi, Toronto, Canada
What's also remarkable is the exchange of opinion that has followed each post on Menik at Groundviews — a robust, passionate, not always polite exchange of views from both sides of the political fence. In Sri Lanka, that alone qualifies as something of a miracle. – Keith Hammonds, Ashoka Foundation
I have really found Groundviews ground breaking – and yes it is an effective site for debate, although i have to admit that I get outraged by some of the racist and bigoted comments that appear. Good that they do though, as one begins to realise the nature of what we see out there. – Renowned Sri Lankan author on Groundviews who contributes anonymously citing security reasons
For ongoing analysis of the conflict, the citizen journalism site groundviews.org provides interesting and often tragic reporting. – Renowned international media freedom organisation Freedom House.
Brilliante! Encore! – Lakshman Gunesekara, one of Sri Lanka's leading journalists and former Editor of the Sunday Observer (responding to Banyan News Reporters)
Thanks for Groundviews, by the way, and for keeping everyone on the ball. – by Sunila Abeysekera, award winning human rights activist
All the best, and congrats for doing a wonderful job through GV. – Kalana Senaratne
I am a dedicated Groundviews reader of yours and I have to congratulate you on the success of the site. – Mark Gereis
Congratulations mate! Excellent work! – Chamath Ariyadasa, Founding Editor of JNW SMS news service