Photo courtesy of Rukshan Kuru-Utumpala
Sinharaja's conservation status is of "significant concern". According to the World Heritage Outlook, published by International Union for Conservation of Nature (IUCN), Sinharaja has been assessed in 2020 as a World Heritage Site with significant concern to its conservation status and future viability. This categorisation means that the site's conservation values are threatened and/or showing signs of deterioration.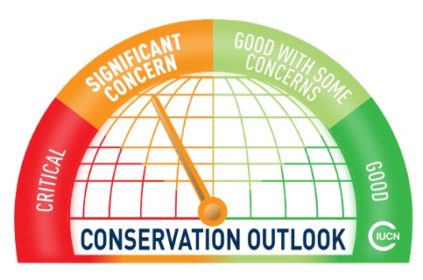 As illustrated in the previous article Saving Sinharaja: The Good, Bad and Ugly, the Sinharaja Forest Complex is beset with a number of critical conservation challenges. There are continued threats of encroachment both in its periphery and within the declared boundary which can undermine conservation. Encroachment for agriculture, especially for expanded tea small holdings, settlements, unsustainable tourism developments, road construction, mini hydro power projects, diverting water for drinking and spread of invasive species and illegal collection of rare and endemic species for international trade that compromise the conservation of this World Heritage site in the future.
One of the chronic threats to Sinharaja comes from Sri Lanka's famed 'cuppa' – the expansion of small tea holdings inching on the boundaries and encroaching on the forest. Increasingly land on this stream-rich boundary is being usurped for vegetable growing and expanding tea and cinnamon cultivation. Incentives provided by the state for increasing the production of tea, export crops such as cinnamon and agriculture in general have hastened the conversion of previously abandoned and forested lands (both within and outside the recently expanded boundary). Overuse of agro-chemicals in tea plantations and vegetable fields is a critical factor and is much more widespread among tea small holders who generally own small plots less than a hectare, and therefore over apply subsidised fertiliser expecting better yields.
Other issues that impact on its fairly populated boundaries are illegal gem mining, deliberate setting of fires to hunt or open up new areas for cultivation, unmitigated hydropower and drinking water systems that tap streams from their headwaters and road construction to isolated villages within the core World Heritage Site. Illegal hunting, trapping, logging, extraction of rare plants and endemic animals for wildlife trade and increased and arbitrary investments on tourism and visitor facilities development all have negative impacts and the collective impact of these can be seriously detrimental to the conservation status. Invasive plants have been brought in by development projects, settlements, tourism and even by government programmes. Introduction of exotics such as mahogany, pinus and eucalyptus by Forest Department, private plantations and landholders are threatening native flora around the rainforest edges and impede natural succession or regeneration of forests in lands that are recovering from some form of degradation. Logging of forests to meet the fuelwood requirement for the large number of tea factories in this region is another serious threat.
To turn the dial back on Sinharaja's conservation status to Good with Some Concerns would require not just the addressing of these chronic long term issues that beset it, but also determination to protect the core conservation area and the recently gazetted complex from the more serious infringements to its boundaries in the form of roads, irrigation dams and reservoirs and other infrastructure development. In a recent article to The Island, Professor Nimal Gunatilleke who, with his wife Savithri, has spent a lifetime of research and work in the rainforests here, points out that the next assessment of the World Heritage Outlook in 2023 will most likely factor in these on-going threats. Depending on the measures we take to mitigate their adverse impacts, the dial could turn either way.
The UNESCO World Heritage Centre on its website mentions a number of recent complaints regarding development projects that impact the World Heritage Site known as the "Sinharaja Forest Reserve" that could negatively affect the Outstanding Universal Value (OUV) of this property. The World Heritage Centre recalls that  the government has  committed to ensuring that "effective and active measures are taken" to protect conserve and transmit to future generations this. After receiving the information, the World Heritage Centre has requested verification from the Permanent Delegation of Sri Lanka to UNESCO. It mentions that the World Heritage Centre is awaiting feedback from the Sri Lankan authorities.
Sinharaja's World Heritage status is contingent on its OUV. This means that the property features cultural and/or natural significance which is so exceptional as to transcend national boundaries and to be of common importance for present and future generations of all humanity. As such, the permanent protection of this heritage is of the highest importance to the international community as a whole. Sinharaja's OUV includes the fact that it is a relic of the ancient supercontinent Gondwanaland therefore important to understand evolutionary processe; that it is very high in endemism and yet unknown species, therefore its importance to science and new discovery; that is yields ecosystem services as an important watershed, yielding traditional food and medicine;and that it ensures rainfall and climate regulation.
So how exactly is Sinharaja protected? To understand the blankets of protection that covers this forest, it is necessary to revisit some facts.
Sinharaja on the face of it appears to have the highest level of legal security due to a number of overlaying factors. It is one of the oldest protected areas dating back to the colonial times. It is a conservation forest (under the Forest Ordinance) and a Man and Biosphere Reserve (which is internationally recognized). It is also the only protected area declared as a National Wilderness Heritage Site and it is Sri Lanka's first and arguably the best known, natural area inscribed as a World Heritage Site.
Its 'core' area is around 11,000 ha and has enjoyed formal state from protection from around 1875, when it was first gazetted by the British as a forest reserve. In 1988, the Forest Department introduced a new legal instrument the National Wilderness Heritage Act and declared Sinharaja core area under it. The values of this site were further recognised when it was declared a Biosphere Reserve in April 1978 and subsequently around 8500 ha of this was elevated as Sri Lanka first natural site on the UNESCO World Heritage List.
The 13 peripheral natural forests that flanked this core conservation area were demarcated as reserve forests and finally annexed to create the 36,000 ha Sinharaja Complex in 2019. These have been declared as conservation forests, with higher protection status or reserved forests, protected but can be managed to yield some sustainable uses to the community under the Forest Ordinance.
Above these national legislative blankets is the overthrow of the World Heritage status. By proposing a heritage site to be included as a World Heritage Site, the national government is expected to fully commit itself to take all appropriate policy, legal, scientific, technical, administrative and financial measures to protect the property and its OUV. The Operational Guidelines also specify that Environmental Impact Assessments (EIA), Heritage Impact Assessments and/or Strategic Environmental Assessments must be carried out as a pre-requisite for development projects and activities planned within or around a World Heritage property. The World Heritage Committee, in approving Sinharaja's OUV, acknowledge that "development undertaken outside the property indirectly impacts the site through road developments which subsequently open up routes and entry points into the property, facilitating illegal logging and removal of resources". In view of the significant potential threats caused by roads and other developments, the World Heritage Centre has expressed concern and reiterated their confidence that the Sri Lankan authorities remain fully committed to the implementation of the World Heritage Convention and will ensure that the protection of the Sinharaja Forest Reserve's OUV remains at the core of decision-making processes for the inscribed area.
In a country that generally has a historical tradition of conservation and a strong legal framework to govern protected areas, it can be said with high confidence that Sinharaja Complex has adequate protection. However, the enforcement of legislation and the management of sites on the ground require different set of conditions. In its assessment on Sinharaja, IUCN's World Heritage Outlook notes: "Enforcement of legislation to conserve Sinharaja needs significant improvement to address serious conservation issues, halt further fragmentation and avoid adverse impacts from infrastructure and hydropower development."
We know for sure, for example, that the road construction to Lankagama did not involve an EIA or even simple safeguards to protect embankments and stream reservations. The Gin-Nilwala Project proposes reservoirs and trans-basin diversion tunnels, some of which will affect the core area. There are around 2500-3000 ha of additional forest lands much more non-forested but peripheral lands still in the hands of the Land Reform Commission which are being parceled out for development around the forest boundary. Forest clearing, encroachment, poaching, gem mining and timber felling continues right around the vast boundary of the Sinharaja Complex.
The Forest Department, which administers the Complex, faces many constraints to maintaining the boundary and intrusion into the forest. Lack of field-based personnel, the high volume of forest crime around the periphery, lack of basic facilities such as vehicles and equipment for patrolling and responding to complaints and also the lack of finance to implement the prepared management plan for the core Sinharaja conservation area. The World Heritage notes that a National Steering Committee manages the combined complex of forests but no such structure exists as yet. The different sections of the complex and core area are managed by respective District Forest Officers and their teams who also have many other regular tasks and forest protection work in their portfolios.
The World Bank Funded ESCAMP (Ecosystems Conservation and Management Project) is currently funding the development of a landscape-level management plan for the entire Sinharaja Complex. This plan is expected to address remaining gaps: the need to establish corridors to connect fragmented forests, the need to have a comprehensive plan that involved land users and communities in the periphery (hotels, plantations and tea smallholders) and annex as much remaining intact forest from other state lands – LRC and Plantations chiefly – in to the conservation estate. The landscape plan may also be an opportunity to explore unconventional models of conservation involving private sector landholders and rewarding conservation efforts and forest maintenance by individuals. Schemes like Payment for Ecosystem Services (PES) where communities living in the upper regions of streams are rewarded for maintaining tree cover and avoiding stream pollution by users downstream (drinking water schemes or mini hydro developers) may need to be seriously considered to reduce the threats on the boundary which cannot be dealt with by punitive actions alone. Some of the larger plantations such as Hapugastenna by Finlays PLC and Kahawatte by Dilmah Group have committed to set aside lands on their estates to create corridors between fragmented forests of the Sinharaja Complex.
There is increased public sentiment on conservation. This needs to be leveraged to deflect the risks that can compromise the status and viability of Sinharaja as a World Heritage site. In the last two decades or so, the increase in tourism, the awareness created by non-governmental organisations in its periphery and visitation by school-going children and others has meant that there is generally much more awareness of the importance and value of Sinharaja and interest in maintaining its global conservation status. This is why when projects with strong negative impacts are undertaken or even announced the public reaction is immediate and strong. The challenge however is to channel this public sentiment and the available legal protection towards turning the dial back on Sinharaja's status in the next two years.
The writer is a former journalist, a freelance consultant for environmental policy and Trustee of the Federation of Environmental Organisations
Some photographs showing the biodiversity and beauty of the Sinharaja World Heritage Site by Rukshan Kuru-Utumpala
This slideshow requires JavaScript.