S Sornalingam had always thought he would have happy memories of July 1983. On July 15 that year, he and Suhenthra Muthuraja got married in a civil ceremony in Jaffna. At the time, he had no idea that he would be spending his honeymoon in a refugee camp.
There was no hint of the trouble to come when the newlyweds and Sornalingam's mother returned to their newly rented home, located at Huludalgoda road on July 22. On Monday, July 26, Sornalingam traveled by bus to Hill Street, Dehiwala in order to drop his wife off at Suzuki Garments, where she worked as an accounts clerk. He then went to visit a friend at the Bambalapitiya flats. "My friend told me that there were problems in Borella. He said I must go back as soon as possible."
Sornalingam rushed back to Hill Street and broke the news to Mr Wijewardene, the owner of Suzuki Garments. Wijewardene promptly provided a car and driver in order to drop a number of the female staff (most of whom were Tamil) to their homes.
"When we got onto the Galle Road, we saw smoke coming from Concord Theatre. There was a huge crowd, and we were traveling with great difficulty," Sornalingam said.
After a trip that took hours, the couple returned home, much to the relief of Sornalingam's mother, who was in tears and worried for their safety. Their landlord, Mr Upasena, assured them that they would help them, and they had nothing to fear. Although Sornalingam wanted to go to his brother's home, Upasena's brother, who arrived by motorbike, warned against it. He told them the situation had 'gone out of hand.'
"My wife and I could pass for Sinhalese, but my mother cannot speak Sinhalese, and dresses like a Tamil. Our landlord said he would protect us."
There were several other houses in the compound. For their safety, Upasena moved the family into another house, as he was worried they might have been seen. "He locked the door and told us not to even peek through the window, because outsiders might see," Sornalingam said. That same night, around 10 other boys ended up in the same house – their landlady had asked them to leave as she was worried her house might be targeted by the mobs. The Upasenas accommodated them as well.
"We were all together in a large room. I had my small radio set. I was listening to the news. It said curfew was being imposed. Apart from that we didn't know much about what was happening outside."
Two days passed without incident. Then, on Wednesday, around 2 pm, there was a loud noise. The mobs had arrived at Upasena's home. "They said they had seen a lady getting down from a three-wheeler wearing anklets. They said 'We know she is there.'"
"I don't normally wear tilaka unless I go to temple. Today is a ceremony day. In general we don't like to wear clothes that identify us [as Tamil] anymore."
Upasena had confirmed the family had arrived, but said they had left again to a relatives place. But the mob was not to be deterred. They demanded proof. In the end, Upasena opened up the annex where Sornalingam and his wife were planning to live, and repeated that they had left. There was a small grocery shop on the premises, also owned by Upasena. The mob had demanded kerosene from him, in order to burn the annex. The landlord had then pleaded with them, reasoning that his own home would catch fire as well. Eventually the mob left.
The next day, the news came through on Sornalingam's radio, that curfew had been lifted. There were certain camps that had been set up for people. Residents in Bambalapitiya, for instance, were directed to the kovil. Sornalingam, his wife and mother were to go to the airport camp, as they resided in Mount Lavinia.
Before they embarked on their journey, Upasena warned the Sornalingams not to carry any jewellery or valuables. He asked them to keep them with him for safekeeping. Yet Suhenthra did not want to part with her thali (according to tradition, the thali can only be removed once a spouse passes away). Among the few possessions the family took were the thali and a bag full of rich cake – the couple's wedding cake.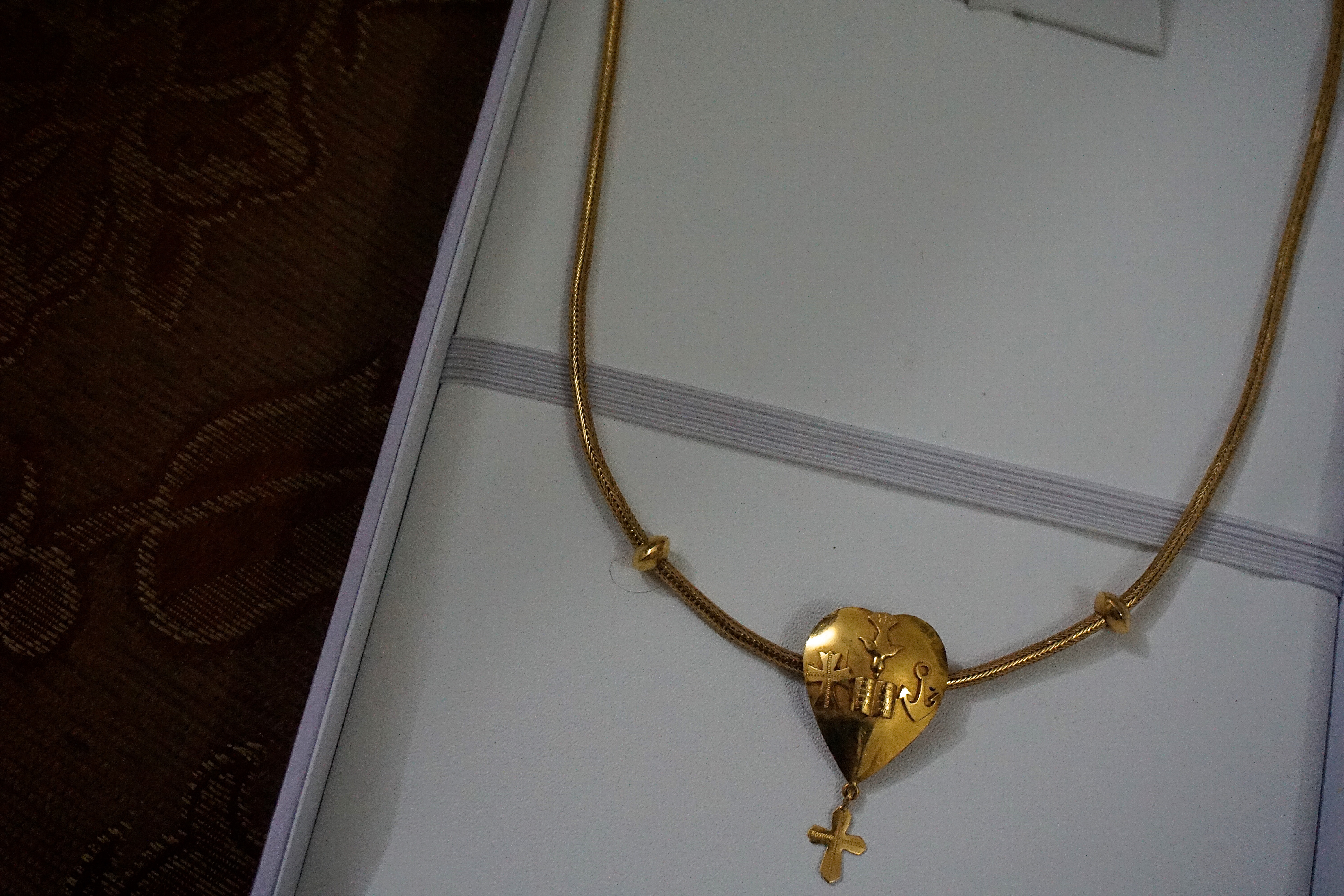 The family thali – Sornalingam's daughter-in-law too wore the thali for her wedding
Upasena's brother followed on a pushbike as the family as they made their way to the airport came on foot. They set off early, in order to avoid any trouble that might occur once the curfew was lifted. Arriving at the Mount Lavinia police station, the family were then given transport to the airport camp.
"There were around 8,000 to 9,000 people in that camp. We were provided some meals and water. A lot of professionals, and members from the elite class were also begging for meals there. People were seated on the ground. It was a sad situation," Sornalingam recalled.
Many Ministers visited the camp, including the Minister for Shipping at the time, Lalith Athulathumudali, and Dr. A T Ariyaratne from Sarvodaya, who raised concerns about the bad sanitation at the camp. "There were no toilets. You had to go outside… he was worried about the hygienic conditions."
Five days passed, but the family still did not receive news about being dispatched to Jaffna, as they hoped. Eventually Dr Ariyaratne told the people at the camps to ask the Minister about a ship, adding if they did not receive an answer, he would arrange one himself.
The next day, a ship carrying the sick and elderly set off. Sornalingam entered his family's details for passage on the second ship, a cargo vessel dubbed the Lanka Kalyani. In a trip that took approximately one and a half days, the Lanka Kalyani sailed for Kankesanthurai. One of Sornalingam's most vivid memories was his mother's struggle to climb the perpendicular ladder to go above deck to use the toilet – a rope had to be used and many of the elderly had trouble getting on the ship.
That evening however, the newlyweds went up on deck and enjoyed the breeze, feeling a sense of freedom for the first time in a week. The returnees were given lunch at Nadeswara College, Kankesanthurai and then given transport to Chavakachcheri.
They returned to an atmosphere wracked with uncertainty. Many had lost relatives, property and employment in the riots, and were unsure about their next steps. A doctor called Mr Black was facilitating passage to Australia. Sornalingam too applied. However, he felt compelled to tell the truth – that he still had employment as an accountant at the State Plantations Corporation (he was stationed in Nuwara Eliya at the time). The Sornalingam's application was rejected. Although there was still hope – many countries did not require visa at the time, but only passports – the family decided that they did not really want to move.
However, they did decide that they wanted to move out of the Huludalgoda house, and stay in Jaffna for the time being. As such, a matter of weeks after the riots, Sornalingam traveled back to Colombo. Around two weeks after, a letter from Upasena arrived, informing him that the curfew had been lifted. He returned to the house in Huludalgoda road at around 7 pm. He had to arrange a van to transport their belongings with difficulty. "Even at that time, people were not prepared to help us load and unload as things were still tense." Sornalingam packed at night. Upasena recalled that there was a portion of the advance I had paid that he would have to return as the family was vacating. "I told him not to worry, to send me a cheque when he can."
The next morning at breakfast, Upasena returned with a cheque containing the balance due to him.
Sornalingam himself returned to work in late August. "One of the superintendents I worked with said I was a bold fellow to return to work so soon. I told him, we have to do what we can to survive."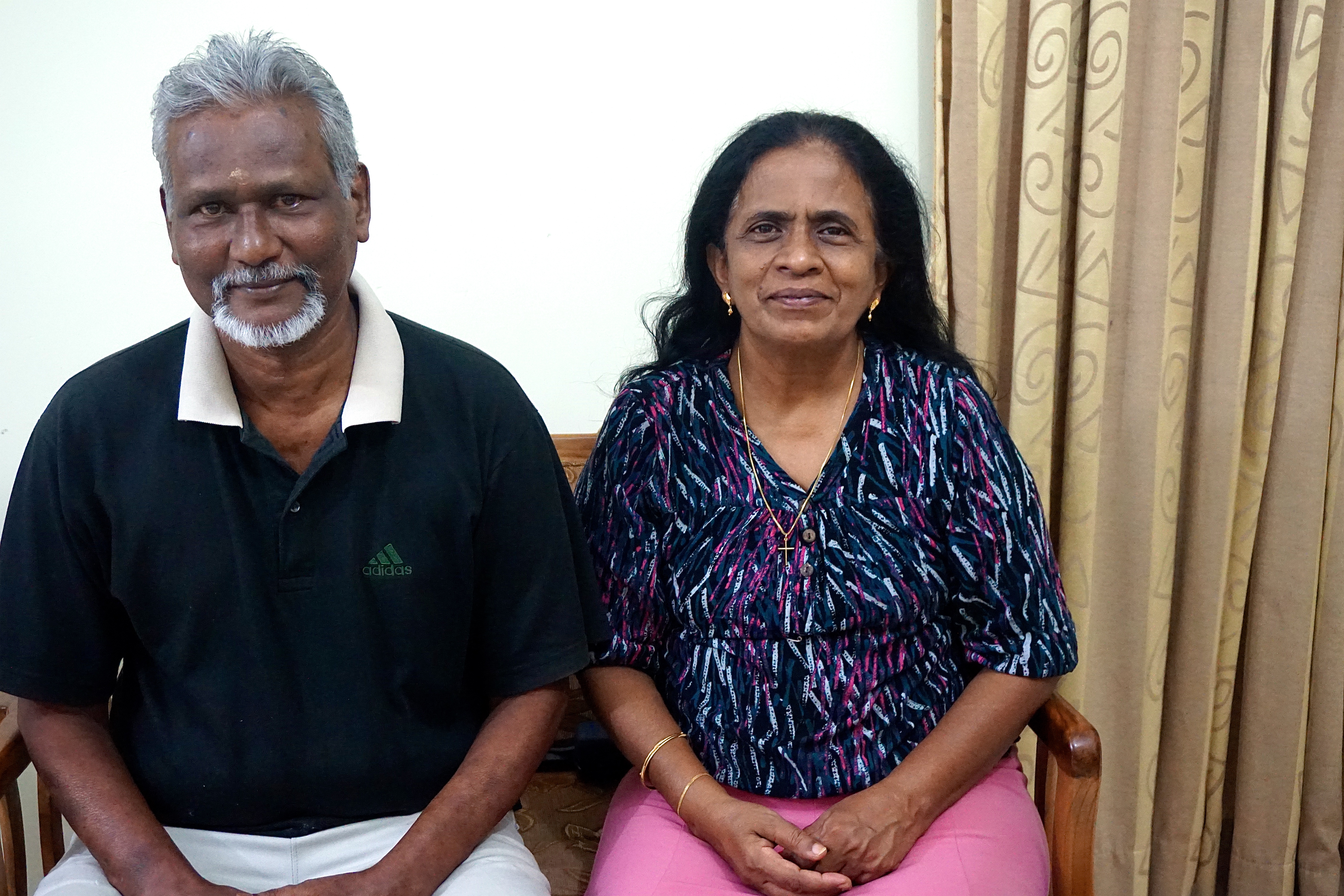 Sornalingam and Suhenthra, 34 years later
Sornalingam's story is just one of many narratives recalling the events of Black July. For a series of video interviews, click here. Visit 30 years ago for more narratives on the 1983 pogrom and its impact, including documentation of rare photos, revisiting locations linked to the violence and discussion of the impact of the riots on women, and the narrative of a former combatant.