Featured image courtesy the authors
My father, my father's father and my father's grand-father have lived here. Mullikulam has been our home for generations now. Our church was made during my great-grand-father's time, way before I was even born. There were four streams running through our village. We even had one stream just for bathing. When we couldn't fish in the sea, we would fish in our streams. We had plenty of everything – paddy, cows, chickens and buffaloes, so we always had enough to eat and drink. We would gather together in the evenings and host drama and dance programmes. Everyone had a good time… We lived peacefully alongside our Muslim neighbours. Whenever there were troubles here during the war, we would go stay with them until it was safe for us to return home. I strongly believe that something good will happen for us this time around. Every day I pray that we will all live together peacefully. At least when I leave this earth I pray that we should all be united," reminisces 88-year-old village elder from Mullikulam, M. Francis Vaz, who hasn't been home since 2007.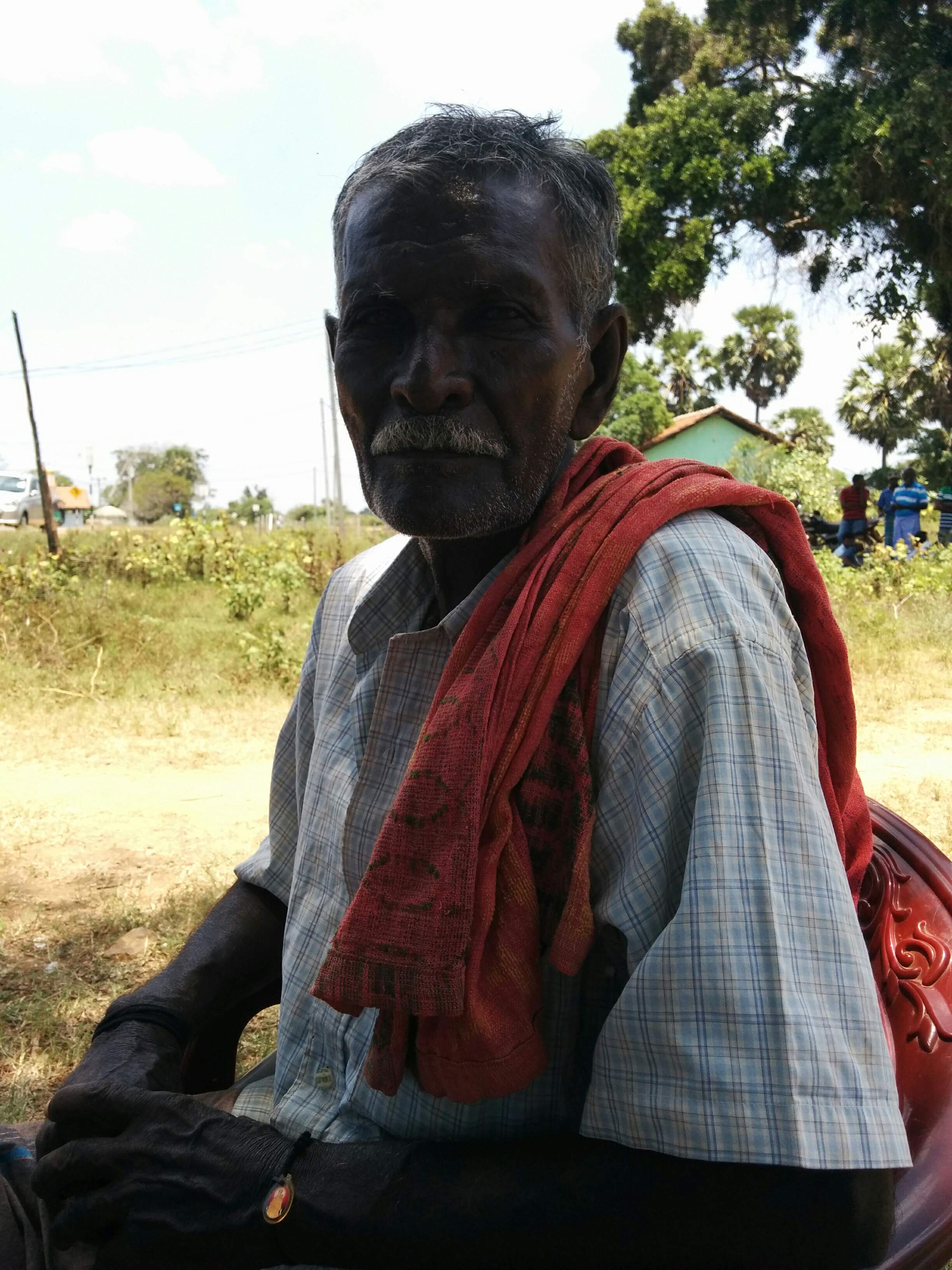 On the 8th of September, 2007 the entire village of Mullikulam was unceremoniously evacuated by the Military with the promise of enabling their return within 3 days. Ten years later, these villagers are yet to be allowed to return to their homes and engage in their traditional livelihoods. Since their eviction from Mullikulam in 2007, the Navy North-Western Command Headquarters has been established there, occupying the entirety of their village. A decade-long relentless struggle comprising of multiple protests, petitions[1], discussions and false promises[2], have brought the villagers back to the streets.
Appeal letter signed by 136 villagers from Mullikulam, to former President Rajapaksa in Sept. 2011
Mullikulam villagers forced to set up in jungle – Malankaadu – June 2012 – pictures via NAFSO
They are inspired by the stories of other victims fighting for their rights, and supported by many others, irrespective of religious or ethnic backgrounds.
Village Elder Francis Vaz's memories of living in peace with Muslims in adjoining Marichikattu, and supporting each other through difficult times has been re-affirmed as the people of Mullikulam chose to start their recent protest on the premises of a very supportive and sympathetic Muslim house, situated at the turn off to their ancestral village, from the main Mannar – Puttalam road.
The spate of continued protests demanding the return of military-occupied land and truth and justice for the disappeared breaking out across the North and East, appears in turn to have breathed new life into the struggle of the people of Mullikulam. Their only wish is to return to their village, illegally occupied by the Military since 2007. Some of the women elders from the village had discussed the ongoing struggle for the return of their lands while in Keppapulavu, at the Matha Kootam (Association of Mother Mary) meeting last month. It was decided that they too must renew their own struggle to return home. They had then told the village men of their decision, and the men too agreed to support them.
Currently there are approximately 120 families temporarily resettled in Malankaadu[3], and 150 families in Kayakuli. About 100 families (including extended family) left for India due to war and displacement, but are waiting to return if their village is returned to them.
"We (about 50 villagers from both Malankaadu and Kayakuli), re-commenced our protest for the return of our lands, on Thursday (23 March) morning around 8am. The Navy came outside and asked us 'why are you protesting here? Why not in front of the District Secretariat (DS) office? We will provide you with buses to go and protest there. You're protesting against us even though we've helped you so much,'" said villagers. "They (the Navy) wouldn't need to provide us with "help" if they just give us back our lands," added the villagers.
Pic 1 and 2: Mullikulam villagers living in temporary shelters – Malankaadu, 2013
Displacement from Mullikulam and Aftermath
"When we left in 2007, there were about 100 houses in good condition and about 50 other self-made mud and thatched houses. From what we can remember, there was also our Church, the Co-operative building, three school buildings, a pre-school, two hospital buildings, a library, post-office, Fisherman's Co-operative Society building, a teachers quarters, an RDS building, six public, and four private wells, and nine tanks," recall the villagers.
Now, they have no access to the tanks, public spaces and limited access to some of their cultivation land. Only 27 of the 150 houses remain to this day, and are occupied by Navy personnel.[4] Villagers claim that the rest have been destroyed. They access the church via a side road, and claim that the existing short-cut via the reservoir bund, has been blocked off by the Navy. Most elderly people find it difficult to reach the Church at the times they wish to pray, and are now dependent on a Navy bus to take them to and from Sunday Mass. What used to be a 50-100 meter walk, is now 3 and 10 kms each way from the church to Malankaadu and Kayakuli, respectively. The Navy also provides a daily school bus to take children to and from school which teaches only up to Grade 9. Thereafter, children have to go to other nearby schools[5] on their own, or stay at hostels if the schools are too far away.
The Mullikulam people were primarily a farming and fishing community, so their proximity to the sea was essential. They had access to nine Paadu[6] (karavalai in Tamil – a term referring to a type of easement or license) to fish for prawns and other shallow water fish. Now they only have access to 4[7], with the most fertile Paadu being currently under Navy control. When the villagers were evicted from Mullikulam in 2007, they had left behind 64 each of the following; fibre glass boats, out-boat motors, nets and ropes and other fishing gear, 90 Theppams (Catamarans) and 3 drag-nets.
"If you don't stop your protest, we'll show you our power in the sea," the Navy had threatened the villagers on the first day of the protest.
There was a high degree of surveillance [9] and intimidation of protesters and outsiders visiting them by the Navy and Silavathurai Police (including Traffic Police) during the first few days. But during the 2nd week of protests, Navy officers had been less aggressive and the Area Commander and other officers had indicated to the people protesting and Church leaders that they are ready to abide by any decision that the Colombo based Defence establishment would take. However Colombo has been silent for nearly two weeks, despite efforts by Church leaders to reach out.
Legal status of land and response of the DS
The Human Rights Commission of Sri Lanka concluded that the Navy had occupied private land without due process and had recommended that if providing alterative lands, the people's willingness should be considered and they should not be forced to settle elsewhere.[10]
The Divisional Secretary and his representative had visited the people on 23rd March, and told them that they won't achieve much by protesting. They had asked the villagers to give them a letter with their demands, promising that they would hand it over to higher authorities for action. A majority of the lands in the village are owned privately by individuals and the Catholic Diocese of Mannar. The rest of the lands are held through permits and grants under the Land Development Ordinance (LDO), State lands and National Housing Development Authority (NHDA) lands.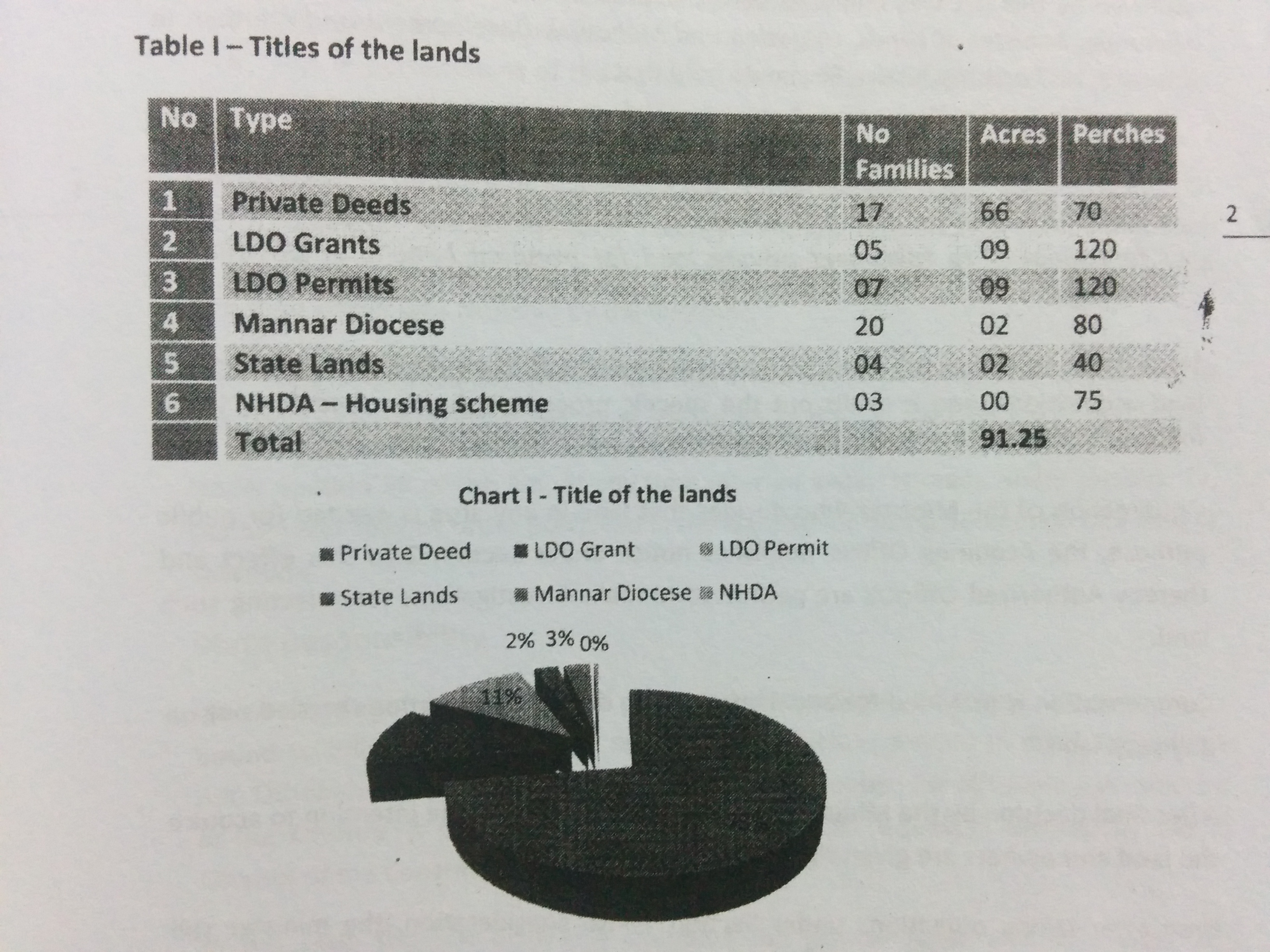 Breakdown of Title Lands – Mullikulam – HRCSL Land Study Report June, 2011
The DS had also asked them why they were still fighting even after they had received alternate housing. The villagers categorically said that they had continuously fought for the return of their original lands, and had only reluctantly accepted alternate housing in the interim. "We have always maintained that we want to return home," they said.
"We had everything… now we're living in a jungle. How can we live like this? I have faith that we'll get everything back, at least so our children and grand-children can see and enjoy the home we grew up in," is village elder Francis Vaz's only plea.
---
[1] Sky No Roof, Edited by Kusal Perera, Annexes – Letter by villagers of Mullikulam to the President dated 13th September, 2011 – https://drive.google.com/file/d/0BzO8SAlmDKanZmN0TXRRdjNyR1k/view
[2] WATCHDOG, Sri Lanka Navy vs. the people of Mullikulam – http://groundviews.org/2013/01/24/sri-lanka-navy-vs-the-people-of-mullikulam/
[3] Ruki Fernando, The struggle to go home in post war Sri Lanka: The story of Mullikulam – http://groundviews.org/2012/08/01/the-struggle-to-go-home-in-post-war-sri-lanka-the-story-of-mullikulam/
[4] WATCHDOG, Mullikulam: The continuing occupation of a school by the Sri Lankan Navy – http://groundviews.org/2012/09/11/mullikulam-the-continuing-occupation-of-a-school-by-the-sri-lankan-navy/
[5] Schools in Nanattan, Mannar town, Kondachchi, Silavathurai, Murunkan and Kokkupadayan.
[6] 1 Paadu = 450 meters.
[7] WATCHDOG, Mullikulam: Restrictions on fishing, cultivation, access to the church and school continue – http://groundviews.org/2013/03/15/mullikulam-restrictions-on-fishing-cultivation-access-to-the-church-and-school-continue/
[8] List of property left behind in 2007 as compiled by 61 villagers from Mullikulam (2012) – https://drive.google.com/open?id=0BzO8SAlmDKanaTZDNFlGSFo3VzA
[9] Heavy surveillance by #Navy Intel & #Police at #Mullikulam protest today. OIC asked us who we were & why we had come – https://twitter.com/Mari_deSilva/status/845184613085462529 & https://twitter.com/Mari_deSilva/status/845187308412272643
[10] Sky No Roof, Edited by Kusal Perera, Private Land Occupied by the Security Forces – Mullikulam, study report by the National Protection and Durable Solutions for Internally Displaced Persons Project of the Human Rights Commission of Sri Lanka, June 2011, Pg. 5 – https://drive.google.com/file/d/0BzO8SAlmDKanZmN0TXRRdjNyR1k/view
[11] Sky No Roof, Edited by Kusal Perera, Private Land Occupied by the Security Forces – Mullikulam, study report by the National Protection and Durable Solutions for Internally Displaced Persons Project of the Human Rights Commission of Sri Lanka, June 2011, Pgs. 2&3 – https://drive.google.com/file/d/0BzO8SAlmDKanZmN0TXRRdjNyR1k/view