On January 8, 2015, President Maithripala Sirisena took office, making ambitious promises of good governance, transparency and openness.
It was hoped his surprise victory would change the way Sri Lanka tackled rights issues, particularly as the country began its transitional justice process.
Today, Sri Lankans have mixed feelings about this Government. This is largely due to the fact that the Government, almost inevitably, fell short of the ambitious promises made.
Post January 8, institutional reform has been slow. That has led to the continuation of torture and police brutality. The military continue to occupy large tracts of land. There continues to be discrimination on lines of race, religion and gender identity.
Sri Lanka has seen improvement in the freedom of expression, and increased space for civil society input on reconciliation and constitutional reform. Yet, it is equally clear that it is too soon for complacency.
December 10 marks Human Rights Day, and the theme this year is "Stand Up for Someone's Rights."
In recognition of this theme, Groundviews highlighted several rights issues that, even under yahapaalanaya, are yet to be effectively addressed.
Torture And Police Brutality
As Groundviews has previously reported, torture is systemic and is used by the military and police in extracting confessions, even in 2016. A report by the Human Rights Commission of Sri Lanka (HRCSL) in the lead up to the 59th session of the UN Committee Against Torture (UNCAT) made for disturbing reading. There are 208 complaints as of August 2016 alone, the HRCSL said.
Police brutality also continues unchecked. Although there were only 2 deaths in police custody recorded as of August 2016, police brutality once again became a national conversation with the deaths of Gajan and Sulakshan, two unarmed students from the University of Jaffna, who were shot and killed by police. This incident, which Groundviews also covered, shows the impunity that prevails among the police force, with the police allegedly involved in the incident attempting to cover it up as an accident. The recent comments by the IGP at a press conference were equally revealing as to the nature of police impunity, even though he was speaking of a now-infamous phone call in which he assured Law and Order Minister Sagala Ratnayake (as indirectly confirmed by the Prime Minister himself) that a "Nilame" would not be arrested. This incident, while it did not transpire in violence, highlights the imbalance of power between the politically connected and an ordinary civilian, highlighting the need for reform.
Perhaps however there is no better indicator of continued malaise than the inclusion of former DIG CID, Sisira Mendis as part of the Sri Lankan delegation to UNCAT. In a report released following the meeting, UNCAT directly asked Mendis about his role and responsibilities, and highlighted that he had himself been implicated in torture in the OHCR Investigation on Sri Lanka (OISL) report. Mendis sat in silence as he was grilled by members of the UNCAT panel. The UNCAT panel flagged the disparity  between the Human Rights Commission report (2259 reported complaints of torture from 2012 to date) and figures provided by police – just 150 complaints in the same period. Despite the large number of complaints, only 17 cases were filed under the Committee Against Torture Act since 2012, leading to 2 convictions.
Counter Terrorism Legislation
Closely linked to the issue of torture is national security legislation. Sri Lanka operates under the Prevention of Terrorism Act (PTA), which has allowed for arbitrary detention without charge, and used to silence dissent. In response to pressure from the international community, Sri Lanka promised to repeal the PTA in Geneva, in October 2015.
Yet, one year later, the law is still in effect. Worse, the draft Counter Terrorism Act (CTA), which is slated to replace it, is deeply problematic. For one, it widens the definition of terrorism, including everything from environmental destruction to espionage. It could, equally, be used to silence dissent. It also denied suspects of access to legal counsel until after their statement was taken, and made confessions to a police officer admissible, both of which could increase incidents of torture.
Yet, Sri Lanka simply glossed over this at the UNCAT hearings, claiming it was "in line with international standards."
In a letter to the President, members of civil society flagged the "complete absence of information from the Government about the intended review of the PTA" and added that there has been no public consultation on the proposed new legislation.
 Military occupation
The issue of military occupation of land has caused much controversy. While civil society and residents in the North and East have continually said that the constant presence of the military makes them feel uneasy, camps continue to operate in the North and East. There was cause for celebration when Foreign Minister Mangala Samaraweera said Sri Lanka would demilitarise by 2018. However, the military itself rebutted this claim, saying they had no plans to remove any Army camps in the North, a statement that has yet to be countered by the Government.
Now, the military wants to hold on to land even in Valikamam, speaking optimistically of the civilians and military coexisting in peace. Meanwhile, military operated hotels continue to run, with tourists, both local and foreign, enjoying unfettered access. Yet locals often cannot attend temples, or send their children to school in the same areas.
In a disturbing revelation, Finance Minister Ravi Karunanayake also told a tourism forum that the Government planned to bring together all military run entities under one umbrella, ignoring the complex issues of ownership and displacement that led to their creation in the first place.
Estate workers
Before every reading of the Budget, the lives of the estate worker community come into focus, as one of the most marginalised in the country. This year saw the community asking for Rs. 1000 in daily wages, with the help of local politicians.
However, after sustained campaigning, the workers only managed to gain a Rs. 50 increase to Rs. 730, much to their frustration – and the increase is tied to productivity, meaning the workers will have to work to the company standards. The Regional Plantation Companies, meanwhile, say that Sri Lanka is low in terms of productivity when compared to countries like Kenya and India. The cost of providing for this community when compared to the amount gained from exports makes even a Rs. 730 increase difficult to bear, they say – particularly as so many of the community are leaving the sector and seeking alternative employment.
A Cabinet decision on December 6 also allowed for the allotment of 7 perches of land only to each family, and the provision of proper housing – the community has in the past called for over 20 perches to be allocated, for both housing and cultivation.
As the Cabinet itself noted, only 33,000 houses have been constructed for the families living on estates – an estimated 256,533 living on Regional Plantation Companies and 9025 families on state owned estates. The others live in line rooms or in small temporary houses.
As such, Sri Lanka's estate workers continue to be caught in a power struggle, in which the odds are not stacked in their favour.
Muslim Personal Law And Article 16
Sri Lanka is currently in the process of reforming its constitution. While wide public consultation has been sought in drafting this document, there have been persistent calls for the reform of personal laws, in particular Muslim personal law.
Article 16 of the constitution states that existing written and unwritten laws, such as the Muslim Marriage and Divorce Act (MMDA), and Thesavalamai law in Jaffna, will continue in force.
As such, there is now a sustained call by civil society to repeal Article 16. This has met with much opposition. In practice, however, it has been found that the MMDA in its current form poses numerous difficulties, particularly to women; raising issues of child marriage, bureaucratic delays in maintenance payments for divorces, and higher barriers for divorce, to name a few.
Gender Based Violence
There have been positive steps in terms of combating gender based violence, with a National Action Plan being formulated, with the cooperation of several Ministries, Director of the Women and Media Collective, Sepali Kottegoda told Groundviews. A taskforce specially formulated to combat gender based violence has submitted a plan for review. Yet, the statistics on rape and sexual abuse are alarming. In 2015, for instance, the police recorded over 600 cases of rape, including statutory rape, and 833 cases of "unnatural" acts and grave sexual abuse. Yet, there were just 7 convictions for 2015 – all in the grave sexual abuse and unnatural acts category. There were no convictions at all in the rape and statutory rape categories. "This is something we have to be concerned about. If there is a charge of rape, we have to identify why so many of these alleged perpetrators have not been given the full weight of the law," Kottegoda said.
There may be issues in implementation, which need to be identified and addressed, she added. "We need accountability in the implementation of the law," she said.
Attorney-at-law Ermiza Tegal said that she was mainly handling cases of domestic violence, family law and occasionally of fundamental rights, including torture.
"I can confidently say that the legal and administrative systems continue to fail people, litigants and victims," she said.
"The militant and protectionist attitude of the State has softened round the edges. However the only real change I have experienced in 2016 is the fact that a complaint once made receives a response albeit after several months. For victims and litigants the frustrations of pursuing an elusive justice continues."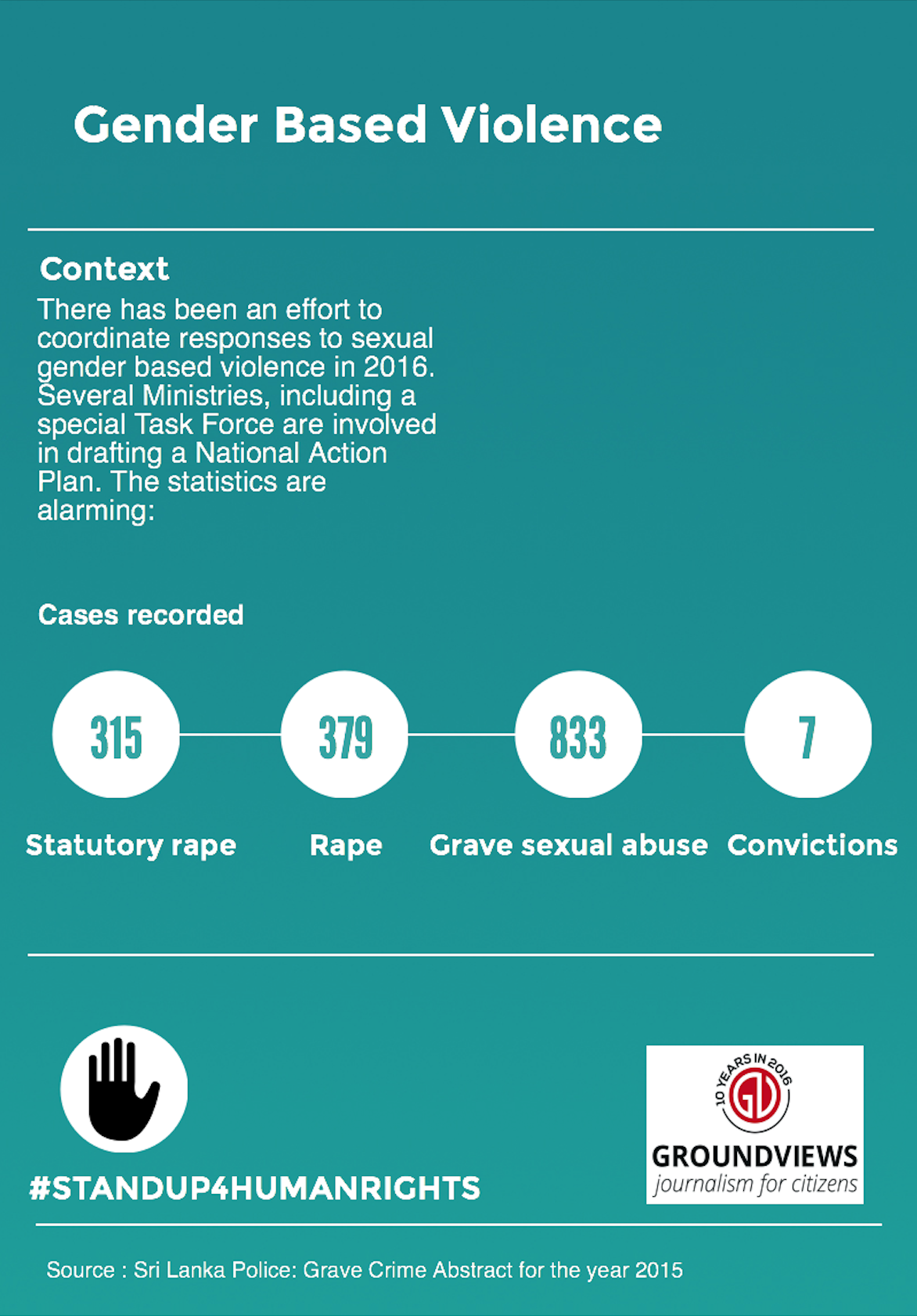 LGBT rights
In a historic move this year, Sri Lanka voted yes to allow the UN's newly appointed Sexual Orientation and Gender Identity (SOGI) expert to continue its mandate.
Yet, homosexuality is still criminalised under Article 365 and 365a of the Penal Code, which prohibits "intercourse against the law of nature," and "public and private acts of gross indecency". As a result of these laws, the LGBTIQ community faces threats, harassment and outright violence. As a submission made by the LGBTIQ community on transitional justice mechanisms pointed out, the Vagrants Ordinance has also been used to arrest people for idling, with sex workers, including transsexuals, being victimised as a result.
Human Rights Watch in a report this year also highlighted the discrimination, including even in receiving documents of identification, that transsexuals and sexual minorities receive.
The International Truth and Justice Project also highlighted the rape of male detainees by security forces, an unspoken of issue in comparison to the rape of women.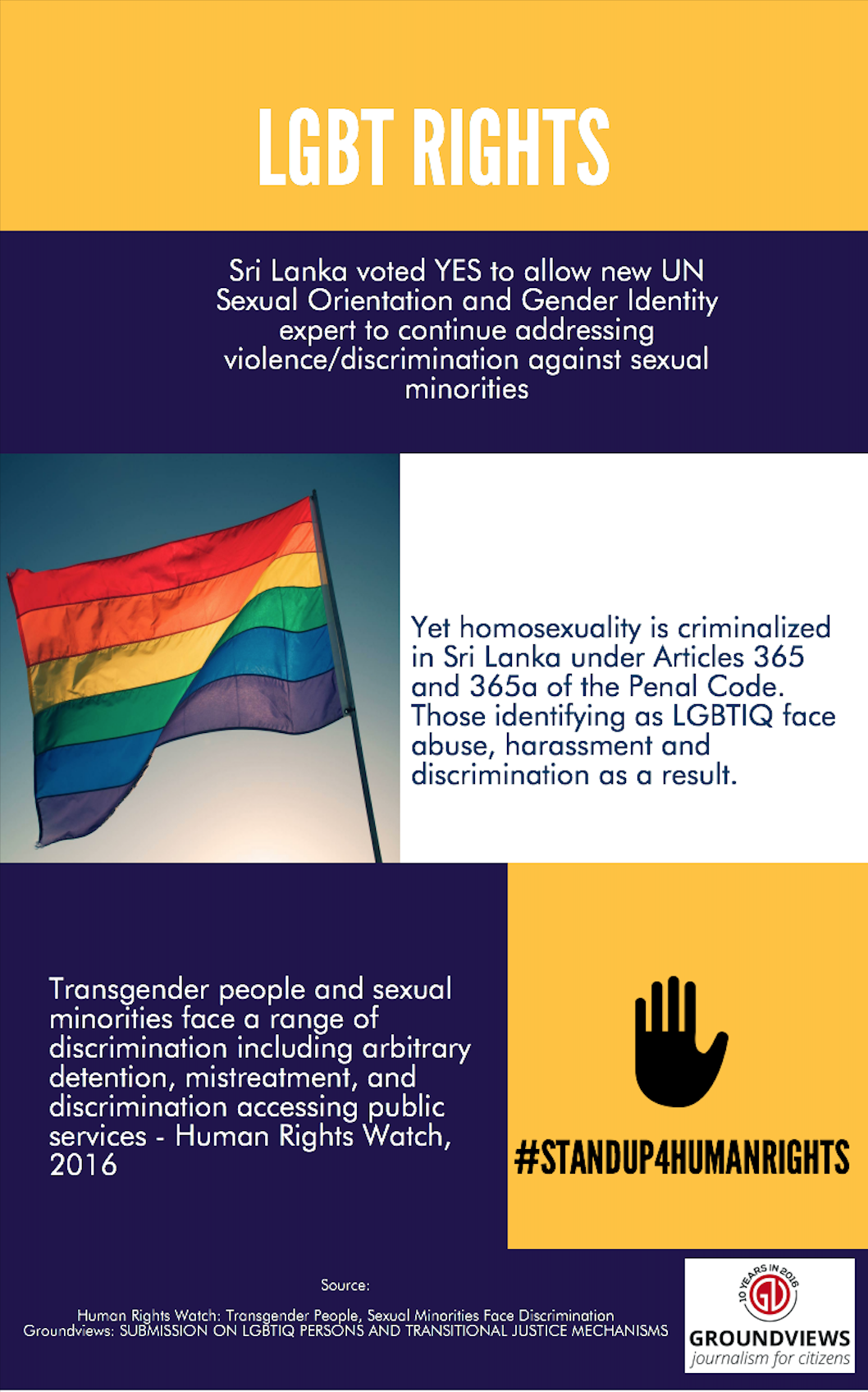 "International human rights day 2016 would be a good opportunity for the government and all of us as people to reflect on our commitments to all human rights for all," rights activist Ruki Fernando said, speaking to Groundviews.
"It is an opportunity to move away from using the dark years of Rajapakse rule as lowly benchmarks and take comfort in declaring things are better now- and instead, aspire and commit towards higher ideals of social justice and human rights.
It's an opportunity to reflect on what has been achieved and more importantly recognize deliberate and blatant failures to ensue rights and move towards reconciliation during two years of "yahapaalanaya," Fernando said.
Rights activist, Marisa de Silva meanwhile said the sense of "euphoria" has been extinguished two years into Sirisena's Presidency, despite there being relatively more space for civil society and the media to operate. "Activists, particularly in the North and East still undergo close surveillance and intimidation by state intelligence," de Silva said.
Religious intolerance and the spread of hate speech is once again on the rise, she added. The General Secretary of the Bodu Bala Sena for instance, has made public threats meant to incite, as has the incumbent of the Mangalaramaya in Batticaloa, Sumanagala Himi, who abused a Tamil public official in filth. The only response to a Complaint to the IGP signed by over 5000 individuals against flagging police inaction against such extremists, was from the Chairman of the National Police Commission, who had forwarded it to the Secretary and agreed with the contents of the complaint. The Government meanwhile held a closed door meeting with leaders of many Buddhist extremist groups, followed by another one with Muslim religious leaders the next day.
"The general public is yet to know of what transpired at these meetings. The President is said to have instructed the IGP to take action against anyone inciting or threatening ethnic/religious harmony. Although there's an abundance of evidence of these two monks, and other such groups inciting hate, no action has still been taken by the police," de Silva said. In fact, Gnanasara himi had even been invited to an event with other religious leaders, hosted by the President, further legitimizing his extremist views and violent threats.
Four months after the Office of Missing Persons Bill was passed in Parliament, there has been no attempt to set it up or even appoint Commissioners – leaving little room but to assume that the entire process was a mere sham meant to be yet another "show piece". ​This only adds to the flawed drafting process of the OMP Bill which was shrouded in secrecy, with little or no consultation with victims and civil society, de Silva commented.
"I think what this government has done most effectively is perfect the art of sophistication. What the Rajapaksa government did overtly and crudely, this Government does covertly and subtly," de Silva said, adding she had "very little hope" left in the State.
Civil society, particularly in Colombo, needs to reclaim their role as watchdogs of the State, de Silva said. "It is not our role to ally with the government, but to maintain checks and balances, and keep the government on the straight and narrow. We, as civil society, must work to re-build solidarity and trust across the North and South, especially as we are weak, polarized and segmented now. We need to re-strategize and include the plantation sector, Central province and deep South, into our conversations and actions, for without these constituencies, we will not be able to bring about real change. If we don't come together now, we have not only failed each other, but, worse yet, the people we claim to speak for and represent," de Silva said.
In reflecting on the issues of this year, it is important to remember that while there has been an increased space for debate, there are still many people who have fallen through the cracks of the system – and these people too deserve a voice.