Open to public
Corridors of power: Drawing and modelling Sri Lanka's tryst with democracy
9am – 7pm every day till 22nd September 2015, JDA Perera Gallery, Horton Place, Colombo, Sri Lanka.
Completely free. No tickets or prior reservations needed.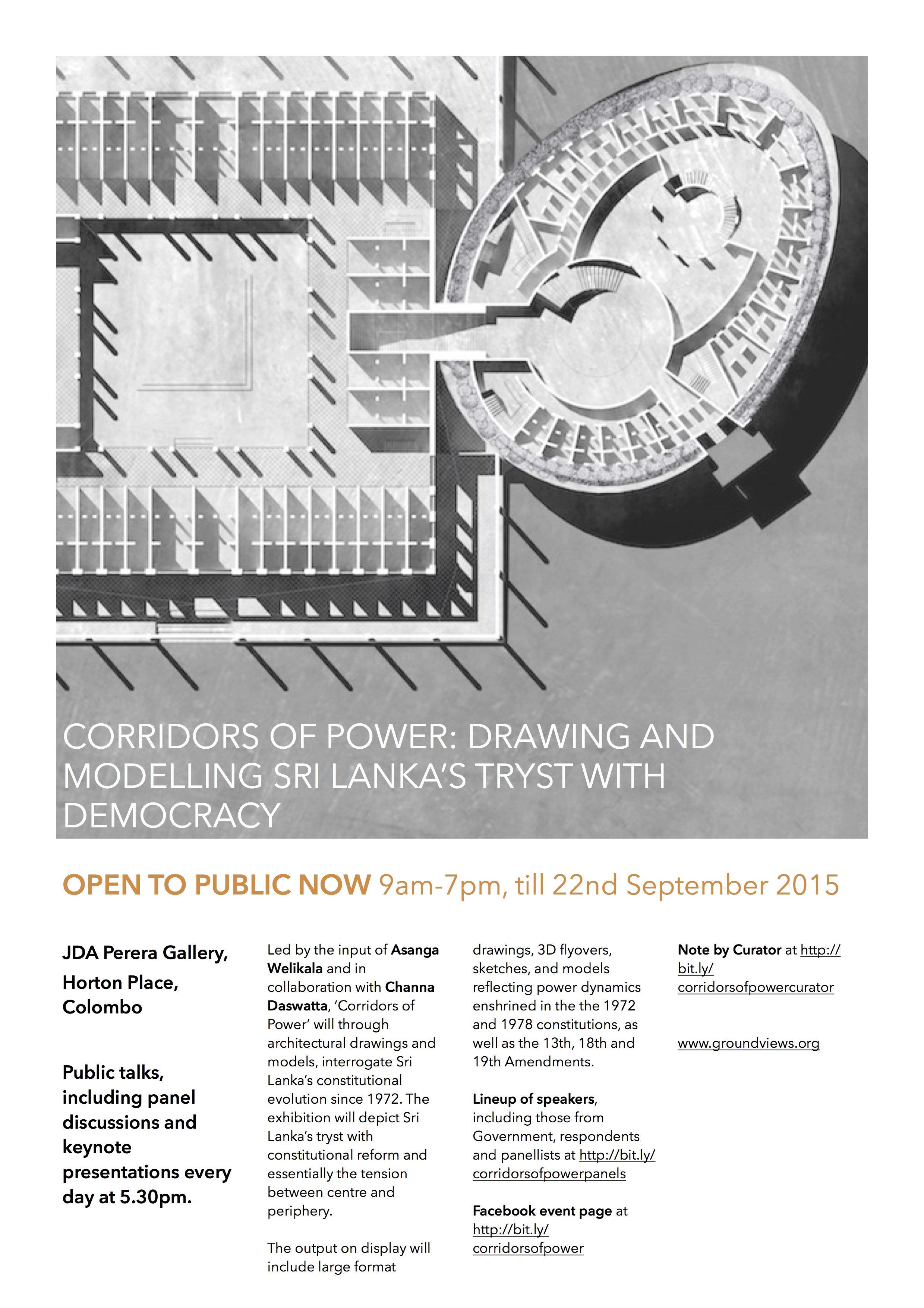 "Hope to achieve political settlement through adoption of a new constitution. Don't judge us by broken promises of past" says Foreign Minister Mangala Samaraweera at UNHRC in Geneva, on 14th September 2015.
The statement today by Sri Lanka's Foreign Minister provides a wonderful frame of reference to appreciate the 'Corridors of Power' exhibition. From the security guards at the venue of the exhibition to international constitution building process experts who gathered in Sri Lanka recently, from students to academics and activists, 'Corridors of Power' even before officially opening to the public generated more interest than any project curated by Groundviews and the Centre for Policy Alternatives previously.
Led by the input of Asanga Welikala, in collaboration with Channa Daswatte, 'Corridors of Power' will through architectural drawings and models, interrogate Sri Lanka's constitutional evolution since 1972.
The exhibition will depict Sri Lanka's tryst with constitutional reform and essentially the tension between centre and periphery. The output on display will include large format drawings, 3D flyovers, sketches, and models reflecting the power dynamics enshrined in the the 1972 and 1978 constitutions, as well as the 13th, 18th and 19th Amendments.
To our knowledge, nothing along these lines has ever been attempted or created before.
Please share widely, and come observe, listen, engage!