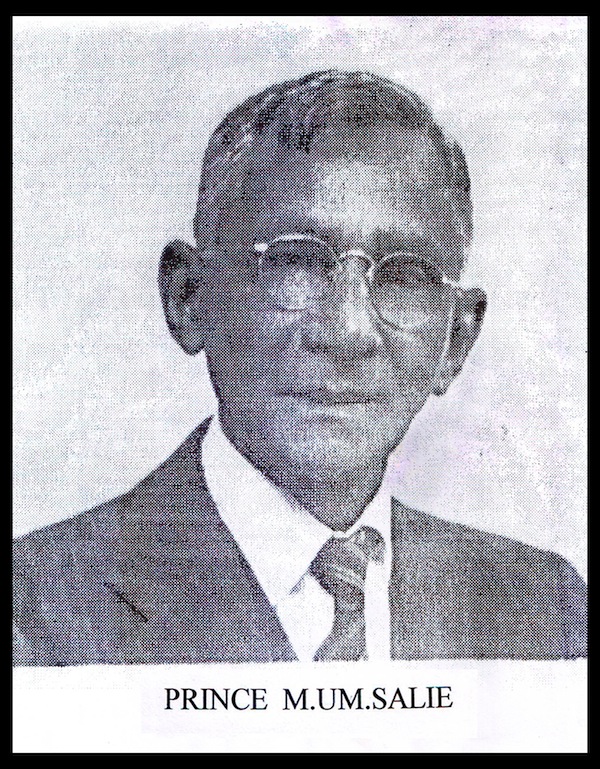 Mohammed Usuff Mohammed Salie was born in 1877.  He was the grandson of Mohamed Usuff, the Alim of the Kandawatte mosque in Galle, who was responsible for handwriting a Quran he knew by memory for his mosque.
Prince Salie was sent at a young age to Madras for his religious education. Like generations before and after him he learned to speak in the Arwi tongue, more commonly known as Arabo-Tamil which is a written register of the Tamil language that uses an Arabic alphabet. The language was an outcome of the cultural synthesis between seafaring Arabs and Tamil speaking Muslims of Sri Lanka.
Galle was an international port town and young Mohammed Salie decided to leave home to see the world. Leaving against his father's will, he voyaged on a cargo ship to Cairo and from there went on to live in America over the golden 1920's. Prince Salie was not born a royal but conferred the title by maharajas and maharanis he befriended over his voyages. He was famous for the princely trade in gems he engaged in and the princely air with which he carried himself. Prince Salie turned ambassador of the Orient to North America and the world.  Being a jeweler extraordinaire, he went on to market Sri Lankan Star Sapphires in Hollywood as 'Stars for Stars'. The Prince was popular for throwing massive parties in his Miami villas and even importing elephants all the way to America from Sri Lanka.
Prince Salie married twice: his first wife was Elsie Goldsbrough from Melbourne, Australia. Upon marrying the Prince she converted to the religion of Islam and took up the name Ahmina Salie. His second wife was Abusa Umma from Galle.  The Prince moved back home to Galle in the 1930's. He owned a Studebaker, Chevrolet and Rover. The drivers of his limousines were at all times dressed in the complete Indian bandhgala suits. His very own castle, The Bombay Castle, an architectural fusion of East and West was built in the name of his grandchildren. It was located on over fifty acres of land in Karapitiya, Galle.
The castle was acquired by the government during the Bandaranaike socialist regime and is presently serving as the Karapitiya Teaching Hospital in Galle. A street signboard still marks "Bombe Kasal (sic) Place" in Galle.
The project on the story of the Prince was undertaken by 4th generation Salies.
Ramla Wahab & Atheeq Mahuroof