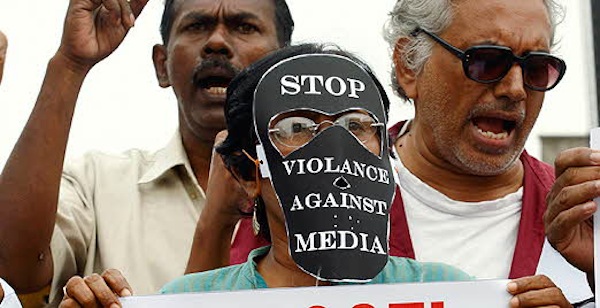 Photo courtesy SIDA
"Give me the liberty to know, to utter, and to argue freely according to conscience, above all liberties" John Milton
3rd May was declared as World Press Freedom day by the UN General Assembly in 1991. Since then, it is celebrated every year, around the world. It is a time to cherish, re-assert and enhance fundamental principles of freedom of expression, recognize the courage and sacrifices made by numerous individuals and groups, asses threats – past, present and future – and plan accordingly. This year, World Press Freedom Day focuses on themes that are particularly relevant to Sri Lanka. "Safe to Speak: Securing Freedom of Expression in All Media" and focuses on safety of journalists, combating impunity for crimes against freedom of expression, and securing a free and open Internet as the precondition for online safety.
World Press Freedom day has also been celebrated in Sri Lanka, but there has been little to celebrate in last several years.
On 2nd May 2006, the day before World Press Freedom day, armed men entered the office of Uthayan, a daily Tamil language newspaper published from Jaffna, in the Northern Province of Sri Lanka, which has seen the worst of the war for many decades.  The men shot dead two Uthayan staffers, injured others and caused damage to the equipment. Ironically, this was when World Conference on Press Freedom was being held in Colombo, organized by UNESCO. Even more ironically, media personnel were denied the freedom to cover the world event hosted by Sri Lankan President Rajapakse to celebrate media freedom! Promises made by the President and then Media Minister to investigate and bring to book perpetrators are yet to be fulfilled 7 years later.
As we approach World Press Freedom day 7 years later, the war against Uthayan has continues unabated even four years after the government defeated the Liberation Tigers of Tamil Eelam (LTTE / Tamil Tigers). In the early hours of 12th April 2013, armed men entered the office and printing press of Uthayan, The men torched the printing press and newspapers that was about to be dispatched for sale.
But through this seven years, and even before, the Uthayan has stood tall and displayed the spirit of World Press Freedom day – it appeared on Jaffna news stands on 3rd May 2006 the day after the bloody attack. Despite being subjected to arson attacks, restrictions on paper, staffers being killed, threatened, assaulted and going into exile, it has continued to be published through decades of war and looks set to be on the stands on 3rd May 2013 also. It's still the most popular newspaper in the Northern Province and it continues to be amongst the few newspapers that regularly publishes reports and opinions critical of the government and military – and that from Jaffna in the highly militarized and repressive Northern Province.
Continued attacks on Uthayan in last few months
In Jaffna, and indeed in Sri Lanka, this last attack on Uthayan was just the latest of such incidents. Just a few days earlier, on 3rd April, the same newspaper's Killinochi office was attacked, injuring several employees. On 20th March, an Uthayan reporter was threatened by the military. On 15th February, the camera of an Uthayan journalist was damaged by the military. On 7th February, an Uthayan delivery employee was chased by unidentified men. On 15th January, crude oil was thrown at Uthayan and other reporters covering a protest in Jaffna. On 10th January, an Uthayan distributor was attacked and the newspapers he was transporting were burned. In late November 2012, another Uthayan journalist was attacked. The Editor of Uthayan was also interrogated by the Criminal Investigation Department in January 2013 about an article implicating senior army officers.
It is widely believed that the recent wave of attacks on Uthayan is due to the newspaper continuing to publish stories critical of the military and the government, particularly about occupation of land by the military in the North and also due to upcoming elections in the North. Uthayan is owned by a member of parliament from the opposition Tamil National Alliance, at whose hands the government had suffered heavy defeats in all elections held in the North after the end of the war in 2009.
Attacks and threats on Uthayan offices and press, as well as editors, reporters and distributors have intensified and almost become routine since the advent of the Mahinda Rajapakse government in early 2006. At least five staffers have been killed or disappeared and many have been injured. Predictably, nothing has been done about any of these incidents.
The Jaffna military commander was reported to have told Sinhalese media last week that the Uthayan news paper in Jaffna is transmitting false propaganda to the international community with the intention of disrupting the mutual harmony built between the security forces and the people in Jaffna and that it has joined hands with the Tamil National Alliance, to become a trumpet of the Pro LTTE Tamil Diaspora, in spreading racism.
Attacks on freedom of expression in North
Attacks on freedom of expression in the North have not been limited to Uthayan. On 8th March, a journalist attached to Valampuri, another Jaffna based Tamil newspaper was attacked and had to be hospitalized. It was reported that this was after the journalist had raised questions at a press conference about the releasing of suspects arrested for disrupting a political rally of the joint opposition.
Several months ago, when I was in the interiors of the Mullativu district in the Northern Province with a local TV crew trying to cover the resettlement of Tamils and land occupation by the military, we were threatened and prevented by the military from accessing the area where displaced people were compelled to live. When we persisted and went to nearby areas, we were followed, questioned and intimidated.  After we left the area, people we interviewed as well as a member of the Christian clergy who was assisting us were interrogated and threatened. Other local and foreign journalists who visited the same area were also prevented from accessing the area, threatened and followed.
Journalists, media personnel and media institutions are not alone in facing such threats, restrictions, interrogations. University students, religious clergy, human rights activists and families of those killed and disappeared in the war have also been threatened whenever they tried to express their opinions and even when they express grief about those killed and disappeared during the conflict.
The whole Northern Province is heavily militarized and it is clear that all these incidents happen with the direct involvement or complicity of the military. By design or coincidence, only those persons, groups and institutions that are critical of the government seem to end up being attacked, threatened and subjected to restrictions.
Attacks on media freedom in Colombo and other parts of the country
While the Tamils in North have born the brunt of attacks on freedom of expression in recent weeks, months and years, such attacks and restrictions also continue in all parts of the country.
In March this year, the government owned Sri Lanka Broadcasting Corporation censored the retransmission of the BBC Tamil language broadcasts, leading the BBC to suspend retransmission citing interference as a serious breach of trust.
In February this year, a group of youth who are suspected to be affiliated with the Bodu Bala Sena (BBS), a Buddhist group patronized by the Defense Secretary (who is also the brother of the President), abused the BBC crew in filthy language and described them as "traitors" and accused them of having "foreign parents" and working for a "foreign conspirator" who was "against Sri Lanka". Some in the mob resorted to more threatening measures warning the crew that if they returned to the mainly Buddhist suburb of Maharagama, it would "be the end". The crew had also been effectively been arrested by the mob and were not allowed to move. All this time, the Police had been watching and had not taken any action, and neither has any action been taken after the event. Few weeks ago, at candle light vigil in Colombo, BBS members photographed independent journalists in a threatening manner even as the Police watched. The Police later dispersed the participants at the vigil and prevented them from expressing their opinions. After another recent Colombo public rally, a journalist involved in organizing the event was followed on motor cycle. The BBS leaders had also accused English language press of being sinful forces against the country.
In February, a journalist attached to the Sunday Leader was shot and seriously injured in a Colombo suburb. Also in early 2013, lawyers expressing critical opinions about the impeachment of the 43rd Chief Justice were threatened and attacked.
Several journalists and employees of pro-opposition news websites were arrested in 2012. In 2012, the government also blocked websites that publish news critical of the government. A well known investigative journalist was almost abducted. Another senior investigative journalist attached to an independent Sinhalese weekend paper was subjected to repeated questioning and intimidation. Yet another journalist working for a Sinhalese news website critical of the government was questioned and intimidated. The Secretary for Defense threatened and abused the Editor of the Sunday Leader newspaper. The leader of the Federation of University Teachers Association was also threatened several times for their public position and campaign that 6% of the budget should be allocated for Education. The above are just few of the incidents reported in latter part of 2012. Some of the journalists mentioned above went into exile and others continue to live in fear. The list is endless.
Impunity
Impunity for such attacks and restrictions continue. No prosecutions or convictions are known to have happened in relation to any of the attacks on Uthayan, as well as the killing of Sunday Leader Editor Lasantha Wickramatunga, disappearance of cartoonist and journalist Prageeth Ekneligoda, the brutal assault on journalist and press freedom activist Poddala Jayantha and many other such attacks. The Police, Courts and the National Human Rights Commission have steadfastly refused to take decisive action on attacks and restrictions on freedom of expression and opinion. The head of the government's official delegation to the UN Committee Against Torture told the committee that disappeared journalist and cartoonist Ekneligoda was living overseas, and when challenged by the wife to disclose what he knew, refused to do so initially on technical grounds and when he was finally compelled to appear before a Sri Lankan court, he admitted that he didn't actually know anything. No one knows at what forum this official lied and at what forum he told the truth. But he got away scot free, and indeed, was appointed as the Chief Justice by the President earlier this year, after the previous Chief Justice was removed from office illegally.
Other forms of suppression
Several journalists who were threatened have told me that they had been approached by government supporters with offers of money, jobs and guarantees of safety if they were ready to toe the government line. Many Sri Lankan journalists have subjected themselves to self censorship due to fear. Reporters often complain that Editors will delete references critical of the government. Over 50 journalists, including prominent and well known press freedom activists, have gone into exile in the last 4 years. My mother has often told me to refrain from reporting that is critical of the government. Parents, children and spouses of journalists in Sri Lanka often appeal to them to refrain from writing and broadcasting anything critical of the government due to fears about safety.
Although freedom of opinion and expression is guaranteed by the Sri Lankan constitution and restrictions can only be imposed as prescribed by law, the Prevention of Terrorism Act hangs over the head of more independent minded journalists as something that can be used against them in retaliation for any criticism of the government. And it has been used by the Rajapakse government in the not too distant past to detain and sentence journalists and stifle freedom of expression.
Most media institutions are controlled by the government, and ownership can be traced back to allies and family members of President Mahinda Rajapakse. State owned and controlled media have regularly been used as a political tool which resort to discrediting and mud-slinging at activists critical of the government. Targets have included the 43rd Chief Justice who was illegally removed from the office, lawyers, religious clergy, NGO workers and journalists. Some state media have resorted to broadcasting and publishing reports inciting violence and many of the reports have been baseless and untrue.
Significant gaps are there in terms of political positions taken on reporting between the English, Tamil and Sinhalese media, as well as print, electronic and new social media. In the overall political context in Sri Lanka, the Sinhalese media remains a key barometer of media freedom in the country, and without attention to this, there can be no accurate assessment of the status of media freedom in the country. New social media is attempting and succeeding in filling the void created by lack of critical reporting by mainstream media. Even though many Sri Lankans still rely on traditional media, more and more are turning to use new social media, including in Sinhalese and Tamil languages.
Assessment by local and international bodies
In 2006, Sri Lanka made a voluntary commitment to invite the Special Rapportuer on Freedom of Expression and Opinion, but to date, the Government has not honored this commitment despite repeated requests. Presently, there are eight UN rapportuers who await invitations.
In March 2013, the UN Human Rights Council expressed concern about human rights violations in Sri Lanka, specifically citing violations of the right to freedom of expression and intimidation of journalists, through a resolution adopted by 25 member states out of 47 (with only 13 against and others abstaining). Earlier, the government's own Lessons Learnt and Reconciliation Commission had said it was "deeply disturbed by persistent reports concerning attacks on journalists and media institutions and killing of journalists and the fact that these incidents remain to be conclusively investigated and perpetrators brought to justice" and went on to condemn "the deplorable attack on the Editor of the Uthayan newspaper in Jaffna, which occurred while the Commission's sittings were still in progress".
Sri Lanka is on the Reporters Without Borders lists of "countries under surveillance" and is ranked 162nd out of 179 countries in the 2013 Reporters Without Borders press freedom index. The Committee to Protect Journalists lists Sri Lanka as the fourth worst country in the world where journalists are killed and killers get away in their 2012 impunity index.
Signs of hope
Amidst this bleak and fearful situation, there are still signs of hope for freedom of expression in Sri Lanka.
As pointed out at the beginning, Uthayan stands out as a small local paper that is a symbol of resilience, courage and fierce commitment. It is this spirit that has made them continue to publish throughout the war and after, despite repeated attacks, threats and even when they were compelled to reduce their paper to 4 pages from the previous 20 plus pages at the height of the war due to restrictions on transporting printing paper to Jaffna.
Meepura (Sinhalese language) in Negombo and Vaara Ureikal (Tamil language) in Eastern town of Kathankudi are two other examples of local papers, headed by courageous and crusading editors / journalists that have defied threats, intimidations and financial limitations to report often untold and unreported stories with a strong local flavor. Ravaya is a long standing Sinhalese weekly that has continued to give space for reports and opinions critical of the government in Sinhalese. Websites and blogs run from within Sri Lanka and by exiled journalists have become a major platform to publish reports and columns mainstream media do not want to carry and significant amongst these are some Sinhalese bloggers. Few journalists, including some young journalists and outstanding women columnists and few media institutions have stood tall, unbowed and unafraid (a phase used by slain editor of the Sunday Leader), reporting the truth as they see and hear it, and voicing their opinions and analysis fearlessly. Despite continuous threats, labels of being traitors and its senior and prominent leaders going into exile, media organizations in Sri Lanka have continued to campaign for freedom of expression and opinion. Support from human rights activists, civic organizations, some opposition politicians, religious clergy, lawyers and international press freedom and human rights organizations continue to play an important role in strengthening those in Sri Lanka who dare to exercise their freedom of opinion and expression.
All of them struggle to keep alive freedom of expression and opinion in Sri Lanka, at great risk. Many have already paid a heavy price. Ultimately, it will be up to Sri Lankan citizens to show whether they value the right to know different kinds of information and opinions, and what they are ready to do for that.
(Revised and updated version of Analysis: The assault on freedom of expression in Sri Lanka)