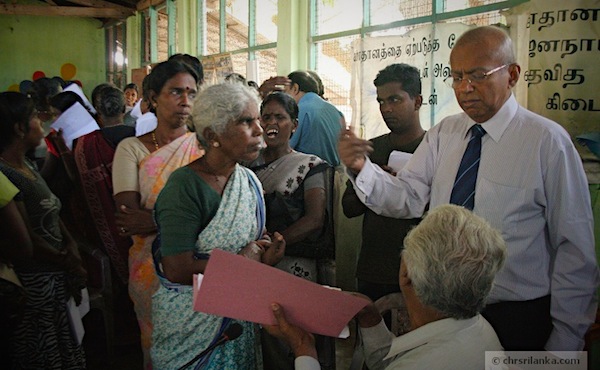 Image courtesy Centre for Human Rights
The Lessons Learnt and Reconciliation Commission (LLRC) Final Report contains many positive recommendations which merit immediate attention. Unfortunately, the present administration has given virtually no indication that it has any intention of seriously engaging with these recommendations.
With the impeachment of the Chief Justice, the unwarranted arrest of University of Jaffna students and the recent murder of dozens of Welikada inmates, it's obvious that human rights trends in Sri Lanka are still moving in the wrong direction. Furthermore, Government – TNA talks have gone nowhere; this is a political negotiation on life support that looks more like absurd theatre than a genuine discussion.
All of this is extremely unfortunate, but underscores the fact that the present administration fears the political consequences of truly endorsing national reconciliation and promoting a lasting peace. Now, the present administration is seeking to strike a balance. It wants to avoid further criticism of its human rights record by pretending that it is earnestly complying with the HRC resolution. At the same time, the government is trying to maintain domestic political support, especially in the South.
TSA believes that time is of the essence.
Originally published in International Policy Digest, TSA's second major report is designed to capture the essence of many of the positive LLRC recommendations so that they can be implemented without delay. Doing so would open the door to true reconciliation, sustainable peace, institutional reform and improved governance.
Unfortunately, the government's plan of action is rife with misleading, excessively general information; it is not a plan of action that seeks to promote human rights, reconciliation or a lasting peace. It is merely another exercise in prevarication and dissimulation. People have seen this movie before, as the present administration continues to temporize, making excuses and hoping that urgent problems will just go away. Such a strategy is irresponsible and inimical to the long-term interests of Sri Lankan citizens.
TSA's Shadow Action Plan has been written after consultation with a variety of stakeholders: including dozens of civil society leaders, thousands of community members in Sri Lanka's North, East and Hill County and some members of the diaspora. It is the result of numerous interviews, seventy-one lengthy meetings, and several months of reflection, discussion and hard work. Importantly, it has embraced community participation at every stage.
From a careful analysis of the LLRC's Final Report, the commission's recommendations are focused upon flaws related to governance, weak institutions and a consistent lack of political will. With this in mind, the components and key actions in the Shadow Action Plan have been structured and prioritized. In addition, the methods of implementation and the respective responsibilities of stakeholders have been denoted in detail. The report includes a narrative, a listing of top LLRC recommendations, an organizational chart to facilitate the implementation of these recommendations and a LogFrame that shows how the recommendations could be implemented and monitored. Significantly, the LogFrame provides many clear benchmarks which would be used to measure whether recommendations have been genuinely implemented or not.
TSA's Shadow Action Plan takes the perspective of a broad range of stakeholders into account: the commission itself, the GoSL, community members from the country's conflict-affected areas and the international community, including the UN and the HRC.
This plan is forward-thinking, consensus-oriented, pro-devolution and adheres to international standards. Thirty-five critical LLRC recommendations (related to demilitarization, land, language rights and disappearances, among other issues) are highlighted in this report. Implementation will be two-tiered, pertaining to the North-East and also countrywide. Significantly, most of TSA's plan relies upon existing governmental agencies.
TSA implores the present administration to carefully consider the contents of this plan. Though at times critical of certain state actors, it has been crafted with a sense of balance and an eye towards a better future for all Sri Lankans.
The present administration created the LLRC in response to international pressure; that is irrefutable. Since the country's human rights record is still under the microscope of the international community, it should come as no surprise that the present administration's plan of action was designed primarily for international consumption.
The LLRC, yet another Presidentially-appointed commission, has finished its work. Thankfully, the LLRC's Final Report has been made public in its entirety. Irrespective of what might happen in Geneva this March (or other international forums) in the coming years, the positive recommendations of the LLRC can and should be implemented without further delay.
Since the end of the war, the present administration has shown an appalling lack of leadership. Now is the time to look beyond partisan politics and trivial bickering. TSA hopes to see a united Sri Lanka that actually embraces diversity.  Sri Lankans deserve to live in a country where poor governance and highly politicized institutions are seen as anomalous, instead of ordinary.
Mahinda Rajapaksa cares deeply about his legacy and undoubtedly has dynastic ambitions. But if he continues to ignore the root causes of the conflict, history will not judge him kindly. He will be seen as just another petty autocrat who failed to lead a nation that has so clearly lost its way.
Though still unlikely in the near-term, a return to violence in the coming years is not out of the question.
###
Download the full report and annexes as a ZIP file here.
You can also read the reports below.
###
Annex I-Top 35 LLRC Recommendations
Annex II – Organizational Chart