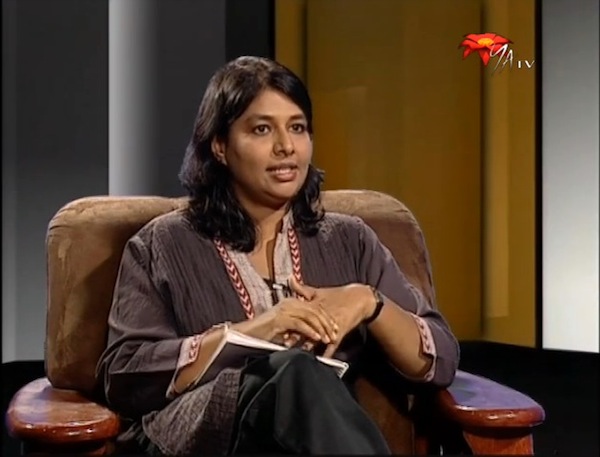 Nilakshi De Silva is a Senior Research Professional at the Centre for Poverty Analysis (CEPA), and in this interview, talks about the multi-faceted challenges facing development in Sri Lanka post-war, including the nature and extent of poverty in the country. She is the second interviewee from CEPA featured on Groundviews this year, the first being CEPA's Executive Director, Priyanthi Fernando.
The interview with Nilakshi is anchored to Re-imagining Development? An Exchange of Ideas based on the Sri Lankan Experience, the title of CEPA's 2012 Symposium looking at equitable, sustainable, inclusive development in Sri Lanka. Though the Symposium's dedicated site features a lot of interesting content but no real conversation around some of the ideas flagged in this interview, CEPA's institutional output has for years focussed on development as more than just economic prosperity or year on year GDP growth.
Early on in the conversation, Nilakshi flags the importance of looking at poverty not just as something that afflicts the poor, but as a structural problem, and how looking at the challenges of poverty alleviation through this holistic perspective has also changed CEPA's own thinking about and approach to development over 10 years. Nilakshi talks about a significant and growing disconnect between the development that is being delivered to the people today, and their real expectations, ideas, visions and values of a good life.
We then talk about the challenges of changing the minds and perceptions of policy makers to look more broadly at development and poverty alleviation, in a country where the dominant discourse of both issues is pegged to high economic (and GDP) growth alone. Nilakshi answers by noting that it is important to not over-estimate the role of policymakers and under-estimate the role of civil society in shaping a more coherent and just developmental discourse. SHe laments the lack of discussion and debate in civil society about alternative ideas around development, and goes into why this is the case. She also explores why some of the rich debates at the field level may not, as much as they could and should, be making it to the radar of Colombo based civil society and media.
Nilakshi also states a number of interesting examples from CEPA's field work where people around the country have a richer understanding of development than just economic prosperity and wealth generation, as well as perspective of women and their role (plus choices they can make) in economic growth.
When asked as to what she thinks is the most pressing challenge for development post-MDGs and in post-war Sri Lanka, Nilakshi's notes that there is great and growing concern that despite high economic growth, inequality in Sri Lanka is increasing apace. She also talks about the immense importance of universal education in social mobility (and poverty alleviation) and how, along with other systems like universal healthcare, this is now quickly breaking down. Nilakshi also notes that development seen just as shiny new buildings and infrastructure is a red herring, without looking at growing disparities in society.
Nilakshi talks about the lack of reflecting back on past developmental strategies and projects, in addition to very low national spending on R&D, as further aggravating bad policies and practices currently in play.
We then switch to CEPA's Symposium, and how in 2012, it specifically looks at expanding the debate on development beyond just the domain of economists, by bringing in creative individuals who are filmmakers, the media and civil society writ large. Given CEPA's own use of ICTs and in particular, web based social media, Nilakshi explores how technology can help expand and enrich the debates on development, as well as fertilise the Symposium itself with new ideas from unusual suspects.
Nilakshi ends the conversation by flagging the importance of thinking about the limits to consumption, without just thinking of acquiring more and more material wealth, since it is simply not sustainable. She is quick to say that it is not that material prosperity isn't important, but that unbridled, it is more harmful than helpful. What is the society we want to have, and what choices do we have to make is the question Nilakshi ends by flagging, and by also noting that CEPA's Symposium this year will tackle the issues we touched on in greater detail.
Nilakshi De Silva from Young Asia Television on Vimeo.