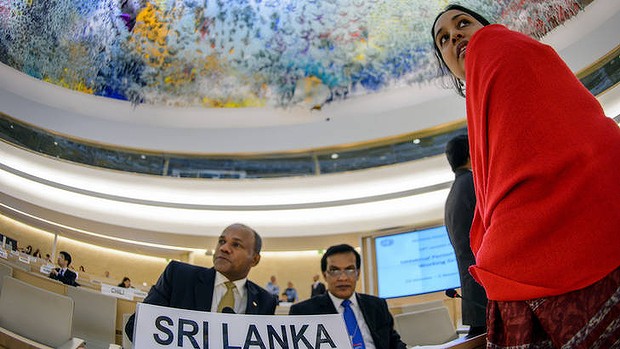 Image courtesy Sydney Morning Herald
On 1st November 2012, Sri Lanka was taken up for discussion as part of the Universal Periodic Review (UPR) at the UN Human Rights Council (HRC). The last UPR was in 2008, and under scrutiny was Sri Lanka's human rights record over the past four years, that significantly, saw the end of the country's 27 year old war.
A number of leading Sri Lankan and international human rights organisations, independent media including Groundviews and Vikalpa, as well as other leading voices on Twitter agreed to use #UPRLKA and #UPR14 hashtags in tweets around Sri Lanka's case at the UPR. Since #UPR14 was a generic hashtag, #UPRLKA was encouraged as the primary hashtag to use when tweeting on Sri Lanka.
Groundviews started to archive every single tweet (and retweet) with #UPRLKA on 29th October (Monday). At the time of writing, we have archived 3,592 tweets, the majority of which were posted on 1st November, leading up to and during the session on Sri Lanka, from 2.30pm – 6pm in Geneva.
Simply put, there is no easy way to archive tweets, and though the company has promised to make this easier for individual accounts later this year, tweets anchored to a specific hashtag, event, process or day, given the sheer quantity of tweets published globally per second, soon disappear, making it close to impossible for students, researchers and historians to search for, access and ascertain the timbre of discussions on the platform days, weeks and months after the peak of content generation. This data loss is a real problem, especially in repressive regimes, where very serious challenges, concerns and entire conversations are conducted and communicated over Twitter.
After evaluating a number of options, we settled on Martin Hawskey's method to use Twitter's Developer API with Google Spreadsheet to archive every single #UPRLKA tweet. Setting it up was relatively easy, and we started our archival process the same day #UPRLKA was announced through various platforms, including via a Press Release we sent out, as the hashtag of choice to use during the course of the week for updates dealing with Sri Lanka's UPR appearance.
Embedded below is the complete list of tweets. Please note that this spreadsheet is automatically updated every half hour with any tweet that has the #UPRLKA hashtag, so the nearly 3,600 we recorded at the time of writing may well increase much more as time goes by.
You can access this spreadsheet in a larger window by clicking here.
Using Martin Hawskey's template, we've also created a comprehensive data visualisation of all the tweets during this week. Again, note that this visualisation is dynamic, and will in the future reflect additional tweets with the #UPRLKA hashtag.
Given the size of the dataset, you'll also need a fairly powerful computer to see this visualisation, which offers graphical perspectives of every single tweet published, the top tweeters, the top hashtags used and the top conversationalists. You can zoom in and out of the visualisation using the scroll button on your mouse. Clicking on any dot will give you information about the user, including the total number of tweets, replies to tweets and mentions.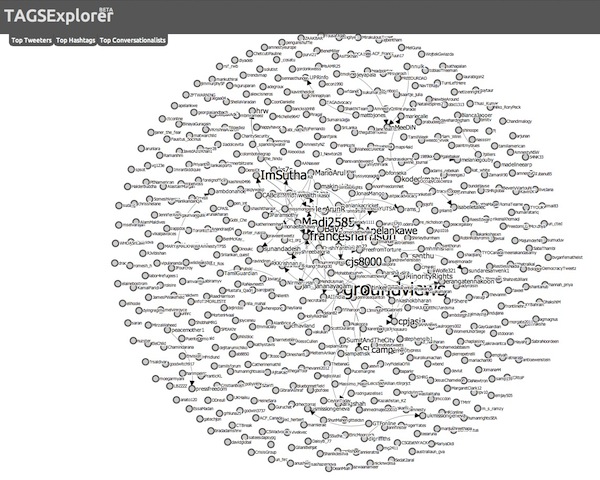 Click here or on image above for the live data visualisation.
Finally, all of the tweets archived by us as of today can be download as a PDF here, and as a Microsoft Excel spreadsheet here.