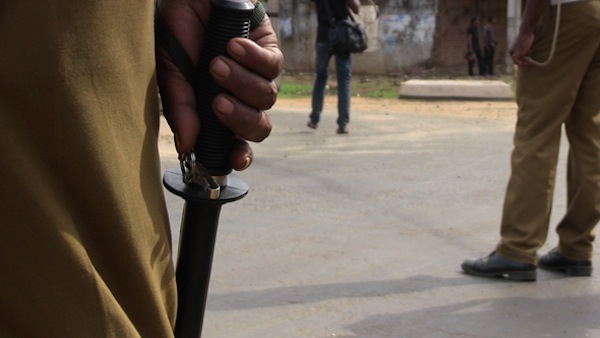 Photo credit: Vikalpa
It is very likely readers of Sinhala mainstream print media have no clue who Ganesan Nimalaruban was, or exactly how he died. A simple Google news or general web search suffices to highlight how poor even English mainstream media coverage has been over the controversy surrounding his death.
Vikalpa was present at the funeral of Nimalaruban. They note that aside from a few provincial journalists (whose news reports don't make it to the actual print editions on the best of days) there were no other seasoned journalists from any mainstream newspaper present. Recall that the courts didn't want Nimalaruban's body to be released to his parents, citing that,
"his funeral arrangements could result in a violent situation in his home town of Vavuniya."
Before his body was released, in an open letter to the President, senior Tamil politicians and civil society activists noted,
Your Excellency, we have been informed by the eye witnesses on the inhuman merciless attacks the deceased and his colleagues received in remand custody during the days following the Vavuniya incident on June, 29th. We also wish to bring to your notice that there are more inmates who have received serious injuries.
An account of how he came to be killed can be read here. The government and Police deny he was subject to torture. The Tamil National Alliance in early July "vowed it will take the issue of the Tamil detainee who was assaulted to death by prison officials, and the subsequent refusal to hand over the body to the family to the international fora". After Nimalaruban's parents filed a Fundamental Rights violation application and in a complete reversal of the government's stand on the issue, the Attorney-General informed the Supreme Court that Nimalaruban's body would be handed over to his parents on the 23rd of July.
Nimalaruban was laid to rest on the 24th of July. Vikalpa's moving photos and video tell their own story.
At around 3 minutes into the video, there's an incredibly powerful, and deeply moving segment. The mother of the deceased has this to say in Tamil (translated from here),
Where is it written that you can be beaten to death? Which article is it written thus? I am not afraid of anyone. I don't care who you are. Come and shoot me. I am not afraid. People need justice and the truth. The people who beat my son up are animals. My heart burns. Those who killed my son will suffer the same fate. I didn't teach my son to steal or kill. My son's father worked hard to raise my son. Nothing good will come to them. Shoot me, I am not afraid. Bullets can enter my heart. I will be in pain. But I am unafraid. I had my son after waiting twelve years. I enjoyed bringing my son up. If my child had done wrong, he should have gone to courts and received punishment. But what law has it that my child was tortured and killed? My son was hidden somewhere and killed. If you had killed my son in front of me, you would understand who I am. Now they have surrounded my house with thousands of guns. I have nothing. Come, if you can. From the hand that fed you string-hoppers, I now put 'vaikkarasi'. Take me too, my son. My god, take me too and go.
We tweeted soon after Vikalpa published the story of Nimalaruban's funeral,
Ask yourself: WHY isn't this story hitting mainstream media? http://t.co/xyAtrGmg #lka #srilanka @AmanthaP @MelGuna

— Groundviews (@groundviews) July 28, 2012
If this is the first time you are reading the details of this story, seeing this video footage and photos and realising the full horror of what the government has tried to cover up, ask yourself whether this is a peace, three years after the end of war, we can really be proud of.