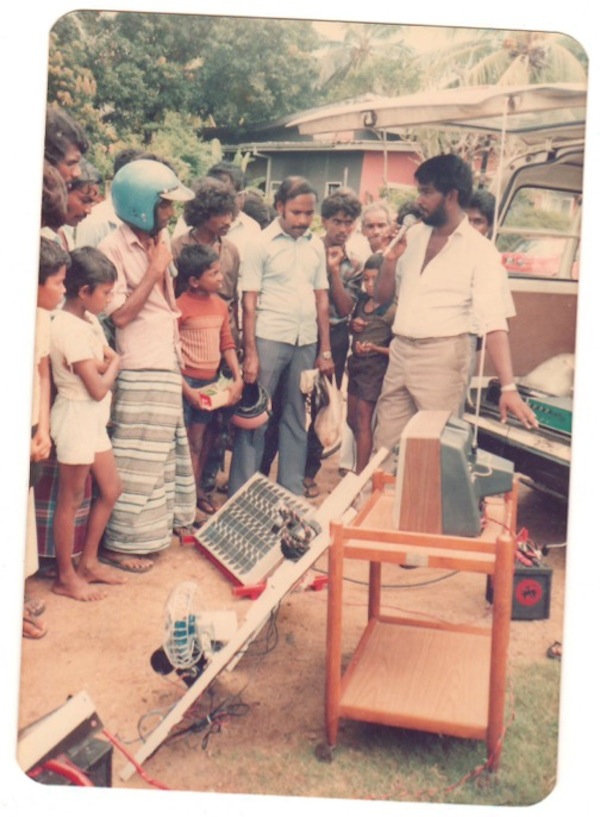 Nimal at a village promotion in 1988
Nimal Lakshapatiarachchi was an icon.  I first met him with my partners Viren Perera and Pradip Jayewardene when we established our solar energy company in 1987.   Nimal has to be credited for making the SUNTEC brand name a household word in rural Sri Lanka.  It was proven when Shell Renewables negotiated to buy the company in 1999.  Shell executives not believing SUNTEC's brand value did a survey and found it had 92% recognition beating Shell's famous brand.   That was the tribute to Nimal.
The three of us were amazed at his ingenuity, creative talent coupled with his critical thinking skills and his connections in the arts and the media.  He had an amazing ability to coordinate, organize, inspire people to come together for a common purpose and most of all he enjoyed and thrived on the freedom he got to be creative.  He was impetuous and impulsive at times but that was part of the territory.
We marvelled at his ability to get the best of Sri Lankan talent from Master Khemadasa to compose the SUNTEC theme song,  Amawake handa nathi vu vita….., to coax the Muwan Pallassa crew to do a special comedy skit to promote solar electricity and many others creative initiatives that the SUNTEC brand got embedded in the emotional psyche to become the generic name for solar power.
Nothing was a challenge to Nimal, even those dark and difficult days of the JVP hartals in the country when business came to a halt, he came up with an idea of a newspaper ad introducing this new technology using the Sun and inviting rural youth to write a one page essay as to how it could be useful for their villages.  This one ad resulted in six hundred submissions from all over Sri Lanka, many of them well written with beautiful drawn pictures.
We invited these youth to Colombo, thirty at a time to immerse them in the technology, first with a series of high profile conferences with Chief Guests like Sir Arthur C Clarke, Professor Cyril Ponnamperuma, Dr. Ray Wijewardene, Minister Festus Perera and others followed by a training program on every aspect of the technology, marketing and financing with the support of people like Prem Sumanasekera of Vidya Silpa who inspired and helped the three of us to start this business, our own Ajit Chanmugam, Prof. Willie Mendis, Prof. P.A. Silva, Thilan Wijesinghe, Eddie De Zilva, Wijeratne of Prashakti Technical Services in Kahawatte and more.
We ended up training over 200 youth which gave us the goodwill to commence business again in the villages as these very youth now had an opportunity to become a promoter or a technician for SUNTEC.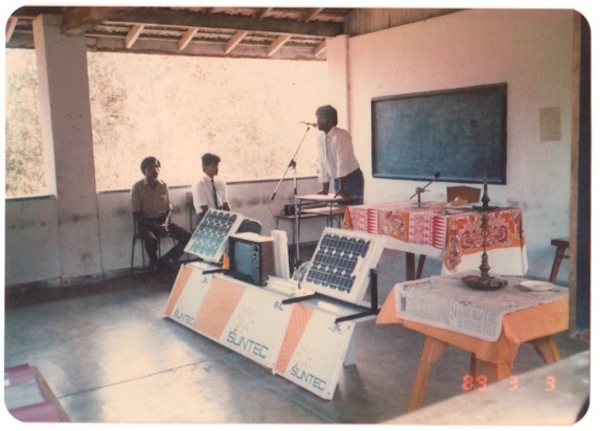 Nimal at a village temple meeting promoting SUNTEC
I also remember the many village temple events, from Padaviya to Angunukolapallasse, Nimal organized around the country.  We would donate a solar electricity system to the temple at a time where no public events were condoned by the JVP.   Yet the temple events were un-hindered, with the village community coming together to celebrate light coming to their temple with song and traditional dancing from the children.  A witty virindu karaya (a poet/story teller) would sing and encourage the community to donate towards the system, which then became the demonstration to the people to gain confidence of this glass plate to generate electricity and give them light.
Nimal coined the tag line, Anduren Eliyata and word Sooriyavahini for the solar module with Lankadeepa journalist, Ratnapala Vithana, so he has left a legacy that is appreciated.
In his later years he went onto become a successful public personality and I remember the time sharing a flight with him to Washington DC while he was the Director General of Rupavahini.  He sat next to me all the way as we chatted about old times and I told him, "Nimal now you can stop calling me Sir" to which he replied in Sinhala, "Ok Sir, I will Sir" and continued to call me Sir throughout the flight.
At the end of the flight, he told me. "Sir, the three of you took me on board when I was nobody and gave me the chance to thrive in my passion for being creative.  I also learned a lot from you and forever indebted to you, so I will never stop calling you Sir".  That he said is "mage keleheguna" – my appreciation.  I gave up.
Our deepest sympathies to his family. May he be at peace, may he attain nibbana.