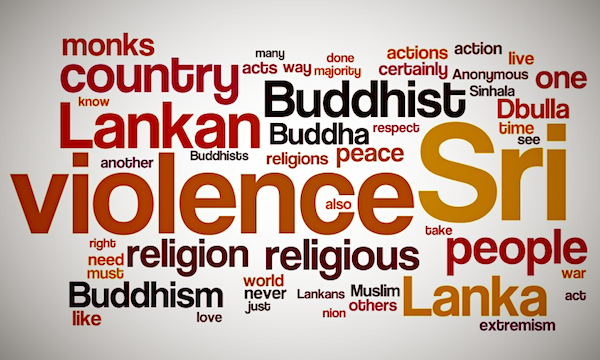 Along with printed and bound copies of the over 1,400 comments in Tamil, Sinhala and English generated by Not In Our Name (coming to over 300 pages), the following letter was penned and delivered to the Presidential Secretariat  late last week, with copies to relevant Government Departments and the Mahanayaka of the Rangiri Dambulu Chapter, Ven. Inamaluwe Sumangala Thero.
Not In Our Name's comments and signatories are archived in full online. PDFs for printing can be accessed online and downloaded from here.
Update: On 25th July 2012, we received this response from the Presidential Secretariat.
###
4 July 2011
His Excellency Mahinda Rajapaksa
President of the Democratic Socialist Republic of Sri Lanka
'Temple Trees'
Colombo 3
Sri Lanka
Your Excellency,
You will recall that on 20th April 2012, when you were on an official visit to South Korea, a violent group of around 2,000, led by the Mahanayaka of the Rangiri Dambulu Chapter Ven. Inamaluwe Sumangala Thero and other Buddhist monks, stormed into a mosque in the historical city of Dambulla. The resulting verbal and physical violence was so bad that Friday prayers had to be cancelled. This was an unprecedented development in our country.
A week later, there were calls to violent reprisals by sections of the Muslim community after Jumma. Extremist voices within the Sinhala Buddhist community, with inflammatory statements, added to the tension. Groundviews, an online citizen journalism initiative institutionally anchored to the Centre for Policy Alternatives (CPA), features an extensive archive and discussion of this disturbing content, including media footage of the violence broadcast locally and also widely discussed, with great concern and dismay, internationally.
Deeply concerned the violence would spiral completely out of hand, on 26th April, Sanjana Hattotuwa, founding Editor of Groundviews set up Not In Our Name, an online initiative to collect signatures and comments against religious extremism in our country. The initiative ran till the end of May, and collected more than 1,400 signatures and comments.
The names of those who signed up and their comments are archived online for posterity and public perusal. Prominent Sri Lankans as well as ordinary citizens and those from the diaspora left compelling comments that ranged in tone from outrage to sorrow, noting inter alia that violence in the name of Buddhism seriously risked our country's post-war potential, to which both you and your government remain committed to. The comments submitted over five weeks are too rich and varied to capture in abbreviated form, though a few notable ones in English alone are flagged on the website itself.
Sadly however, even during the time the campaign was active, media reports on 30th May noted that around 200 demonstrators led by several dozen Buddhist monks allegedly converged on the small Islamic centre in Dehiwela and began throwing stones and rotten meat over the gate at the mosque.
Dambulla and Dehiwela demonstrate disturbing developments that if unchecked and allowed to grow, risk much you and your government have fought for. One does not need to go further than the moving, insightful sentiments captured in Not In Our Name – including by many who are Sinhala Buddhists and are also staunch supporters of your government – to realise how worried many citizens are about this violent trend.
We hope you take the time to read some of the comments in English, Tamil and Sinhala and inspired by what so many have expressed, use the power vested in your office to unequivocally and publicly condemn religious extremism, especially in the name of Buddhism, and strengthen a culture of tolerance in our country.
Yours truly,
Dr. Paikiasothy Saravanamuttu
Executive Director, Centre for Policy Alternatives
Sanjana Hattotuwa
Senior Researcher and Founding Editor, Groundviews
CC:
Prime Minister's Office
Mahanayaka of the Rangiri Dambulu Chapter Ven. Inamaluwe Sumangala Thero
Ministry of Religious Affairs & Moral Upliftment
Department of Buddhist Affairs
Department of Christian Religious Affairs,
Department of Hindu Religious and Cultural Affairs
Department of Muslim Religious and Cultural Affairs