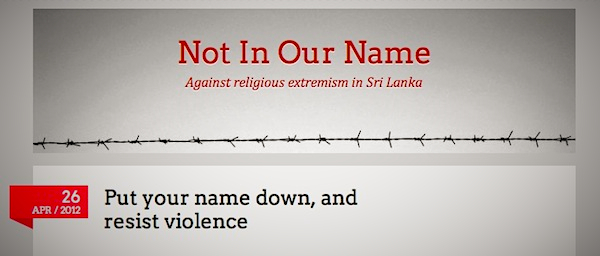 After the email update reproduced below was sent on 2nd May, less than a week after the Not In Our Name initiative was launched, Deshabandhu Jezima Ismail, senior lawyer and HR activist JC Weliamuna, two-time Secretary to Presidential Commissions of Inquiry into Disappearances MCM Iqbal, well-known economist Muttukrishna Sarvananthan, Prof. Michael Roberts and Ranjini Obeyesekere, both leading academics, Tamil activist, poet and academic Cheran, Channa Daswatta, one of Sri Lanka's best known architects and Harsha de Silva, Member of Parliament, along with dozens of others, have signed up to the initiative.
"I put my name here just to give evidence to my children that at some point in the future, if they happen to suffer from communal violence as a result of what happens under president Rajapakse Government, their father did his bit to condemn his silence." – Thrishantha Nanayakkara
"The conduct of some of the Buddhist monks at Dambulla was disgraceful. It was an insult to the Buddha." – Mangala Moonesinghe
"Sri Lankan; not Parsi, not Burgher, not Eurasian, not Sinhalese, all to which I have claim. Not in our name." – Hans Billimoria
"All Buddhists, especially the prominent members of the Buddhist clergy, should hang their heads in shame at this racist, mediaeval and un-Buddhist act. The government should institute legal proceedings for treasonous public statements undermining the authority of the duly elected President of the country." – Prof. H.L. Seneviratne
"Certainly not in my name. The Dambulla violence and intolerance can provoke another cycle of mindless chauvinism unless the silent majority voice their unanimous condemnation compelling the Government to act decisively and speedily. The true Sri Lankan patriot, anchored in a rich past of tolerance and co-existence, is a not a racist or religious bigot." – Jayantha Dhanapala
"This attack and the clumsy, unacceptable handling of it by the authorities has quite certainly not been done in my name." – Chandrika Bandaranaike Kumaratunga
These are excerpts from longer comments in response to the online campaign Not In My Name. In just under a week after it was launched and at the time of sending this email, around 940 have signed up to the campaign. It has been shared over 1,000 times on Facebook alone. The campaign, and why it was established, has been featured on TV in Sri Lanka.
Hundreds have tweeted about it, some have written their own blog posts encouraging more to sign up and many more have emailed all their email contacts the campaign and shared it with professional colleagues on networks like LinkedIn. Those who have signed up to date include,
Deshamanya Bradman Weerakoon, one of Sri Lanka's most senior and respected civil servants
Popular TV personalities, actors and singers: Ranjan Ramanayake, Narada Bakmeewewa, Kasun Kalhara
Popular theatre personalities and directors: Steve de la Zilwa, Tracy Holsinger, Ruwanthie de Chickera, Nadie Kammallaweera, Shanuki de Alwis
Gratiaen Prize winners Shehan Karunatilaka and Senaka Abeyratne
Leading authors: V.V. Ganeshananthan, Shyam Selvadurai, David Blacker, Pradeep Jeganathan
Former Sri Lankan of the Year Chandra Jayaratne
Leading journalists, Editors, media personalities and media owners: Hana Ibrahim, Dilrukshi Handunetti, Dharisha Bastian, Easwaran Rutnam, Anoma Rajakaruna, Savithri Rodrio, Lal Wickrematunge, Hilmy Ahamed, Sharmini Boyle
Human rights activists: Kumudini Samuel, Ruki Fernando, Dayapala Thiranagama, Dr. Paikiasothy Saravanamuttu
Gifted cartoonists like Gihan de Chickera
Well-known photographers like Deshan Tennekoon and Asanka Brendon Ratnayake
Prominent artists like Chandraguptha Thenuwara, Nelun Harasgama and Jagath Weerasinghe
Former Secretary General of the JVP, Lionel Bopage
Prominent bloggers like Jehan Mendis and Subha Wijesiriwardena
From a 73 year old grandmother to leading academics, from atheists to Hindus, Saivites and Christians, from Burghers and Sinhalese to Tamils and Muslims (and fascinating combinations of these beliefs and groups), the sheer diversity of those who have signed up to Not In Our Name unequivocally condemning the violence in Dambulla is incredible to read, both for what has been written and by whom.
As noted on the blog, after a month, the names and comments of those who signed up will be printed out and sent to the Presidential Secretariat, the Prime Minister's Office and the Ministry of Religious Affairs & Moral Upliftment, along with the Department of Buddhist Affairs, Department of Christian Religious Affairs, Department of Hindu Religious and Cultural Affairs and the Department of Muslim Religious and Cultural Affairs.
Already, this campaign is a unique collection of comments opposed to violence and extremism. Please read them, and consider adding your own name today.
Young Asia Television asked the following questions about the Not In our Name initiative for their weekly Connections TV digest, broadcast over public TV this week.
Not in Our Name: Is it focusing just only on the incident in Dambulla or is it looking broadly at religious extremism in Sri Lanka ?
Judging from the responses so far , what do you feel is the general pulse on the role of the State in addressing religious extremism in Sri Lanka ?
How will such incidents impact on communal relations and attempts at bringing about 'National Reconciliation'?
In the end what purpose will this initiative serve?