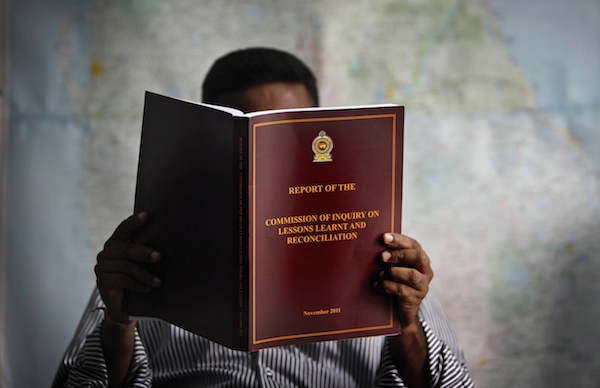 Immediately after the Resolution on SL was adopted in Geneva a month ago, US Secretary of State issued a short media release that said the US believes, the resolution "encourages the Government of Sri Lanka to continue on the path toward reconciliation" and for the second time said, "….. and I look forward to discussing future actions with Foreign Minister Peiris soon." The first time in January this year, was ignored by Minister Peiris. This time he is ready to meet Madam Clinton with the "Action Plan" drawn for the implementation of the LLRC Recommendations, with no public statements made. That gives an indication as to how the Rajapaksa regime tries to handle the most important national issue.
The Rajapaksa regime believes it can continue to play "opposite doubles" on the same issue. It believes it could say a loud and noisy "NO" to the Sri Lankan citizens here using all the media and publicity stunts possible, while saying "YES" to the international community, in a very low, muted voice.  The Rajapaksas adopted that duality for some time now, on the LLRC Recommendations and on the 13th Amendment to the Constitution too. For the 07th time, the Rajapaksas have promised the Indians (MPs delegation) it would implement the 13th Amendment in full.
The Rajapaksas don't want to accept, that they can only save themselves honourably, by adopting a clear and a firm position both here and with the international community. That they would have to tell the people what they want to do and would do and create a social consensus for that political position.
The following short draft note was thus circulated within a closed circle, immediately after the LLRC Final Report was tabled in parliament, last December. It was an effort to create a dialogue and canvass for an independent mechanism for the implementation of the LLRC Recommendations.
It is not too late to take it publicly, with Foreign Minister Peiris formulating his own "Action Plan" that in most probability would fall short of any acceptance. This regime's "Action Plan" would never allow for any independent mechanism in implementation and from what Minister Peiris told parliament, they are extremely selective in what they pick from the "Recommendations" for implementation. Those would most certainly be, what the Defense Ministry officials would agree to and as Secretary Defense has said, "no political recommendations" would be allowed.
This draft is therefore, slightly edited to suit the present context and is open for constructive discussion to improve upon, with the expectation that it would create a new forum, on following up of LLRC Recommendations.
For independent follow up – LLRC
Opening remarks
For an effective intervention in providing acceptable solutions to issues that had been raised in the LLRC Report and had also not been adequately raised, the UPFA government has to be very positive in its response, to begin with.
The government by now has gone half way, though not officially, with the defence authority accepting civilian casualties in war and the possibility of military involvement in them, though not commandeered by the government. The government now has to accept that there is an issue of responsibility for and accountability on all issues that arise out of war, whether they have occurred with complicity, or not.
The President therefore should first say officially, where his Excellency stands on the Recommendations made by the LLRC, he himself appointed. It is not adequate in any way for different ministers and officials to make personal remarks on the LLRC Recommendations, in a political climate, partners of the government make very negative and opposing views, in campaign style.
What the President as head of the government and its political decision maker, should understand is that, there is no more space for ambiguity and delay on any issue which includes even the LLRC Report. The Sinhala factor is no more a decisive factor. The "two thirds majority" in parliament is also no power factor that can help the government to decide on its own. The past 07 months proved, policy decisions are forced on the government by social forces on the ground (03 Bills and the regulation on crates for transportation had to be withdrawn; pay hikes going up to 25% had to be compromised upon), that do not work on Sinhala sentiments, any more. These were all social pressure in the Sinhala South by the very people who voted this government to power, on Sinhala sentiments. This is also a reason why the JHU and the JVP can not muster much support now, for their slogan shouting.
On the international arena too, the government can not go on promising. There is a point at which, all stakeholders would want clear answers and tangible delivery on issues that have been raised for well over 02 and a half years. The government therefore has to provide reasonable answers on "responsibility and accountability" rather than resort to linguistic jigsaw exercises of the Foreign and the Defence Ministries. Failure on the part of the government to address this issue with credible responses is what keeps international pressure building up against the government. The petty approach of playing to "Sinhala sentiments" have been proved a total failure, with international pressure building up for the Resolution on SL that had New Delhi on board too.
There was an apparent shift in the position adopted by India, in accepting investigations on human rights violations during war, which in effect means "crimes committed". Thus for the government, it is time it puts forth a credible and a practical programme in neutralising the international pressure and winning all minority and democratic forces within SL.
Fundamental Conditions for a Credible Programme
The President MUST make a clear political statement on the LLRC without any further delay, with a pledge that it would now set up an independent mechanism to follow up on its recommendations.
All government agencies and their heads MUST be told that they can not any more contradict the position(s), adopted by the government in its public statement.
Government itself should refrain from contradicting its own statement on the LLRC, through other policy statements and interventions (for e.g. on the 13th Amendment, Land and Police powers, Provincial Councils, etc.)
The independent mechanism should be mandated to prioritise LLRC Recommendations
Mechanism for follow up on LLRC Recommendations
"Independent mechanism" is what gives credibility for the government in allowing for follow up work on LLRC Recommendations.
"Independent" does not in any way mean, "presidential commissions". Such "commissions" have lost all credibility, both in the international arena as well as locally.
For follow up on the LLRC recommendations, "independent" would only mean a "mechanism" that would not be collaborative and manipulated by power politics, both by government politics and outside pressure. Therefore, any mechanism that is put in place for follow up work MUST be a wholly civil mechanism and be able to work on its mandate, free of political and State pressure and held responsible, ONLY to parliament.
Thus it would have to be appointed and accredited by the parliament and answerable only to the parliament.
Proposed constitution & work of the "Follow up Committee"
This should most appropriately be a 07 Member Committee that includes ONLY members from civil life and not any with military or security forces background,
A member (Sinhala) of the LLRC (not its chairman) acceptable to minority communities
Two Tamil members (01 of them should be a woman) nominated by the Tamil MPs in parliament
One Muslim member nominated by Muslim members in parliament
Three members from a broad consensus from political parties represented in parliament
Two of the 07 members nominated should be – women
The Secretary to the Committee should be a consensual appointment in the Committee.
A Secretariat with adequate staff should be immediately set up with the Secretary to the Committee as its head
Frame work for implementation of the recommendations, priorities and the suggested time plan should be presented to parliament and adopted as the "Action Plan" within a period of one month
Funds for the Secretariat and all implementation undertaken by the Committee should be voted by the parliament making it transparent and accountable to parliament
The secretariat should present "quarterly reports" on its performance to parliament and also have them published in public media
The Committee should be allowed free media space (TV/Radio) regularly, to interact with the public.
Not conclusive and open for dialogue and improvement.