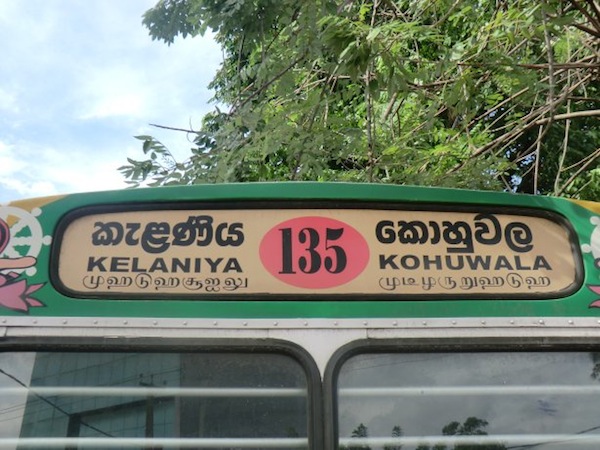 "The private transport services ministry has made it compulsory for all buses to display name boards in Sinhala, Tamil and English languages." (Sunday Times Online 15/03/12)
The 135 bus runs past my house on its way from Kohuwala to Kelaniya. There's one particular bus which I see regularly with a trilingual nameboard (see photo): in English it says "Kelaniya-Kohuwala"; in Sinhala it says "Kelaniya-Kohuwala"; in Tamil it says "Muhaduhasooailu-Mudeelaruruhaduha". This appears to be a random collection of Tamil letters, typed on a keyboard with the caps lock key on. Did no one else notice?
We're used to seeing English signboards with spelling mistakes, but the 135 bus sign seems to take the art of the typo to a new level. Another bus on the same route appears to say "Thalana-Karahawanala", but in such small print that it is barely legible. I have counted 4 different Tamil versions of Kohuwala, none of which are actually correct. The closest, displayed by most of the buses on the route, reads as "Kokshawala".
Even the new nameboard outside the Kohuwala police station spells it as "Kowuwala" in Tamil (the old one, I believe, had it right). Tamil speakers tell me that they are all too accustomed to seeing such errors on public signboards. Another frequent complaint is that the Tamil script is often so much smaller than the Sinhala and English versions. At least the new blue street signs give equal prominence to all three languages.
Trilingual bus signboards are to be welcomed, but is anyone going to check that they are written correctly? Let's hope the boardwriters are also trilingual.