Equality before the law? I'm no lawyer, but I have always wondered how this fundamental principle is possible in a country with several different legal systems operating alongside one another. The main systems are Roman-Dutch law and the British legal system, bequeathed by the colonial administrators. But three other systems also survive – Kandyan law, Thesavalamai, and Muslim law, which cover certain areas of civil law such as marriage, divorce and inheritance.
Roman-Dutch law was introduced by the Dutch, and confirmed under the British as the common law of Sri Lanka. Today it exists only in Sri Lanka and South Africa. Kandyan law relates to marriage, divorce and inheritance, and applies to Sinhalese of Kandyan descent (whether or not they are resident in Kandy). Thesavalamai relates to property and inheritance, and applies only to Jaffna Tamils. Muslim law is administered by the quazi courts, which have jurisdiction over marriage and divorce settlements within the Muslim community.
Quazi is the Arabic word for the judge who presides over the court, which operates according to sharia law. Quazi seems to be the most common spelling of the word in Sri Lanka, although the "qu" spelling is an oddity because the word is not pronounced "kw" like English q-words. A more logical variant is qazi, since other Arabic words commonly used in English, such as burqa and niqab, use the letter q by itself to represent the corresponding Arabic consonant.
Wikipedia chooses the more conventional spelling qadi (while also listing the alternative forms qaadi, qaadee, qazi, kazi and kadi) – the letter d representing the standard Arabic spelling and pronunciation of the word, for which z is a variant form. Another example where the common Sri Lankan transcription of an Arabic word chooses a z instead of a d is Ramazan, more commonly referred to as Ramadan in other Muslim countries.
Newspaper references display a number of variant spellings:
Qazi courts to be established in Sri Lanka (Colombo Page 10/09/2010)
58 Quadi court houses to be constructed (Sunday Leader 19/09/2010)
Quasi law to be amended – Hakeem (Daily Mirror 16/08/2011)
The Daily Mirror's choice of quasi with an s seems unfortunate, since quasi (pronounced kweizai) has another meaning in English (similar to pseudo), giving a potential double meaning to the headline "Quasi law to be amended", and to the references within the article to "quasi judges"!
###
###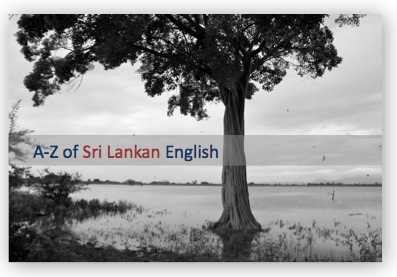 A-Z of Sri Lankan English is"an all-new, occasional alphabetical dip"into the variety of English spoken in Sri Lanka, published exclusively on"Groundviews. The original A-Z of Sri Lankan English was published in the travelsrilanka magazine, and can be found here.